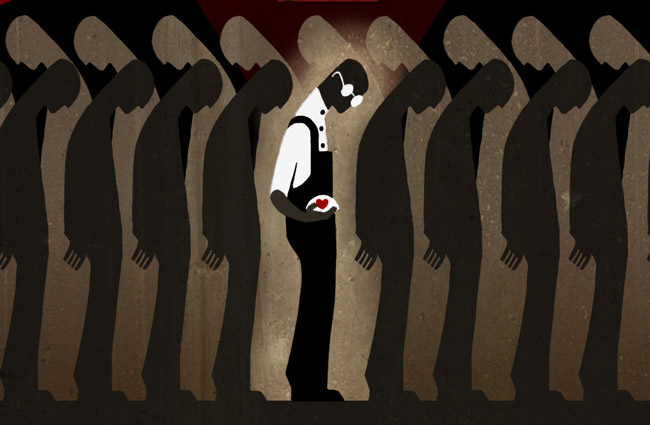 Imagine your child's teacher assigning George Orwell's 1984. The assignment is by way of an electronic book, so your child can read her copy on one of those iPads spreading through school districts like shades of gray. But there's a catch. The teacher will know exactly how much time your child will spend with the book, whether the pages are turned, whether there's any underlining, whether your child is actually engaging with the book. And the teacher will be able to give that study time an "engagement index" score that could be part of any assignment's overall grade.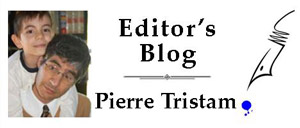 This isn't an imaginary scheme from the future. It's a technology already available on college textbooks, from a California start-up called CourseSmart, and it's being used in nine colleges, with professors literally spying on their students' study habits, and tallying up scores according to those habits. "It's big Brother, sort of, but with a good intent," Tracy Hurly, dean of the school of business at Texas A&M, tells the Times in an article on that new form of e-spying today. But does the good intent override the disturbing implications of this latest intrusion in private lives?
On Sunday I wrote about the blurring of lines between home and the workplace, which enables companies to creepily assume that their employees' speech and behavior even away from work is the employer's to police. Individual privacy is eroding at East German speeds. Spying through e-books is another example.
Reading is one of the few truly private activities left us, depending entirely on the isolation created between book and reader, and the way the reader chooses to engage with that book:  reading a page over five times, skipping five pages, underlining five lines, cursing at five others. It's all between the reader and the book, an act that shares some of the intimacies of sex (and passion) down to its exhilarations and disappointments (a bad writer having a lot in common with a lousy lover). Reading a textbook may not rate in the same category. But it's no less intimate. The act of reading a textbook still belongs exclusively to the reader. How you read a textbook is irrelevant. If you're performing well in class, that's all that should matter.
For those teachers spying on their students' study habits, it isn't: they're intruding on those manners of study, and making judgments about them whatever the results. One student did very well on a test, but the teacher discovered that the book had barely been cracked. That was a problem. Why? Are teachers now going to start down-grading their students because the work they produce isn't in line with the expectations of studying in a particular way? There are innumerable ways to read, to study, to meditate on a subject (or not). A teacher's idea of studying has no place imposing itself on a student's.
Worse: "Students do not see their engagement indexes unless a professor shows them, but they know the books are watching them." How could any data-gathering system be justified when the person being spied on is not privy to the data? The motive behind the new system explains plenty. It's not about improving habits or good intentions. It's about market share: "CourseSmart is owned by Pearson, McGraw-Hill and other major publishers, which see an opportunity to cement their dominance in digital textbooks by offering administrators and faculty a constant stream of data about how students are doing," the Times reports.
Publishers also want to use the information to craft new editions, thus further diluting the editorial integrity of a work at the expense of marketing or popular corruptions. Meanwhile teachers can further dilute their own responsibility to judge their course's effectiveness on their own by relying on yet more stashes of outside "data," further reducing the need to do teaching's heavy lifting. When is the last time your child had to write a paper?
It's policing by data—a data-driven fetish that substitutes short-cutting technology (and let's be blunt about it: spying) for critical judgment, while hiding behind presumptions of efficiency. I wouldn't entirely discount some advantages to the technology. Readers' habits could better direct a teacher to hone a course's effectiveness, make it more interesting, less easy. But good teachers can do that now, unaided. Spying on readers' study habits is deceptive gimmickry that gives the illusion of empowering teachers (or students) while wrecking the creative isolation the reading experience depends on most to be effective.
E-readers are familiar with the spying already. They participate in it. An electronic book tracks the highlighted passages of its readers across the country, across the world, so that my electronic copy of Richard Ford's Canada, for instance, came already polluted by the collective underlines of who knows how many readers. Not just underlines, but notes, comments, shares, too. Mine would be added to the bunch, if I let it. I don't. At least Kindle gives you the option of turning off those intrusions, and preventing your own from going into the universe. There are few more distasteful perversions of the reading experience than to be bombarded by the impersonal underlines and reactions of a collective blurb (just as there are few more tasty pleasures in the reading experience than to share a book or a passage with someone). Just don't butt in uninvited.
But schemes like CourseSmart are all about butting in. "There is also correlation, the students are learning, between perception and success," the Times goes on, with perverse results: "Hillary Torres, a senior, is a good student with a low engagement index, probably because she is taking notes into a computer file not being tracked. This could be a problem; she is a member of the Society for Human Resource Management, whose local chapter is advised by Mr. Guardia [a Texas A&M teacher tracking 70 students]. "If he looks and sees, 'Hillary is not really reading as much as I thought,' does that give him a negative image of me?" she wondered. "His opinion really matters. Maybe I need to change my study habits."
Don't.