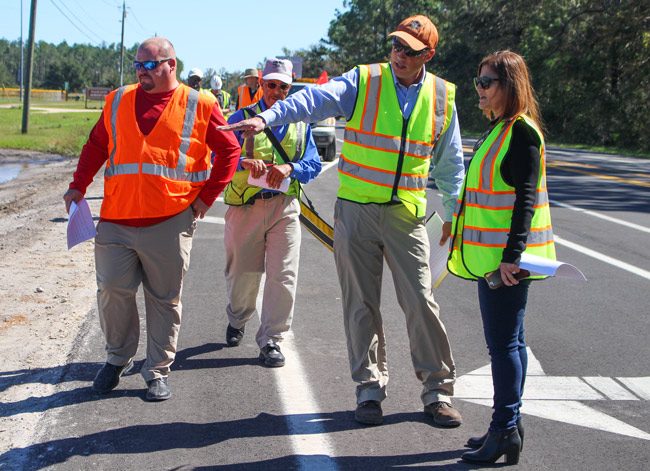 With just a few finishing touches left to go, the County Road 13 construction project in Espanola is substantially complete – $1 million under budget, the Flagler County administration announced today.
Representatives from Flagler County, the Florida Department of Transportation, Halifax Paving, Built-Rite Construction, and SAI Consulting Engineers did a walk-through of the 3.2-mile project Thursday. County Road 13, a previously narrow, rutted road that left little room for error, runs between U.S. 1 and County Road 205.
"It doesn't sound like a big project, but it included widening the road and replacing more than 20 culverts to improve drainage. We also installed guardrails to enhance public safety," said Alex Spiller, Flagler County Project Administrator. "We were also able to include paving three short residential roadways in Espanola."
The roadwork on County Road 13 began in May. Knox Jones Avenue, Lincoln Street and Railroad Street were paved September 1 while the other roadwork was ongoing.
The Florida Department of Transportation provided a $242,948 grant for the design phase of the project through its Small County Outreach Program (SCOP) and another $3.4 million grant through its Small County Road Assistance Program (SCRAP) for construction.
"We are able to complete a lot of road projects because of the grants we are able to get from the Department of Transportation," said County Engineer Faith Alkhatib.
Flagler County contracted with Halifax Paving to complete the roadwork. Its bid for the project was more than $1 million below the maximum the Florida Department of Transportation would pay.
"That money doesn't come back to Flagler County, but it does become available for FDOT to award to other projects," Alkhatib said. "It is always a benefit to our residents when we can bring in a project under budget while maintaining high standards."