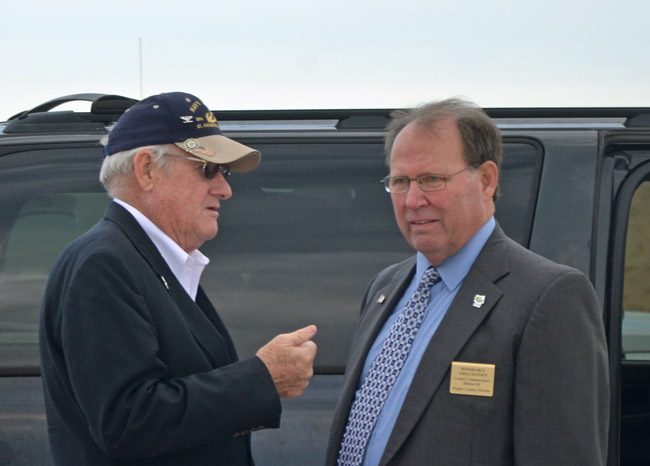 For the past couple of meetings Flagler County Commissioners have been going through their annual reorganization, much of it insider-baseball type reshuffling that doesn't draw public interest or substantially changes the way county government operates. But some of it can.
Last month, the chairmanship of the commission changed hands, going from Nate McLaughlin to Greg Hansen—and for the first time bypassing a more senior, sitting commissioner who's never had the chairmanship: Charlie Ericksen.
The position is largely ceremonial and requires the chairman to affix his signature to all formal commission actions. But it also affords the chairman more visibility, at ceremonies and ruing meetings and workshop, thus serving as both an ego boost to the gavel's wielder and, more importantly, as extra exposure during an election season: Hansen has already launched his campaign for the seat to which he's yet to be elected. Gov. Rick Scott appointed him to the seat to fill the remaining term of the late Frank Meeker, who died in July 2016.
Hansen also takes over for McLaughlin as chairman of the Tourist Development Council, one of the more high-visibility advisory boards in county government, with some authority over the annual $1.5 million revenue from the county's 5 percent tourism or bed tax, the sales tax supplement added to all transactions involving hotels, motels and short-term vacation rentals in the county. McLaughlin will maintain his chairmanship of the chairmanship of the Public Safety Coordinating Council, an assemblage of law enforcement, judiciary, social services and county government representatives. (An earlier version of this story incorrectly stated the chairmanship had shifted to Hansen.)
Ericksen said he did not mind being passed over for the chairmanship. "I didn't want to be in that role," Ericksen said today. "I'm not comfortable with that particular type of role. I'd rather be busy with the accounts or the areas I've got for responsibility, like the governance board at the Carver Center in Bunnell and stuff like that." Ericksen also serves on a regional transportation board and on the council for juvenile justice, as well as on the board of the Family Life Center, the rape-crisis center and refuge for abused women and children. That position is not part of the formal list of commission assignments, but the Family Life Center gets funding from the commission.
Ericksen is also an alternate member of the county's canvassing board, which in previous years had been among the most visible, and most controversial, of county-related boards. But visibility and controversies have vanished since the supervisor of elections position switched from Kimberle Weeks to Kaiti Lenhart in January 2015.
The three-member canvassing board is made up of a county or circuit judge, who chairs the board, the supervisor of elections, and one member of the county commission. The commission also picks an alternate. The board oversees the elections process and meets with increasing frequency on the approach of, and through, an election, testing voting equipment, going over certain ballots and so on. All its meetings are public.
No commissioner who's running in an election year may serve on the board. Today, commissioners agreed to seat Dave Sullivan, with Ericksen as the alternate. But all three commissioners who are not in an election in 2018 are to be ready to serve.
"We think all three should be available," County Administrator Craig Coffey said, "and we would encourage even the one not selected to not do things that would disqualify from serving in case there is a problem with one or the other commissioners." He was alluding to past election cycles when, during the Weeks years, Weeks would make allegations of electoral conflicts involving commissioners, essentially picking them off the board one by one. Two commissioners had thus to remove themselves from the canvassing board in 2014, including Ericksen, even though the allegations against them were found not to have warranted their removal.
"I would do it," Ericksen said today at the meeting, alluding to his renewed role as an alternate, "but I would ask the county attorney if my past dealings with the canvassing board would have any effect on it for this year."
"No, not at all," County Attorney Al Hadeed said, "your past dealings give you a base of knowledge." Nobody was whispering.
"Does Mr. Sullivan's position with the REC preclude him from serving on the canvasing board?" Commissioner Donald O'Brien asked, referring to the county's Republican Executive Committee. Hansen's answer was a categorical No, though in fact the answer is more modulated than that: if Sullivan begins to engage in any activity that may be interpreted as electioneering on behalf of one or another candidate, then he risks running afoul of canvassing board rules.
O'Brien, for his part, did not did not want to be the alternate just yet, but not because of the canvassing board's history. "I'm not afraid of that," he said. "It's just purely for me schedule-wise, sometimes challenging to balance all of my responsibilities with work and the county." O'Brien is remaining chairman of the county's economic development board and his places on the CareerSource board, the Value Adjustment Board and the Early-Learning Coalition
But O'Brien, who's known to attend county and municipal meetings in his spare time just to keep up with issues, said he would still keep up with canvassing board issues should he be needed there.