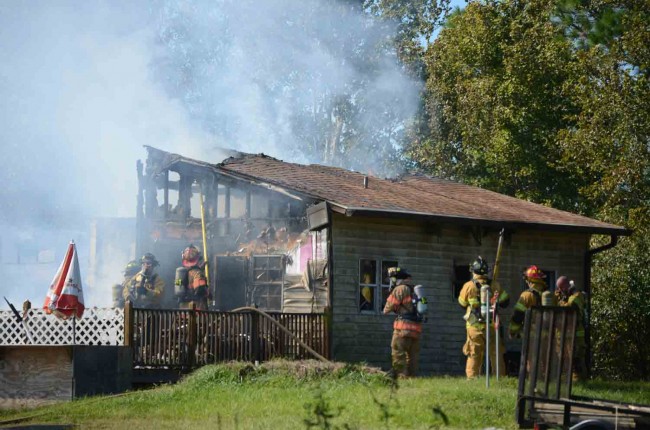 The County Line Bar in Daytona North, or the Mondex, went up in flames Monday morning just after 11 a.m. for unknown reasons. Fire crews from the Bunnell Volunteer Fire Department and Flagler County Fire Rescue are at the scene, as is the Palm Coast Fire Department.
The bar is located on County Road 305, just south of the intersection with County Road 302.
The fire was still burning an hour later, when most of the building has been consumed by flames. "It was heavy fire when we got on scene," Bunnell Fire Chief Derek Fraser said. "County and city crews worked quickly to knock it down."
County Road 305 is closed, and may remain closed for a while, south of 302, and to Mahogany Boulevard.
The 1,700-square-foot building is owned by Ronald Jaffe of Palm Coast, according to Flagler County Property Appraiser records. Bunnell developer Mark Langello used to own the building where the bar is located, which he'd used for mobile home sales, and as a photo studio, before he sold it. Neighboring business owners say that the bar had its busy days and not-so busy days.
As of 5 p.m., the cause of the fire had not been determined. We've got the state fire marshal still on scene conducting their investigation," Fraser said. The location of the fire's origin had also not yet been determined. But County Road 305 had reopened.