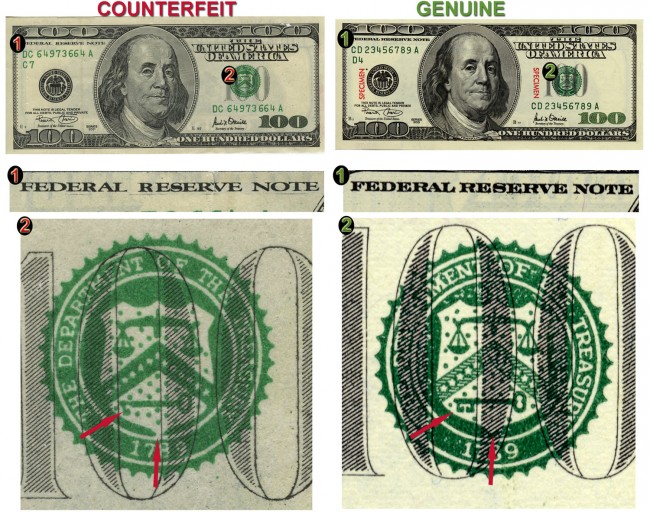 Wednesday evening (Aug. 29), 41-year-old Joao Diamantino, a resident of Westover Lane in Palm Coast, was at Wendy's, ordering food. He used a $100 bill to pay. Brittany Bizzozzaro, the shift manager that evening, tested the bill and found it to be a counterfeit once she compared the bill to a reference sheet provided by Wendy's management. She called the cops.
Diamantino hadn't quite done anything wrong: he told a Flagler County Sheriff's deputy that the money was part of an $800 withdrawal from his bank account at Prosperity Bank. He had no knowledge of the bills being counterfeit, according to a police report. He gave the deputy three bills for inspection. Two of them were suspected to be counterfeit, in addition to the one the Wendy's manager had turned over earlier. The bills were seized and entered into evidence, though no action was taken against Diamantino.
Friday afternoon, the Flagler County Sherifff's Office circulated an advisory to local businesses and residents, to be on the alert for counterfeit bills circulating in the area.
Last week, the Orlando Regional Office of the Secret Service notified law enforcement agencies in their region of suspected counterfeit bills being circulated in and around the Orlando-Daytona area, the sheriff's office reports. Merchants are advised to check the font of the "Federal Reserve Note." The counterfeit version is different than the genuine. The Treasury Seal on the counterfeit is also missing part of the key bit, and there is a space in the bottom of the shield.
The incident at Wendy's isn't the only one reported recently. The night of August 16, Richard Vieitez, a 38-year-old resident of Ryland Place in Palm Coast, drove up in his truck to the drive-through window at McDonald's at Town Center and ordered. He paid with a $100 bill. An employee found the bill suspicious. A test was inconclusive. A police report described the bill as "accurate but appeared to be very old and questionable."
Vieitez told a deputy that he'd recently conducted payroll for the small business he owns (Hot Spot Tanning Salon), and showed the cop the ledgers showing the withdrawals from Bank of America. The cash examined was legitimate, but the bill given to McDonald's cashier was further examined and was found to have inconsistencies. The bill, the report states, "was identified as having a George Washington picture in the center and an Abraham Lincoln face in the hologram. Also the bill showed a currency strip embedded in the note that read 'five dollars' instead of 'one hundred dollars.' The counterfeit bill was taken into possession and stored as evidence at the Flagler County Operations Center." Vieitez was issued a property receipt.
If merchants feel they have received a counterfeit bill, they should contact the Flagler County Sheriff's Office at (386) 313-4911.