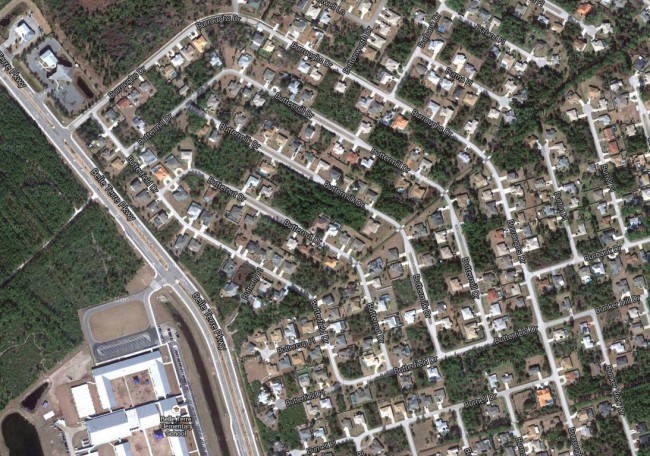 Flagler County Sheriff's deputies contended with at least two mystery men and one case of domestic violence that ended with a suspect hiding in a bathtub with a knife Wednesday in three separate incidents that stretched from the B Section in North Palm Coast to the P and R sections further south. The day included a fruitless and broad dawn search for a suspected burglar in the B-Section, and another fruitless search for a man, calling himself "Him," who ordered several pizzas and paid for them with counterfeit bills while taking the order from the stoop of what would turn out to be an abandoned house. Here are the details.
B-Section Chase
For a few hours Wednesday morning Flagler County Sheriff's deputies, along with K-9s and Volusia County's Air One helicopter, swarmed in and over Palm Coast's B-Section after reports of an attempted burglary on Buttermill Drive. On Thursday, the Sheriff's Office released details about the case.
The incident began at 4:45 a.m. when a prowler was reported at 40 Buttermill, where Michelle Swanson, 41, said was walking through her kitchen when she saw a dark shadowy figure attempting to "break into the house" through the kitchen window. Another witness, a 16-year-old girl, said she could not be sure what the man was doing, but that it looked like he was using a tool to pry open the window. The girl then screamed, ran towards Swanson's bedroom to alert her of the prowler, and saw the figure run away from the house towards the street on the south side of the residence.
All windows and doors in the house were found to be closed and undamaged when police arrived. No pry marks could be found anywhere on the exterior of the house, but one cop detected fresh bicycle tire tracks in the grass on the north side of the house. Cops established a perimeter around the neighborhood and requested that Air One be launched.
While canvassing the area, a deputy saw a black male riding a bicycle in the area of Burroughs Drive and Buttonworth Drive. When the deputy tried to make contact, the man quickly rode his bicycle into the woods, effectively evading the deputy. He was never located.
As cops were setting up the perimeter on Burroughs, they got a call from a resident at 53 Burnell Drive, again reporting a suspicious person. The resident reported that as he was taking out the garbage, a black man wearing a dark colored poncho-type jacket ran from behind his house, then crossed his lawn and continued on towards the lower number houses on Burnell Drive. Another perimeter was set up in that area.
There was a cut-through from Butterfield Drive to Burnell Drive along the fence line. As a deputy approached the cut-through, he noticed a black flashlight, still lit, on the ground near the fence. But that would be it: after an extensive search, no one was located.
Police note that five hours before the incident, a burglary had been reported at 58 Buttonworth Drive, where a black man with dreadlocks was seen sitting in the driver's seat of the resident's vehicle. When confronted, the man took off on foot, then hoped on a silver bicycle and fled the area. The man was last seen wearing a dark colored hoodie, according to police.
All three locations—40  Buttermill Drive, 53 Burnell Drive and 58 Buttonworth Drive—are within blocks of each other.
A Man Called "Him" and a Counterfeit-Paid Pizza
Call him "Him."
At 1:30 Wednesday morning, Five Star Pizza on Palm Coast Parkway got an order for a pizza delivery. Barry Hadley told police the order added up to $56.66, and was to be delivered at 218 Parkview Drive in Palm Coast. The order was called in by phone–(386) 283-0439—and the name the caller provided was simple enough: "Him."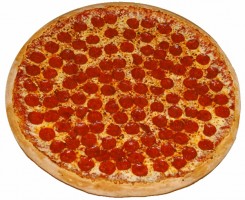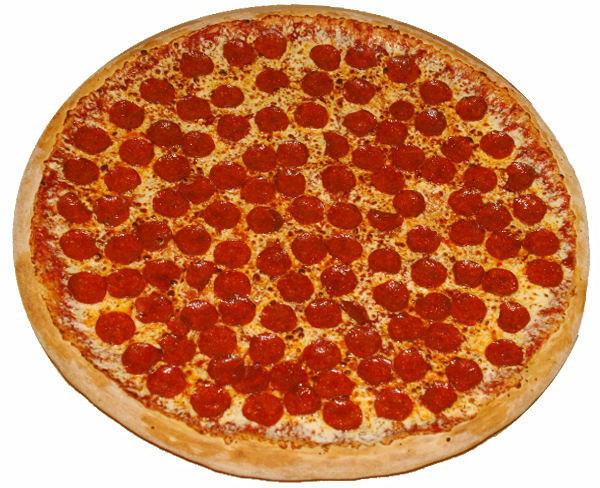 A 20-year-old delivery driver took the order to the address and got three $20 bills from "Him." When the delivery man returned to the pizza shop, Hadley noticed that the bills were counterfeit. They proved to be clearly so on police inspection, the paper having a smooth, almost wax-like feel.
The delivery man said that when he pulled up to 218 Parkview, he saw a blue Hyundai passenger vehicle in the driveway. He made contact with "Him" at the front door. "Him was black, about 6'2'', and 250 lb. He was wearing skull cap, so he couldn't get a good look at his hair.
When a deputy attempted to make contact with "Him" he noticed that the house appeared abandoned. There were several newspapers piled up in the driveway and a foreclosure notice taped to the front door. The exterior door that led to the garage was unlocked. So was an interior door from the garage to the house. "There were no visible signs of any recent occupants within the residence," the police report states.
Jailed for Strangulation Battery
Laura Jean Bencini, 53, says she and Michael Trecki, 55, are in a relationship and sharing a house on Raintree Place in Palm Coast. Trecki says that's not the case, but that Bencini is in a relationship with their roommate, 37-year-old Jason Mohammed, who himself says he's not involved with wither Benicni or Trecki except as their roommate.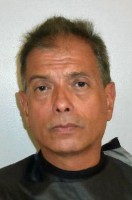 Whatever the case may be, Trecki ended up in jail Wednesday facing a domestic battery by strangulation charge, and a battery domestic violence charge, after Bencini accused him of attacking her, according to his arrest report.
According to Bencini, she and Trecki got into an argument past midnight on Wednesday when they yelled at each other and broke various objects in the residence until the fight escalated and Trecki allegedly grabbed Bencini, striking her in the face. She said her boyfriend then "grabbed her nose and mouth and held them shut, causing her to be unable to breathe, while stating he would kill her," according to the arrest report. When he released her, she ran out of the house, and he locked her out. She said she did not strike him. Red marks were visible on her face. She was treated by Flagler County Fire Rescue.
Several attempts were made to make contact with Trecki in the house, to no avail, until Mohammed  opened the front door and gave police access. Broken glass from picture frames littered the floor at the entrance. Trecki was "hiding in the master bathroom bathtub armed with a kitchen knife," according to the report. He was ordered to drop the knife and leave the bathtub with hands in the air. He complied.
Mohammed said he got to the house at about 6 the evening of Aug. 20 (Tuesday), finding the couple verbally arguing, and looking drunk. He saw them struggle over Trecki's phone, which Bencini had gotten a hold of. Mohammed went to his room and locked himself in so as to not get "dragged" into the argument. He said he did not see or hear anything further.
Trecki was initially uncooperative with deputies, saying he had no idea why law enforcement was at the scene. He said Bencini was a roommate, not a girlfriend, and that no verbal or physical altercation had taken place. Later, when he was taken to Florida Hospital Flagler after complaining of dizziness, he told a deputy that he and Bencini got into an argument because she was drunk, and that during the argument she accidentally struck him in the face, after which he took a shower and went to bed.
Trecki was taken to jail after the clearance from the hospital. He was arrested previously on a domestic battery charge in April 2012, was sentenced to jail for 15 days and a year's probation, and a $575 fine and some court costs, which he paid.