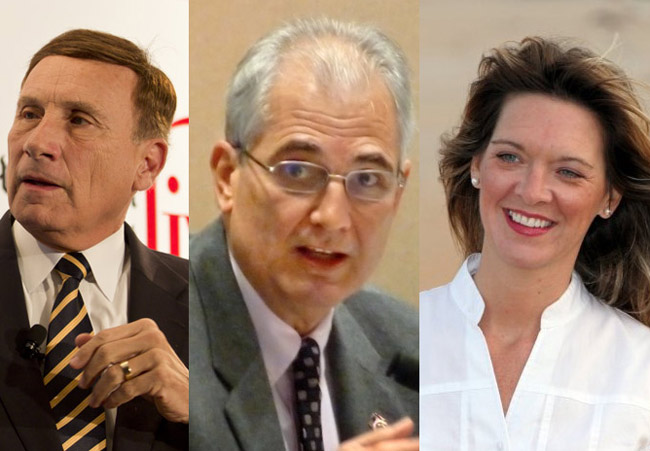 John Mica will no longer be Flagler County's representative in Congress. The 10-term congressman, who's represented Flagler since 2002, decided to run in newly created Congressional District 7, which includes Seminole, Volusia and Orange counties, but no portion of Flagler. He'll be running against one-term incumbent Sandy Adams, who defeated another one-term representative two years earlier, Suzane Kosmas. Mica is expected officially to announce his decision later today.
Mica was first elected to Congress in 1992, the year Bill Clinton was elected president. He's been re-elected 10 straight times (he was unopposed in 2004).
Mica's exit from Flagler's district means that a formidable candidate is no longer a factor, opening the seat to numerous aspirants who might not otherwise have attempted to challenge Mica. Two Republicans have already thrown their name to run in Congressional District 6, which includes Flagler, Volusia, St. Johns and Putnam counties: Craig Miller, a businessman who briefly campaigned for U.S. Senate, last month dropped out of that race and into the congressional race. Fred Costello, the former Ormond Beach mayor elected to the Florida House of Representatives just two years ago, has begun circulating petitions to qualify for a congressional run in the newly constituted District 6.
No Democrat has yet announced. Two years ago, Democrat Heather Beaven ran against Mica, but polled the lowest of any of his Democratic challengers in four races going back to 2002. Beaven said she was not yet ready to announce her plans. Her husband, Doug, who serves in the Army Reserve, is scheduled to be deployed to Afghanistan in summer, and the Beavens have two young daughters. "My thing that I'm struggling with right now is what happens if I win in November, and they have a mommy in Washington and a daddy in Afghanistan. That's what I have to settle in my heart, and I'm working through that," Beaven said. On the other hand, she said, she likes the idea of having a military spouse in Congress. She is herself a veteran.
But she also recognizes the daunting challenge, especially starting late with fund-raising and name-recognition, for an open seat that will draw a lot of contenders. Obviously an open seat means every trial lawyer who won the big case and has a huge pot of gold in his war chest feels it's the next greatest move for them and it's hard to compete with them," Beaven said. "I obviously spent a year and a half really exploring the difference between Mica and myself, so knocking him off is still of interest." Or was. Beavens dismisses the congressman's effectiveness in light of what she sees as his lacking accomplishments on transportation: Mica, who chairs the House Transportation Committee, produced a transportation bill only this week.
Mica gets much better marks from fellow-Republicans locally.
"Look at the tower at the airport," Gail Wadsworth, the clerk of court and the president of the Flagler County Republican Club, said. "He was very responsive to the city of Bunnell when he came and walked the train tracks with them. He has been to many, many functions here. He's almost always here on veterans day."
Wadsworth says Mica's vulnerability will be the tea party vote. "I think you will see that the tea party faults him because the tea party feels and shares in the electing of Rick Scott, and when John did his thing with the rail system, it made a lot of tea party people angry." Mica was supportive of Sunrail, a 61-mile commuter rail line crossing four central Florida counties (but not Flagler), a project Scott opposed, as do tea party activists.
For all the praise Mica gets from Flagler County politicians, all but a handful of them Republicans, Mica is likely glad to be rid of Flagler: it's been his weakest link in the 10 years he's had it in his congressional district. In every single contested election since 2002, Mica's tally in Flagler was lower than his overall tally in the district. He began representing Flagler County after the 2000 redistricting. He carried just 52 percent of the Flagler vote in 2002, against Democrat Wayne Hogan. His district-wide margin of victory: 60 percent. He was unopposed in 2004. He got 57 percent of the Flagler vote against John Chagnon in 2006. District-wide, he won 63 percent. He took 58 percent against Faye Armitage in 2008. District-wide: 62 percent. And he won with 64 percent of the vote against Heather Beaven in 2010, when Republicans reclaimed a majority in the House of Representatives. District-wide, he got 69 percent.
Economic conditions likely played a role in Mica's decision, too: the average unemployment rate in the four counties encompassing the new congressional district that includes Flagler is 11 percent. That, of course, includes Flagler's state-leading rate of 13.9 percent at last count. The average unemployment rate in the counties forming the new district Mica opted to run in is 9.4 percent: less discontent to face at the polls.
Craig Miller was CEO of Ruth's Chris Steak House and served as chairman of the National Restaurant Association, the organization former presidential contender Herman Cain headed, in the same position, in the 1990s. Cain's candidacy was derailed by allegations of sexual harassment during his tenure at the association.
Miller's attraction to the congressional seat is driven in part by his showing in the 2010 congressional election, when he ran in the Republican primary for the 24th Congressional District against Adams. He came in third overall, but he was the top vote-getter in Volusia County, which is now, numerically, the largest voting bloc in the 6th Congressional District.