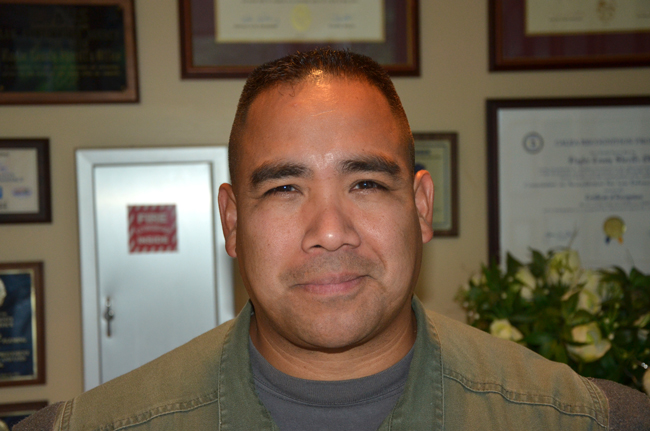 The private contractor that calls itself US Corrections Special Operations Group trains prison guards is a leading private contractor in prison-related special operations, from riot control to "cell extractions."  The company plays up its non-lethal tactics, though in a four-minute video about itself (see the video below) there seems to be more brandishing and shooting and massing of weaponry than in all four Rambo movies put together, and the company's motto—"one team, one fight"—conveys more of a sense of siege than anything approaching conflict management.
Neither the company nor its poster-boy emissary and leading trainer, Joseph Garcia, are shy about blunt words, if not blunt force: "Quit teaching our officers to be afraid to use justifiable force," Garcia told a group of guard instructors at another training session in May.
That month, Flagler County guards traveled to South Florida Community College in Avon Park for two days of training with Garcia who, down to his crew cut and fatigues, looks and speaks like a man on a permanent mission. He taught them that if an inmate were to pick up a chair against them, they should be picking up a table. This week, a handful of guards got training at the sheriff's office in Bunnell, where week-long classes were offered for a few guards from Clay County as well in the particulars of jail extraction—that is, how to get an inmate out of a cell with minimal danger to those involved.
The Sheriff's department here is the first in the state to use so-called "dynamic cell extraction," Sheriff Don Fleming said. Two sheriff's officers received instructor certifications, enabling them to then train their own special operations team in cell extraction.
"We use technology to gain compliance from an inmate, and it's all done from the highest level of accountability, which is very important, which minimizes law suits, minimizes injury," Garcia said. "It allows the review process to move much smoother, so that independently anybody can review it. It's videoed, we try to narrow it down to minimal personnel who's responsible for taking an inmate out of a cell." Flagler's jail has routinely used hand-held video during extractions or other high-intensity encounters with inmates. It was just such footage that showed guards' brutalization, in 2005, of Lisa Tanner (the daughter of the state attorney at the time) in a restraining chair, a case that embroiled the sheriff's office—and the state attorney himself, John Tanner—in scandal, a lawsuit and an eventual written apology by two Flagler County jail guards last year, including Brian Pasquariello, who was involved in this week's training.
"It is the next-generation in the proper tactics for removing combative inmates from a cell, utilizing the latest technologies," Garcia said. "Unfortunately the old ways of doing things often cost officers in departments a lot of money because a lot of officers got hurt, the inmates get hurt. You know, when you put five guys into a cell, try to remove an inmate, obviously someone's going to get hurt."
Now it's done with two guards.
"There's a whole variety of technology that these guys can use that's confidential," Garcia said, though, in fact, there is no such thing as confidential technology or weaponry in corrections: guards may not use "secret weapons" of any sort. Garcia clarified: tactics may be confidential. Asked to specify what actual technologies would be used at the Flagler County jail, he cited Tasers and pepper spray—which are in use already. "I might put a flashlight in your face, and so the light is there from the other side of the door, and obviously I can use a strobe so it discombobulates you and disorientates you. That might be one of the tools that we use, and nine times out of 10 that might even work itself. If it gets to the point where it gets violent, and the inmate I know is going to fight us, then we have access to potentially using a Taser if we need to."
But what's new?
"It's just a procedure, and it's really taking technology that's currently available to them, showing them some new technology that is available, and tactics. That's really the biggest points. The tactics that they've used in the past are what's being used traditionally." He added: "Obviously I can't get into great detail because a lot of it is classified, it's confidential, you don't want anybody knowing what are tactics are, and that's been the problem with the old way of doing things, is that the inmates can prepare for what's about to happen."
The training, Fleming said, cost a few thousand dollars. It's part of a continuous system of training taking place at the department, he said.
"County jails, these are first lines of defense," Garcia said. "People think well it's a small county jail, but what they don't realize is murderers come through here, people with high level crimes and low level crimes, this is the first intake into the judicial system, so obviously the inmates are going to test the system here before they go to state or federal, and unfortunately the county facilities really pay a steep price for it, because they're scrutinizing a lot more, for whatever reason, there's a lot of blame that seems to go there, and a facility this size, even under 200 inmates, you don't know who's coming through the door at any given time because I-95 is a major thoroughfare right now. You can have the next McVeigh come through here, and nobody's going to know until the next thing happens."