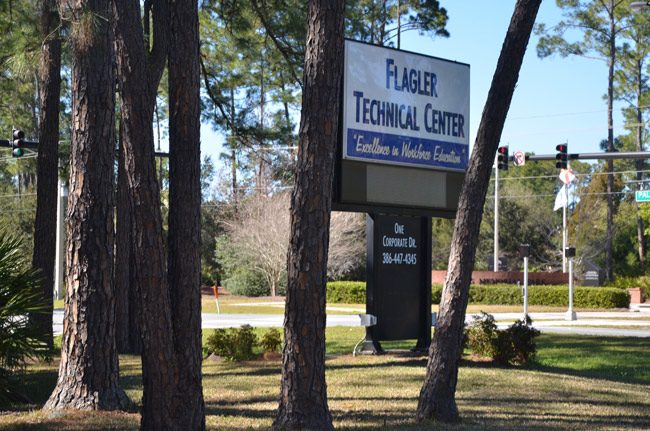 The former ITT building and property at One Corporate Drive off Palm Coast Parkway has been an albatross around the Flagler County School Board's neck longer than it's been beneficial. It continues to be, as the board prepares once again to try to sell it by inviting prospective buyers to bid.
Last year, the board turned down a proposed sale of $1.8 million to the developers of Island Walk, who envisioned a similar development at Corporate Plaza. Three years ago, the board, after a difficult, public haggling session, decided to offer the land and the building (which has since been demolished) for $2.3 million. It got no bids. The building was demolished in April 2016. ("It's a bad design, bad construction, and it really doesn't have value for our purposes at this point," School Board member Andy Dance said at the time, a candid reflection of the board's irritation with the property.)
The school board bought the old ITT headquarters in 2003 for $3.5 million in what, in retrospect if not even then, was considered a burdensome deal fir the board. In inflation-adjusted dollars, that places the cost of the building at $4.9 million, not including the $200,000 demolition cost. So whatever the board does, it will be selling the property at a huge loss.
The Flagler County Property Appraiser places the 2017 market value of the 7-acre property at $1.37 million, down from $3.3 million in 2013. The board will be paying three appraisers between $1,200 and $1,500 each in the next few weeks to conduct three separate appraisals. The school board will then analyze those numbers and issue a request for proposal, soliciting bids for the property until May 2.
Discussing the proposal Tuesday during a workshop, board members were understandably careful about which way to proceed, and even their administration was divided: the finance department, which is putting the bid proposal together, was proposing to set a minimum bid floor. Kristy Gavin, the school board's attorney, was recommending against a floor.
"The district intended to give a minimum dollar amount bidders must meet, listed in the bid document," Patty Wormeck, the district's finance director, said as she presented the issue alongside Tom Tant, the chief financial officer. If bids come in below that, they're discarded.
"The school board will set that minimum at their next meeting," Tant said.
But that gave board members pause, given their recent history of unsuccessful sale attempts.
"Do we taint the process if it's publicly known what our minimum bid is?" asked Board member Colleen Conklin—the last remaining board member who was on the board at the time of the purchase of the building in 2003, when she was nearing the end of her first term.
"We do not have to give a minimum-bid price. That is your option," Gavin said. "If you decide you don't want to do a minimum-bid price you can just have it be—we are placing this out for sale. Because as you'll recall, the last time we did this we did put a floor minimum-bid price, and we based that a little bit on the appraisals we had gotten but it was also based upon what we deemed to be the value of the property."
Several parties were interested during the pre-bid meeting during that attempted sale, some even toured the building, since at the time the building was still standing. But in the end, the district did not receive a single bid.
"So at this time it is not my recommendation that you place a floor on it," Gavin continued. "You merely state that at this time you've declared this a surplus property, you're interested in the sale of the property, you're accepting the bids. They do not know what the market value is going to be. They need to do their due diligence of whatever the property is going at in that area and then, simultaneous, we will get the market value. Obviously any bids that come in below market value, especially if they're 5 percent below market value, you wouldn't even consider those. And then anything that is above or at market value, that is your decision."
That seemed to sway most board members against a floor bid. "We need to consider all offers," Board Chairman Trevor Tucker said, though Andy Dance appeared closer to favoring a bid floor.
Due diligence will show that just last October, a 1.6-acre parcel zoned commercial retail, as would be Corporate 1, sold for $2.2 million—the very same price it had previously been sold for, in 2013, and twice the property appraiser's market value. That parcel is immediately across Corporate One and the eastbound lanes of Palm Coast Parkway. About a block east from Corporate 1, a commercial building on 1.7 acres sold for $3.1 million in April 2016. Otherwise, the area has not been very active on Realtors' radar.
Whatever course school board members choose, the request for bids will be issued later this month as once again the board attempts to be rid of its albatross.