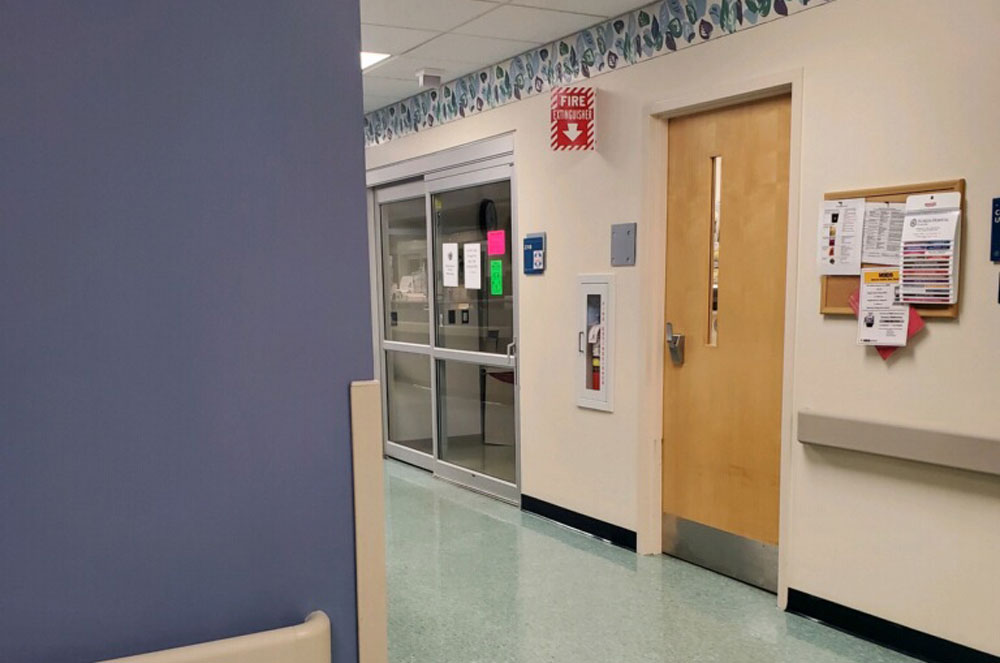 Last Updated: 12:17 p.m.
Almost a week after unconfirmed reports began swirling around about a Covid-19 case in Flagler County, the Department of Health today confirmed the case at AdventHealth Palm Coast, saying it affects a Volusia County resident hospitalized here–a 48-year-old woman.
Department of Health figures indicate only 15 people have been tested in Flagler for the coronavirus so far, and only 100 test kits have been delivered to the Flagler Health Department, indicating a persistent disparity between the number of cases expected locally and the number of people actually being tested. The testing protocol remains stringent, and does not accommodate testing on demand.
The number of tests statewide remains extremely low–at just 5,400 as of Thursday afternoon, with 9 percent testing positive.
"We have no cases in Flagler County as of this moment by a resident of Flagler County," Bob Snyder, director of the Flagler County Health Department, said this morning. "We got the one case as ou know that was diagnosed and treated here, and it's a resident from Volusia County." The case still does not appear under Flagler's numbers, which remain at zero, on the Department of Health's Covid-19 dashboard.
The confirmation follows the patient's own revelations, on Facebook, of her case, in a post that's since been shared widely and led to an interview with the patient on WNZF. Snyder said it was only after a long conversation Thursday evening with state Department of Health officials that he got clearance to discuss a local case that was not one affecting a local resident, even though he'd known of the case all along.
In several previous and tense interviews, Snyder would not confirm the presence of the case at AdventHealth, saying it was a matter of patient confidentiality. He said that became untenable once the patient herself divulged her history.
There had been some questions as to the veracity of the social media post, which had disappeared soon after it was posted. But asked directly if there was any reason to doubt the post or the woman's account at AdventHealth, Snyder was categorical: "This is the person," he said in an interview this morning. Subsequently he referred to her by name as "Cynthia" on the radio this morning–Cynthia Corventino.
"There's no deception here," Snyder said, saying he would be releasing such numbers in the future even if a Covid-19 case is not a Flagler resident. He said he could not do so previously because it was not the protocol. "OK, we now know how we can communicate cases like this," he said.
County emergency management directors have been pressing the health department to be more forthcoming with information. "That's what we've been trying to fight for, I think a lot of county EMs in my shoes have been fighting for that too," Jonathan Lord, Flagler County's emergency management chief, said this morning. "But it's a good thing, they were willing to share that." He said he is hoping that any confirmation of a positive case, whether of a county resident or not, located in Flagler, would be communicated to him "within minutes of them being allowed to tell folks there is a positive case."
Corsentino spoke with WNZF's David Ayres in an interview he recorded Thursday evening. The interview aired this morning.
"I'm at Advent Hospital in Palm Coast, Florida, in the ICU unit, with Covid-19," Corsentino said in the interview. "They did a test on Saturday in the ER, and the result came back Sunday."
Corsentino said she's an Ormond Beach resident, a single mother who runs a consulting business and who travels a lot. She'd been on the road when she got sick, with a runny nose and a fever, and was bedridden. "That went on for almost nine days. My family and kids and stuff were worried." She said she did a video conference with physicians at Advent and was told repeatedly that if she'd not traveled internationally, she had no reason to be concerned that it was anything more than a flu bug. She was told she did not need to be tested.
"They kept saying that they wouldn't test me, but I went to the urgent care clinic here in Palm Coast and they sent me over to the ER immediately because my lungs were so poorly performing at that time. They did a test at the ER and put me in-patient immediately," she said. That was Saturday (March 14). She said she came close to needing a ventilator but that proved unnecessary. She has been on antibiotics and other medications. "Nurses here at Advent in the ICU have really been amazing, considering what they're up against," Corsentino said, "how little information or direction they get from outside sources as far as how to manage this disease. To the best of my knowledge I'm still the only person here at the hospital who's been confirmed although they're testing people in the double digits every day."
It isn't clear how Corventino would know how many people are being tested every day, and her assumption appears inaccurate. Based on figures released by the Department of Health today, AdventHealth Palm Coast has tested only three people, one of whom–presumably Corsentino–has tested positive. Two tested negative.
Snyder said as of now, results from the state's three public health labs are returned within 24 to 48 hours. Results from private labs take three to six days. The difference is due to the fact that the health departments are testing for the more severe cases.
Corventino's experience mirrors that of other individuals who have reported seemingly insurmountable obstacles to getting tested for Covid-19.
"We have to unfortunately advocate a little bit more aggressively for ourselves until the medical community is able to catch up with better information," Corventino said. "You know your body. I knew I was sick. I never had 104 fevers in my life. I just kept doing what they said and stayed home and kept trying to medicate with over the counter meds and stuff. I would hate for someone else who maybe [is] older or not as healthy to take the wrong advice and not get treated and not get tested in a more aggressive fashion. So just follow your instincts I guess and if your family members are sick, continue to call and go to the ER and do what you need to do to get them treated. Don't wait for the doctor to test them if they haven't been outside the United States, because that's really their criteria."
The criteria are still relatively restrictive, with no testing on demand. Snyder said the testing protocols are as follows: an individual must have symptoms such as fever, cough, shortness of breath, and a person must have had close contact with a confirmed covid-19 case. Or a person has been hospitalized with acute lower respiratory illness of unknown origin, and the clinical symptoms are associated with travel to and from an affected geographical area that has had widespread community transmission. (Those areas include heavily-hit countries and Washington State, New York, New Jersey and California.) Or the individual has a history of international travel or has taken a recent cruise trip, or is greater than age 65 with chronic health conditions, or is an immuno-compromised person. Testing may also take place if it's in one's doctor's judgment to do the test.
"Florida does not have widespread community tramsmission in several counties," Snyder said.
Snyder this morning repeatedly stressed that the numbers in Flagler will change, and will rise, likely rapidly. Asked directly if he was concerned, he replied: "I am, I am concerned. But I am hopeful because of the immediate community response of social distancing. I'm hopeful, but it is inevitable that we're going to see more cases around Flagler, the state and the nation."
It isn't just the Covid-19 numbers that are concerning, but the trends regarding who's being affected. The daily percent of emergency room visits across the state that mention cough has risen significantly in the past two weeks for all age groups, but more so for those between 19 and 54. Those visits now account for 7 to 8 percent of all visits, compared to between 2 and 3 percent in early January.
The numbers belie the presumption that Covid-19 is more severe only in older populations: the second-largest group showing an increase in emergency room visits due to coughs is the 0 to 18 years old, with those visits increasing from around 2 to 3 percent to between 4 and 5 percent. For those 55 and older, the visits have increased less significantly.