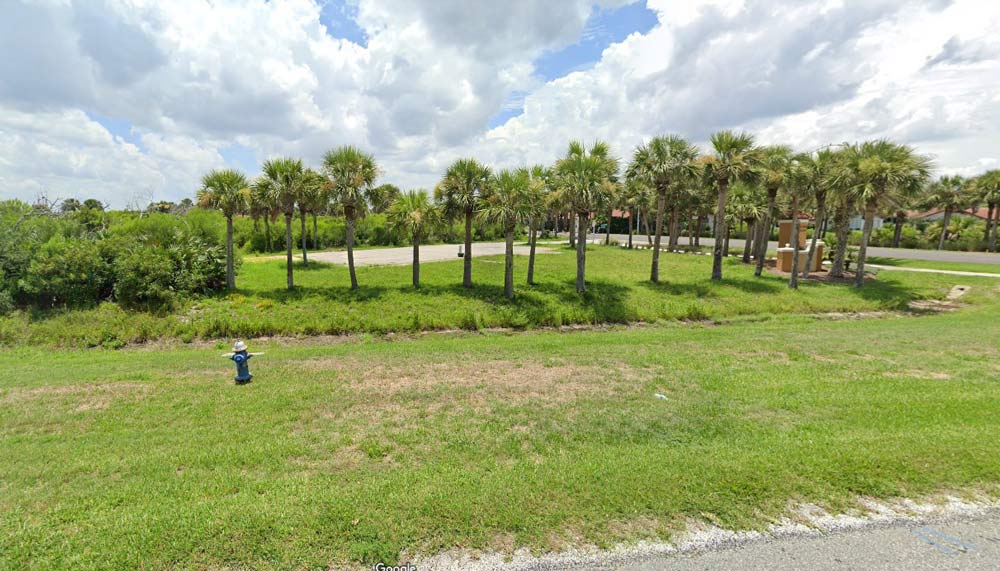 Matanzas Shores will soon lose its distinction as an upscale community free of shops, restaurants and the traffic that goes with it all as a developer is about to build a strip mall on 2.25 acres at the southwest corner of State Road A1A and San Carlos Drive.
The development will be adjacent to a few of Lakeside's homes and to its pool and amenities center, with the restaurant's dumpster currently slated to be within sniffing distance of poolside sunbathers. Matanzas Shores residents have been attempting opposition to the plans, and failing that, they've attempted to alter some of its details they find less savory. They have failed on both counts, and county officials have told them there's nothing they can do about it, nor anything county regulators can do.




What was once called Plaza del Playa–Spanish for the less lyrical, more Daytona-ish "Beach Square"–is now called Coquina Commons, not to be confused with Coquina Shores, the 750-home development planned for the area north of State Road 100, along Old Kings Road in Palm Coast: developers have figured out that the more they clothe concrete, steel, asphalt and tile in rustic imagery that will have very little to do with their development, the easier their pill could be for regulators and residents to swallow.
"Coquina Commons" was in fact cleared for construction at a county Technical Review Committee meeting Wednesday morning. The proposed development will not need to win planning board or County Commission approval, because it won that approval in 1998, and the site plan approved by the county this week is not substantially different than it was back then: it does not change to the point of triggering higher regulatory review than at the TRC level.
The proposed development has left Matanzas Shores residents frustrated and deflated even as about 130 of them jammed a town hall meeting on Tuesday and another 35 turned up for the Technical Review Committee meeting on Wednesday, where Ronnie Wilson, immediate past president of the Matanzas Shores Home Owners Association, seemed to sum up the residents' mood.
"We have an interesting dichotomy here," Wilson said. "We have someone who's coming in and saying, I have approval, I get to do this, but I don't like that part. The citizenry that has to live with this is told: it's approved, and therefore we can't do anything about it. But the the developer don't like parts, so they get to change it. What part does the citizenry get to play in making their comment on what they want. Maybe they don't like part of it. So why is it that only the developer gets to make comments to change, and the citizenry doesn't? Quite frankly, it's a little bit un-American, isn't it?"




But there is nothing more American than the pre-eminence of vested property rights, which the developer is exercising.
The land is owned by Bijou Developments, registered to John Wallis of Jungle Hut Road in Palm Coast. He is represented by land use attorney Michael Chiumento. The proposed development consists of a nearly 10,000 square foot, two-story restaurant that, for now, would only be used as such on the first floor, though there are no set assurances that it couldn't expand upstairs. There would be seven additional businesses in shops ranging from 1,240 square feet to 2,000 square feet. The L-shaped strip would be rimmed on all sides by some 150 parking spaces. Traffic would flow in and out of San Carlos Drive, not A1A. Sean Moylan, the assistant county attorney, on Wednesday specified that the development will be required to be surrounded by a security fence to ensure that traffic does not flow into the gated portion of Lakeside.
"I know that's not going to be something we're all going to enjoy seeing all those cars coming in and out of there. I'm not so worried about the cars as I am Bike Week," Wilson said at the town hall meeting.
County Planning Director Adam Mengel and County Commissioner Greg Hansen sat through the town hall meeting, with Mengel explaining the proposal for much of the time when he wasn't fielding questions from the very large but never uncivil audience. Mengel put the responsibility on the development's approval on the commission of 1998. Residents raised due process concerns as they pointed out that minutes showed that back then residents had not been justly notified of the development. They had a memo written by Al Hadeed, the county attorney then and now, supporting their contention.
"I've seen the same thing in the minutes. But I don't know if it applies to the situation we've got now," Mengel told the audience. "I got to say it out loud. Now 25 years later, there was 25 years to appeal that decision."




Since the development's site plan could only be questioned by the regulatory process if it deviated significantly from its original version, residents tried to object on that basis. Carol Scott, a Lakeside resident, had prepared a list of what she termed 'significant deviations," starting with the elimination of what had been a planned entrance from A1A. She noted that there's nothing to stop the restaurant from expanding to the second floor in the future. A gazebo was added to the current plans, suggesting additional seating–and therefore need for parking. Finally, the original plan had not taken into account the new subdivisions that have been built since.
"These are the points that we need to concentrate on because they are significant deviations from what the original plan was," Scott said. Again, the points did not change the review committee's direction, though Moylan pointed out to the developer's engineer at the meeting some of Scott's issues.
"We've seen based on experience, that it becomes hard for a tenant to resist the profit motive and they begin to add seats," Moylan said of the potential restaurant expansion upstairs, "and we end up with parking that we can't control and it ends up on the right away. What can we do to make sure that as time goes by the second floor doesn't become a de facto area of a restaurant where drinks are served or where anything is served?"
Amir Malek, the project engineer (who participated in the TRC meeting by phone)m said "notes" could be added to the site plan to that effect. But he demurred beyond that. "It's just going to be a matter of enforcement," he said. Moylan accepted the note on the site plan. "It's up to us to figure out how to enforce this,": Moylan said.
Moylan also pointed to the impervious surface–the amount of concrete and asphalt covering up ground–that rose in the site plan 70 to 76 percent.




Malek did not go beyond saying he would have to "double check that," while talking about some additions of landscaping. "I need to coordinate with, you know, the owner and stuff," Malek said, "I'm quite certain that we can add, you know, some landscaping elements within that hardscape there you know, to less than that number."
Impervious spaces are not a minor matter in the area: Matanzas Shores residents have been increasingly concerned about flooding, the more so since the Las Casitas and Los Lagos developments were built–and with the ocean's dune structures chronically washed out.
Malek was otherwise put off, and let it be known several times, when the TRC opened the floor to residents to speak their mind and ask questions, expecting Malek to provide answers. He defended the location of the dumpster next to the Lakeside amenities center. He stood by the findings in the site plan. "We're comfortable with the outcomes of our analysis and our design," he said. "Unfortunately, this is not the proper venue for this type of meeting."
That wasn't actually his call, but nor was it his role to defend development plans against residents' questions veering as much toward political and historical issues as some of Scott's technical issues.
Moylan at one point reminded the audience that the mixed-use addition of the commercial strip was once looked upon, in the 1980s, as a very favorable thing: housing mixing with commercial development, allowing residents access to places to eat and shop within walking distance. "That was wise planning," Moylan said. That's what the development was seeing to bring in what amounts to the last undeveloped segment of Matanzas Shores.
But that wasn't enough to placate residents who, as Alan Goodman had suggested at one point, would, in an ideal world, rather buy out the owner and keep the acreage green. Alternately, Goodman raised the possibility of the HOA refusing the new development access to its sewer system, which could have litigious consequences: the development's owner has been a member of the HOA for years, and so is no stranger to the neighborhood, Mengel had said.
And it's not as if Matanzas Shores is a preserve worthy of Marjorie Stoneman Douglas. Between its Surf Side high rises, its Los Lagos, Lakeside and Las Casitas subdivisions and its Las Brisas condos, Matanzas Shores is a dense agglomeration of homes, time shares and vacation rentals that sprawl toward the upper reaches of Flagler County on State Road A1A.




The community of thousands is hardly a model of environmentally-conscious growth: aside from the environmental calamity that resulted in the pretentious and exclusionary Hammock Beach and Hammock Dunes developments during the same period of untrammeled growth in the county, the zigzagging Surf Side high rises in faux sand tones are among the only walls of cinder block between A1A and the ocean along Flagler's shore.
Local residents have mobilized over the years, first to oppose the original development (unsuccessfully), then (successfully) to oppose a mirror-like row of condos that would have turned that portion of A1A into a canyon. Matanzas Shores residents themselves then became opponents of subsequent development in their midst as plans to encircle Lakeside with Los Lagos and Las Casitas emerged. That opposition was again unsuccessful.
So there's not a little irony in current residents occupying homes whose development was once staunchly opposed, now forming the opposition to oppose what would be the latest addition to one of the county's most densely populated areas of the county.

plaza-playa