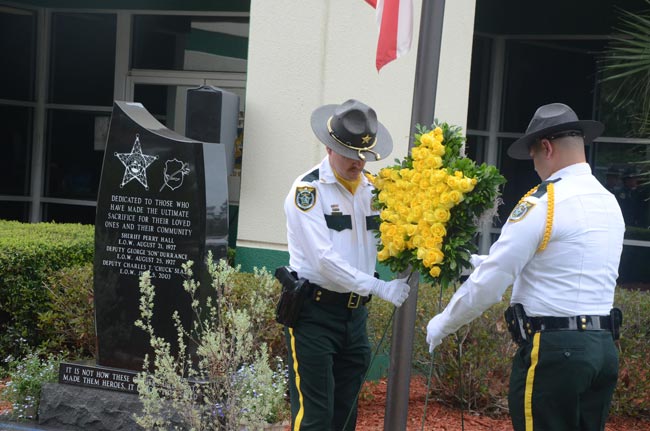 Last year, 173 law enforcement officers were killed in the line of duty across the United States. Among them, 72 were killed by perpetrators, a 25 percent increase over 2010, and a 75 percent increase from 2008. Despite a crime rate at its lowest in four decades for the past two years, Florida has led the nation in officers killed in the line of duty for the past two years, with 17 last year, eight of them killed by perpetrators.
Neither the FBI, which tabulates cop-killings, nor local law enforcement officials, have certain explanations for the discordant trends. But they have theories.
"If you look at New York City, they have what, 37,000, 38,000 law enforcement officers.," Sheriff Don Fleming said on Wednesday. "They have a gun law within the city limits of New York City called the Sullivan gun law, so if you're caught with a weapon, you're going to jail, you're going to do five years. Florida is a right-to-carry state, and I think with the economy, the way it is, domestic violence the way it is, people have domestic violence now, they don't leave because they can't afford to leave. They stay, they fight. I think that's an increase to violence. Also, the increase is coming from gangs and turf wars and wars that are going through the entire state of Florida. Officers are involved in shootings because people are shooting at them. The officers are outnumbered and outgunned. The bad guys have more deadly weapons than we do. They have automatic weapons. We have semi-automatic weapons. I think it's just a reflection on the economy and respect. Bad guys don't have respect."
Fleming spoke just after holding the ceremony for fallen officers at the Sheriff's Office's headquarters on Justice Lane in Bunnell. The brief annual ceremony, always solemn, always moving, includes the reading of the names of the officers killed in Flagler County over the past 85 years: Sheriff Perry Hall, killed on Aug. 21, 1927; Deputy Gregory Durrance, killed on Aug. 25, 1927, Charles "Chuck" Sease, July 5, 2003, and Florida Highway Patrol Trooper Darrell Haywood, Oc. 2, 2004. With every name, a deputy walked a yellow rose and placed it at the foot of the black-granite memorial for the fallen, at the entrance to the sheriff's office.
A bugle sounded Taps. A quartet of bagpipers played "Amazing Grace." A sky thickly overcast held off the rain until the end of a ceremony that drew a surprisingly small crowd, compared with the two previous years' ceremonies, despite an election year that tends to bring out candidates who seldom come out to these ceremonies otherwise. There were a few of these in the audience.
"My term as sheriff for the past seven and a half years is nothing but been a wonderful, wonderful ride," Fleming said at the beginning of his remarks, in words that seemed to be memorializing his tenure as much as the occasion.
"Thirty eight years now in the law enforcement business, every year we do this, and every year we remember. Law enforcement guys in the back, the Blue Knights who worked the roads, worked the streets, retired," he continued, "men and women of this agency that work on a daily basis, every day they go outside, they put that uniform on, they put that badge on, they put that gun on and they go out every night, kiss their husbands or wives goodbye, and they don't know if that could be the last time that they do that. But they do it, and they do it well. It's a proud tribute to the men and women that work in law enforcement."
The ceremony was emceed by Maj. David O'Brien, recently named under-sheriff in place of the retired Rick Look, who was also there.
After the ceremony O'Brien spoke about the trend pointing to increased violence against officers. "We feel it's stemming from the economy, unemployment," he said. "The officer gets involved in that by making the traffic stop, by intervening, and then, whatever that individual's mind is set at at that point, determines the possibility of what could happen. We see a simple traffic stops where an officer will do a traffic stop where he's getting killed or getting shot at."
Gun laws in this state, he said, may have become more permissive. "Florida has always been very broad on their gun laws here–very liberal, I should say," O'Brien said. "I can remember years ago where they passed a gun law, they changed the gun law to where people started strapping them on their hip and everything else, they had to go back in and actually change it. Should they have stronger gun laws in the state of Florida? I would probably suggest that they do. I'm not opposed to the American citizen having the right to bear arms, but I think there needs to be a little bit stricter gun laws in the state."
Jeff Hoffman, the new Bunnell police chief who spent two decades as a cop in Daytona Beach, had no explanation for the cop-directed violence in Florida. "I wish I knew. I don't know. It doesn't make sense," Hoffman said. "Crime goes down, but violence goes up. I wish I had an answer. I'm hoping it's just something that's cyclical, that it's just a glitch on the graph. It'll go back down."
He was asked about Florida's Stand Your Ground law, so often a matter of debate these days when gun violence is at issue. "The law needs to be tightened up and refined maybe, if it's not repealed altogether," Hoffman said. "I don't have a problem with the concept of it. But they definitely need to take a look at it. I think it was one of those things that was kind of pushed through to get it out there, and I don't think anybody did the big picture to think what the consequences would be down the road. But I do agree with the concept of it. I don't think anybody should stand back and allow themselves to be victimized by a thug and have to sit there and take it."
One reason the law enforcement community across the country has suggested to explain the violence against cops is that policing itself has changed in the past two decades, with a much greater emphasis on community policing and crime suppression by targeting particularly crime-ridden neighborhoods. The two approaches have coincided with a significant and historic reduction in crime across the country. But by sending cops into crime-infested areas, the likelihood of exposing cops to lethal dangers, especially with some 300 million guns in the nation, rises.
"This technique has become more popular across the country as smaller departments have followed the larger cities and tried to prevent crime," Chuck Wexler, executive director of the Police Executive Research Forum, told the New York Times in reference to community policing. "Unlike several decades ago, there is this expectation that police matter and that police can make a difference." The technique was pioneered in new York City, where there were two cop killings last year. On the other hand, both those killings took place after cops were responding to emergencies, not in the course of pro-active policing.
It's just as true that in the tougher economy, fewer cops have been hired, more have been laid off, and those left to do the job have had to make do with thinner ranks: a lone officer responding to an emergency is always more vulnerable than many. In Flagler County alone, 911 gets about 100,000 calls for service a year.
"Let's not forget them the next 364 days of the year," Fleming said of the officers on the job. "Remember them in your prayers, remember them in your heart, remember them always."