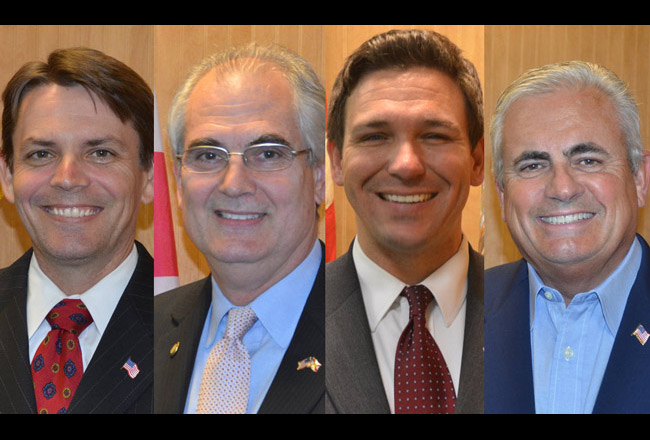 Stretching along the coast from Ponte Vedra Beach to the southern end of Volusia County, the newly drawn Sixth Congressional District should be a stronghold for Republicans.
Rick Scott trounced his Democratic opponent, Alex Sink, in the area during the 2010 gubernatorial election, and GOP presidential candidate John McCain also won there in 2008 over Democrat Barack Obama.
But with the primary election two weeks away, the contest to become the Republican nominee for the open congressional seat appears cluttered. The primary includes seven Republicans who, judging by a campaign event Monday night in St. Johns County, largely agree on staple issues such as holding down taxes, opposing increased restrictions on gun owners and rejecting the 2010 federal health overhaul. (For an earlier story on the GOP candidates, go here.)
Toss into the mix that the district is split between the Jacksonville and Orlando media markets and that the candidates — even the experienced office-holders — are running in areas where their names have not been on local ballots. Candidate Richard Clark said he thinks a large number of voters remain undecided, which makes it important to knock on doors in the district, which includes all or parts of St. Johns, Flagler, Volusia and Putnam counties.
"I think it's he who touches the most hands," said Clark, a Jacksonville City Council member who does not live in the district but grew up in nearby Ponte Vedra Beach and is running for the seat.
Campaign-finance records show that through the end of June, Ponte Vedra Beach Republican Ron DeSantis and Clark were the top fund-raisers in the race and had tapped into some of the biggest GOP players in Northeast Florida.
As examples, DeSantis had received contributions from former Jacksonville Mayor John Peyton and major GOP fund-raiser Mike Hightower, a vice president of Blue Cross and Blue Shield of Florida. Clark, meanwhile, had received backing from Jacksonville businessman Tom Petway and political consultant Susie Wiles, who directed Scott's 2010 campaign.
More to the south, candidate Craig Miller has received backing from some key players in Volusia County, including former state House Speaker and insurance executive Hyatt Brown and members of the France family from NASCAR and International Speedway Corp. Miller briefly was in the running for the state's U.S. Senate seat this year, but dropped out to make the congressional run instead.
U.S. Rep. John Mica, R-Fla., has represented most of the area during the past decade. But with redistricting, Mica is running this year against another incumbent Republican, Sandy Adams, in the Seventh Congressional District, which is centered in Seminole County.
Six of the seven Republican candidates in the Sixth District race appeared Monday night at a forum held by the St. Augustine Record and the local League of Women Voters, with Miller, a former CEO of Ruth's Chris Steak House, the only candidate missing. Also, the two Democratic candidates in the district, Heather Beaven and Vipin Verma, took part.
The Republicans echoed each other on issues such as opposing higher taxes and vowing to fight additional increases in the nation's debt ceiling.
"The fact of the matter is, we cannot continue to spend at Obama levels of spending," said DeSantis, who has received endorsements from some national conservative groups such as the Eagle Forum and the Club for Growth.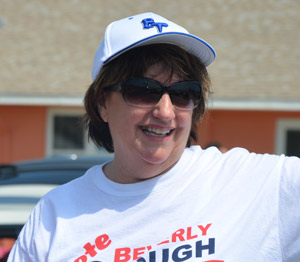 One area of difference among the Republicans was that state Rep. Fred Costello of Ormond Beach and St. Johns County School Board member Beverly Slough said they would not sign a no-new-taxes pledge. Slough said, for example, said she does not want to ever raise taxes but that something "catastrophic" could happen, so she won't sign a pledge.
Beaven, a Flagler County Democrat who lost to Mica in 2010, blasted the idea of signing such a pledge, which has become popular in Republican politics.
"I think it's short-sighted and nonsense to take a pledge outside the oath of office," she said.
The Republicans expressed support for making changes in the Social Security and Medicare systems to try to hold down long-term costs. But in a district dotted with retirees, they also were careful to say that Social Security changes should only affect people who are still years away from retiring.
Costello said he supports increasing the eligibility age for Social Security for future beneficiaries. As an example, he said people who are now between 45 and 50 could become eligible at age 68, and that younger people could see gradually higher eligibility ages.
"Let's be clear, Social Security was intended to be a safety net, not a retirement plan," Costello said.
But Verma, one of the Democrats in the race, took issue with a Republican idea to turn Medicare into a voucher-type system that could lead to seniors buying coverage from private health plans.
"Changing Medicare into a voucher program, you're basically leaving our seniors (hanging) out to dry," said Verma, a Volusia County lawyer.
The Republican candidates flatly rejected placing more restrictions on gun owners after the mass shooting this month in a Colorado movie theater. Responding to a question about the possibility of banning certain cartridges for assault weapons, Slough said she is concerned that such a move could gradually lead to other restrictions on gun owners.
"Before you're done, no one will have the right to bear arms," she said.
The Republicans also uniformly criticized the federal health overhaul, which was mostly upheld last month by the U.S. Supreme Court.
"Obamacare, it must go," said Alec Pueschel, a Jacksonville pastor in the race. "It's an egregious, egregious invasion of your privacy."
With the Republican candidates largely agreeing on the issues, however, attention in the crowded primary could turn to more-intangible issues. An issue raised during Monday's forum centered on the fact that Clark and Pueschel don't live in the district and that Miller has lived outside the district in Winter Park — though his campaign material says he now lives in Ormond Beach.
"The balance of my opponents have not been or are not residents of the district," said candidate William "Billy" Kogut, a Flagler County resident who ran a long-shot campaign in 2010 for U.S. Senate.
Clark tried to defuse the issue during the forum, saying he grew up in the district, went to high school in northeast St. Johns County and runs a family janitorial service.
"I'm a product of St. Johns County," he said. "I was raised here (and) went to Nease High School."
–Jim Saunders, News Service of Florida