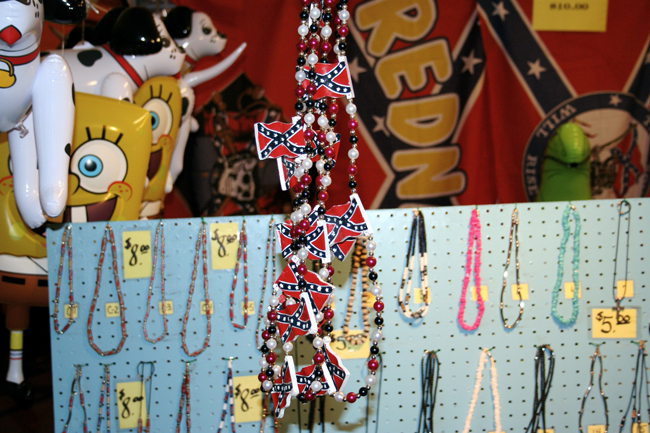 Hard to believe that as we head into the autumn of year 2013, we still have to endure people who cloak their racism in Confederate symbols, insisting that they are simply honoring their "Southern Heritage." The determination of some to keep the name of Jacksonville's Nathan Bedford Forrest High School, discussed here by contributor Julie Delegal, is just one example of a chorus of people living small, angry lives.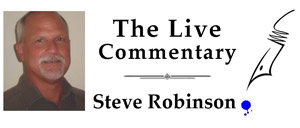 Confederate battle flags on pickup trucks, Jefferson Davis and Robert E. Lee bumper stickers–and let's not forget the eloquent "Kiss My Rebel Ass"—all mean the same thing: Old times, when white Christian males were in charge, are not forgotten. And just as surely as their chosen symbols profess a sentimental attachment to an era of racist brutality, they insist that what they really pine for is the Old South of country roads, shady front porches and long, lazy afternoons at the fishing hole. Yeah, right.
For some politicians there is mileage to be gained in catering to this pseudo-nostalgia. Former Virginia governor and Senator George Allen was a big proponent of displaying the Confederate flag and proclaiming various Confederate history and heritage days in his racially polarized state. It was only his appalling "Macaca" comment, directed at an Indian-American in his audience, which finally did him in.
Some years back I had an encounter with Tom Price, who is today a congressman representing Georgia's prosperous north Atlanta suburbs, and vice-chairman of the House Budget Committee. Back when I ran into him he was a state senator, and the big issue of the day was whether the Georgia flag should be changed to remove its dominant element, the stars and bars of the Confederate battle flag. Those lobbying to keep the flag intact were fond of saying that the stars and bars were an important reminder of lives lost in the Civil War. But the Georgia legislature only added the Confederate image to the state flag in 1956, as a symbol of defiance toward Federal laws requiring school integration.
As it happened, on the day I ran into Price, who had just left a speaking engagement at my daughters' elementary school, he had been quoted in the Atlanta Constitution, saying he hadn't made up his mind yet about the flag. I introduced myself as a parent, and then asked him what exactly he didn't get about the issue. His practiced politician's smile vanished. "You just came out of a school full of kids of different races and ethnicities," I said to him. "How would you explain to them a flag that honors those who were willing to destroy the greatest country on earth in order to retain the right to own other human beings?"
Now, Price is not a stupid man—he is an orthopedic surgeon—but he was clearly groping for a response in the face of an unexpected challenge in what he had thought was friendly territory. "The Civil War wasn't only about slavery," he sputtered, then added, "and I'm originally from Michigan," as if being a northerner added weight to his absurd pronouncement. As my jaw dropped open, Price suddenly remembered a very urgent appointment and scurried away.
Here's a bulletin for Tom Price and anyone else who tries to rewrite history and portray the nation's bloodiest conflict as a difference of opinion over states' rights: The Civil War was about whether slavery would endure in the South and whether it would spread to new territories. And proudly displaying the Confederate battle flag on your car, your truck, your business, or your bathroom wall reveals one thing: You are chock full of nostalgia for a time when black people were chattel and more than half a million men died on the way to erasing that stain from our history. Oh yes, Price voted to keep the flag with its symbol of hate.
If you think that making an issue of things like flags and bumper stickers is tiresome and unnecessary, think again. The sentiment that moves someone to reverently display symbols of the Confederacy is not far removed from the vile dialogue that takes place on white supremacist Websites like the Vanguard News Network. The internet allows like-minded bigots to find each other in cyberspace and reinforce each other's twisted, paranoid view of the world.
The Southern Poverty Law Center, the organization that monitors hate groups, recently reported on a young man, the son of a former Ku Klux Klan leader, who made the brave decision to publicly disavow his father's racist beliefs. The response to this conversion, on white supremacist websites, was swift and ugly. Wrote one hater on the Vanguard News Network: "He is now an open enemy of the survival of the race." The message was signed: "N.B. Forrest."

Steve Robinson moved to Flagler County after a 30-year career in New York and Atlanta in print, TV and the Web. Reach him by email here.