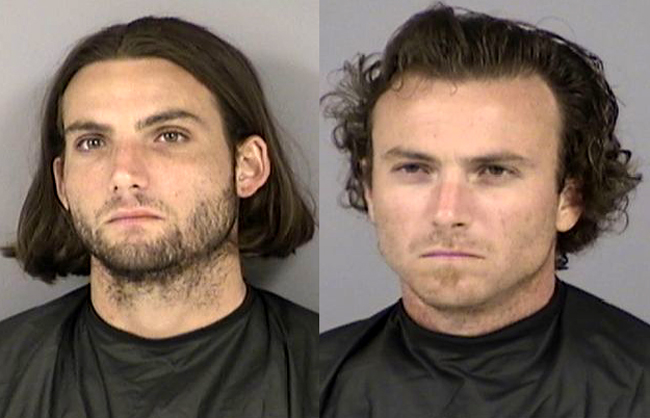 The bank was robbed the afternoon of June 22, 2011. A man entered Hancock Bank in the Palm Harbor shopping center, yelled the rather inelegant cliche of bank robbers–"don't anyone fucking move or I'm gonna start shooting, this is a robbery"–and proceeded to point the gun at tellers and demand that they hand over cash. He took $4,342, including $100 in bait money.
The man had a thin build, a pony tail, a green shirt with camouflage long sleeves, dark pants, and a dark scarf covering his face. He took the money, got into the passenger side of a two-door Oldsmobile Alero (captured on video surveillance), and the vehicle took off, but not before slamming into a curb quite violently.
No one was hurt in the robbery. About three weeks later two brothers were charged: Michael and Shawn Cona. Shawn, now 32, pleaded no contest last year, served out a year in jail, and was released almost a year ago today–on March 25, 2012.
Michael went on trial on Tuesday before Flagler County Circuit Court Judge Dennis Craig, on an armed robbery charge, an aggravated assault charge and a charge of conspiracy to commit a robbery.
This afternoon, after a few hours' deliberation, a jury found Michael Cona not guilty.
The case against Michael was harder to prove than that against his brother. Witnesses had seen Shawn the day of the robbery pry off the license plate from the car, according to a charging affidavit. They'd noted that there was a passenger in the car, but could not identify him. One local resident told police that he saw the Oldsmobile being moved into a garage on Fischer Lane–the same Oldsmobile from which the license plate had been removed.
The car was registered to the Cona brothers' mother, Lucy. The evening of June 23, 2011, the Flagler County Sheriff's Office sent its SWAT team, warrants in hand, to the Fischer Lane house, arrested the two brothers, and arrested Shawn's girlfriend Suzanne Garrison, on a drug charge. A Colt .22 was recovered from under Shawn's bed. Police also found various illegal drugs. In jail, Garrison would later claim that Michael had carried out the robbery, splitting the money with his brother–and that Shawn was at the wheel, hitting the curb during the get-away, and blowing out a tire that was later discarded.
But the evidence against Michael was largely circumstantial. He was not at the Fischer Lane house when cops initially arrived, and when they located him, he denied any knowledge of the robbery. He wished he could help, he told authorities. But he had no information to provide.
On Wednesday, he was acquitted.