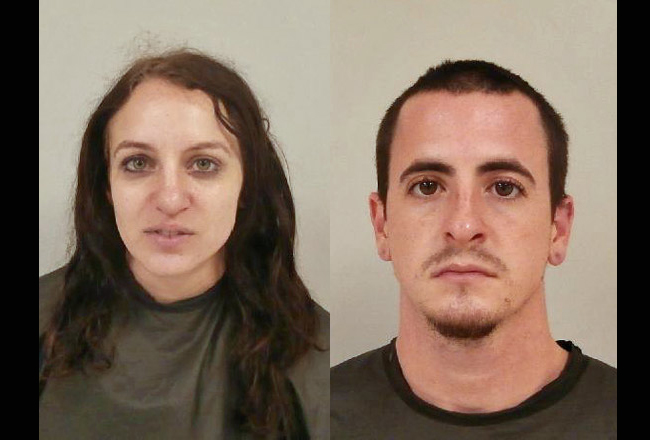 Christopher Hubbard, a 26-year-old resident of 8 Wellwater Drive in Palm Coast, has been jailed locally half a dozen times since 2008, on charges including battery, resisting arrest with violence, burglary, giving a false name under detention, driving on a suspended license, shoplifting, marijuana possession, and violating probation.
On Saturday, he was back in jail, along with his girlfriend, Nicole Bogus, 25. Hubbard is charged with grand theft after being accused of stealing his sister's computer tablet, and dealing in stolen property. He remained at the Flagler County jail Monday evening on $5,000 bond. Bogus, of 5 Biddleson Place in Palm Coast, who was jailed just last October on an out-of-county warrant and a failure to appear in court, was charged with dealing in stolen property and defrauding a pawnbroker. She posted bail on $5,000 bond and was released.
Hubbard had been living at his mother's house on Wellwater Drive in Palm Coast, along with his girlfriend, for a few months, until his mother asked them both to leave, according to their arrest report. They moved out of their own will. But the next day, the homeowner's 17-year-old daughter told her mother that her computer tablet, valued at about $300, was missing.
Just after Christmas, the girl had given her brother–Hubbard–the password to the house's wifi so he could use the tablet. When Hubbard and his girlfriend left on Jan. 3, the tablet went missing. His sister asked him about it. Hubbard told her the tablet was in a friend's car. He would get it back and return it to her, he told his sister. The girl called the person in whose car the tablet was supposed to be. That person said he didn't have it, and thought that Bogus had pawned it at Palm Coast Pawn & Jewelry.
Mother and daughter went to the store to inquire, but were told they'd have to get police involved, at which point a Flagler County Sheriff's deputy was dispatched to the store, and was able to confirm that Bogus had pawned the tablet on Dec. 28. The tablet in its soft black case matched the description provided by the girl. When the manager of the pawn shop powered on the tablet, it revealed a picture of Hubbard and another woman.
Bogus's younger brother had picked up his sister and Hubbard on Jan. 3, when they left Hubbard's mother's place. They went to a house on Biscayne Place. There, Hubbard told the deputy that he'd pawned the tablet because he needed the money, but that he planned on getting the tablet back, but that he'd lied when his sister asked him about the tablet's whereabouts.
Both Bogus and Hubbard were then booked in at the Flagler County jail.