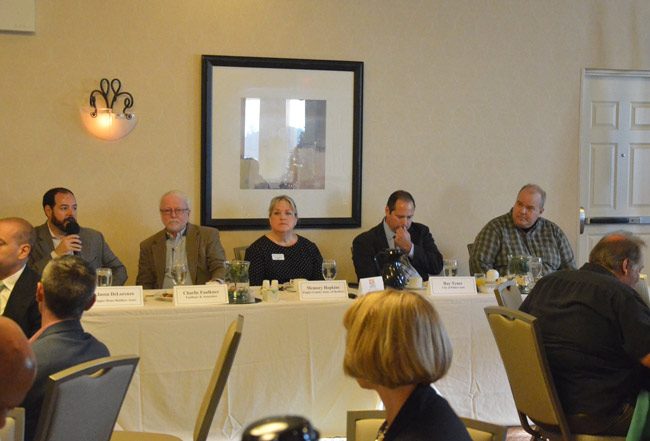 Affordable housing has become such a stigmatized term in Flagler County and Palm Coast, connoting—usually falsely—poorer tenants, renters, apartment dwellers or subsidized housing, that local officials like Helga van Eckert, the county's economic development director, are urging those involved in the industry to move away from words like "affordable housing."
One idea, the Chamber of Commerce's Lea Stokes said, is to call it "diverse housing options." Another was this morning's Common Ground breakfast hosted by the chamber and moderated by Stokes: a panel discussion featuring local officials at the heart of development issues, from the private and public sector, offering broad insights into the lack of affordable housing in the county, some of the sources of the stigma, and potential ways to improve matters.
The Chamber's Common Ground breakfasts–the work of the Chamber's Gretchen Smith–have over the past two years become uniquely instructive forums by focusing discussions by diverse panels on specific issues of immediate concerns to cities and the county. Government and association boards individually are having frequent discussions on affordable housing, but today's panel, ostensibly addressing planning and development in general, provided the public an unprecedented perspective on the issue across jurisdictions and industries. (While several county commissioners and Flagler Beach city commissioners were present, however, as they usually are, other key policy makers, including all five Palm Coast City Council members, were absent, as they usually have been from these Common Ground gatherings.)
What all the panelists agreed on is that there's a lack of affordable housing in the county and in Palm Coast, that the prejudice against affordable housing is grounded more in fear than in fact, that there are solutions possible, especially if Palm Coast and the county were to allow for looser development standards that would enable more dense and taller developments, and that the city is forging ahead with such developments in two zones already specified for them, even without looser development standards.
But present conditions are not favorable. It's a matter of debate whether the current housing shortage is at a crisis point. But defining the degree of the problem may itself be beside the point. There's little doubt that a problem exists.
Memory Hopkins of Memory Hopkins Real Estate, the current president of the Flagler County Realtors Association, spoke of the larger housing picture in the county: "As I travel up and down I-95, the benefit that Palm Coast and Flagler County has is that we're still affordable, although that's becoming a challenge for some of our folks. But we're new, you can get a bigger, nicer home here than our neighboring counties for the same kind of money," Hopkins said. But she noted that the median sale price for the third quarter of this year for a single-family house in Flagler is $220,000. That's up 10 percent over the previous year, and it's having consequences for those who can't afford those prices.
"Although we say we are still affordable compared to our neighboring counties, $220,000, $250,000 is getting expensive for folks working in the service industries," Hopkins said. "A lot of the folks, their income in our area is now not allowing them to buy a home and let alone buy, rents are way up. So it's getting very expensive to rent a home here. That is pushing people out of the area and going further west and out into other locations."
Inevitably though, need for affordable housing butts up against steep resistance, specifically from homeowners in single-family homes—ironically, the sort of residents who cause the steepest impacts on the environment and roads, the sort of impacts for which those very homeowners usually blame apartment renters.
Charlie Faulkner, a development consultant and one of the panelists, gave some historical perspective to the issue, dating back to the time before Palm Coast became a city when a six-month moratorium on multi-family projects was imposed. He spoke of the stigma against "this horrible thing referred to as apartments," or multi-family development, in a different context: "Whenever you use that term, you should never add the word 'project' to it," Faulkner said. "ITT as everybody knows did a lot of their marketing in the Northeast part of the country. I don't know—I haven't had any personal experience—but I've heard stories of when affordable housing projects were done by the government, it had some pretty devastating impacts on established neighborhoods, and a lot of the people that ended up coming to Flagler County and Palm Coast experienced some of that." He was referring to the urban renewal trend of the 1950s and 60s when the well-intentioned plans to demolish slums turned into the destruction of thriving neighborhoods and the rise of apartment buildings (the 'projects") instead.
---
"Being human beings, there's a certain amount of prejudice or even, better stated, fear, associated with those multi-family projects."
---
"Being human beings, there's a certain amount of prejudice or even, better stated, fear, associated with those multi-family projects," Faulkner continued. And yet, he said, "it's a critical element for a vibrant community. You have to have diversity in housing." Instead, the old resistance emerges again when local governments are contending with land-use issues that would facilitate apartment or multi-family developments. (Faulkner was in the middle of just such an issue a few weeks ago when Palm Coast went through approval steps for a zoning change on Old Kings Road near State Road 100 to enable apartments or other multi-family housing there.)
Jason DeLorenzo, familiar with these contentious issues as a former Palm Coast City Council member and as the government affairs director of the Flagler County Builders Association, underscored "another issue in the community which has to do with density," he said—meaning how many housing or apartment units you may squeeze into any given acreage. "Palm Coast is often compared to Port Orange in a favorable way. But also Ormond Beach as well. Ormond Beach has a density for multi-family of 32 units per acre. With straight zoning in Palm Coast, you're looking at 12 units per acre. That is a huge difference. When you're trying to bring a multi-family project to market and you can only achieve it with 12 units per acre, one, it's hard to bring the product affordably, and also it's hard to bring a really good quality product because you don't have any extra money to spend on the product itself. You're building it very straight forward because your cost per unit is so high."
In other words, the local zoning rules designed for affordable apartments end up having somewhat of an opposite effect by either limiting the number of apartments that are built, resulting in lower quality apartments that may be priced at a higher rate for the investors to make back what money they can, for lack of scaling that would have allowed them to build better and rent at more affordable prices.
Density should be addressed, DeLorenzo, and "we really do need to do a better job with public perception."
When Faulkner spoke of higher densities being made possible by building higher—which means going above the 50-foot limit in most places in Palm Coast—he got some resistance from Ray Tyner, the city's development director and one of the panelists. He recalled the time when the city passed its comprehensive plan, the blueprint for long-term development in the city, in 2004. "It was always keep the character of Palm Coast, not having high rises," Tyner said. "That's a balance, when you talk about a higher density, you're talking about potentially taller buildings if you're going to go to 35 units per acre. You're talking a lot of height there. Looking at Palm Coast since 1977 and looking at the lay of the land, I really don't know what areas. There could be some areas that could be appropriate, but if you look at the Matanzas Woods area and you've got some clusters of multi-family there, can you picture a 90-story building in the middle of Matanzas? I can't." Tyner likely meant 90 feet, not 90 stories (the tallest building in the state, the nearly 900-foot Panorama Tower in Miami, has 82 floors), and seemed to correct himself moments later: "Would the citizens who live in Matanzas like a 90-foot building? I can't see it."
Tyner said there may be some opportune ities to get some more density next time the comprehensive plan comes up, but "it's where you put the density that matters—siting it appropriately within the community, so you keep that balance."
That, of course, leads into the not-in-my-backyard strains that always animate planning and city board discussions of such developments. Adam Mengel, the county's planning director and also one of the panelists, addressed that very point.
"Those of us who are natives, those of us who are first, second, third, fourth generation Floridians, have seen dramatic changes in our state, and the folks that have come here more often than not are the latest edition," Mengel said. "We welcome them, we want them here, they drive our economic engine. But there's also some perspective that's involved. It's always that idea of smart growth, that sometimes we laugh, we giggle about that, and is there any such thing as that. Hopefully efforts like this can get us to that common ground, help us to build that relationship we all rely on. It's not always about the NIMBYs, the not in my backyard, the CAVEs, 'the citizens against virtually everything,' the CAVERs, 'the citizens against virtually everything reasonable.' This is my world that I see. I'm never immune from the land use actions, and then I get those folks that get there and they say, why are you doing this to me? In reality most of the time it's because those entitlements have been in place years before, and we have those property rights there, and certainly we use developer and investor maybe too derisively. Remember that most of us are here because of a developer known as ITT. If ITT hadn't come here we would still be referring to Flagler County as poorly trained piney flatwoods."
The breakfast was attended by some 75 people and took place at the Hilton Garden Inn in Palm Coast.