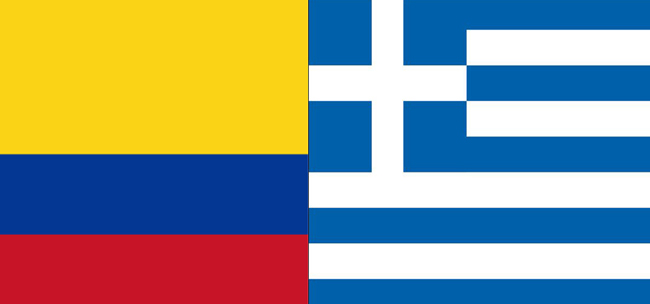 Estadio Mineirao, Belo Horizonte, Noon, ABC
Pretenders to the throne, that is: don't discount Greece. This team managed to win the European Championship out of nowhere in 2004, and even though only a couple of relics remain on the team from that championship year (Giorgios Karagounis, 37, Kostas Katsouranis, 34, and Theofanis Gekas,  33), the Greeks can, depending on what mood they're in, silence attacks and stun superior teams, as Colombia very much is. But Greece are temperamental: you never know what mood they'll field. And they can be dull: they're not into scoring goals as much as defending against them, hewing to that European malaise style of football that at times gives the sport a bad name.
World Cup 2014
---
Goals So far: 150

Matches: 55

Average: 2.78 (2010: 2.27)
Brazil 1, Chile 1 (Brazil on PKs) | USA 0, Germany 1: Small Loss for a Big Win | USA 2, Portugal 2 | USA 2, Ghana 1 | France 3, Honduras 0 | England 1, Italy 2 | Costa Rica 3, Uruguay 1 | Colombia 3, Greece 0 | Chile 3, Australia 1 | Spain 1, Netherlands 5 | Mexico 1, Cameroon 0| Brazil 3, Croatia 1

Colombia are a different story. They're the team the United States beat in the 1994 World Cup, thanks to an own goal by the player who went on to be murdered back in Colombia. They haven't been to a World Cup since 1998, but they're in fine form, qualifying very strongly and fielding a team of committed, exciting players. They showed it, scoring in the fifth or sixth minute in the first half against Greece (thanks to Pablo Armero), though they somehow sat back for too much of the rest of the half, letting Greece back into the game.
Here's the goal:
Colombia can be among the surprises of the tournament, and they're playing in a group that favors it: anyone in Group C can win it, anyone can advance. Japan and Code d'Ivoire are the other two contenders. They face each other tonight. They played en entertaining first half, had several chances, went for too much but managed to keep the lead. They have a couple more goals in them.
Well, I said at half time that they had a couple more goals in them, and they did. The young upcoming superstar Teofilo Gutierrez took a corner to take advantage of Greece's blind spot with set pieces and confidently place it in the net. That was at the 58th minute:
And with a terrific set of quick, confident lateral passes in the box, including a back-heel to James Rodriguez in injury time, Rodriguez reminded Greece that it's not the 5th century BC anymore, and the soils of Brazil are all Colombian today, as were the yellow-sea stands. Watch:
Not that Greece didn't lack luck. There was that crossbar shot, an incredible save by the Colombian keeper, and a couple of other well-targeted shots that should have given Greece at least one or two goals. But Colombia were more relentless, more spirited, less self-conscious, and of course they had home continent advantage. It was yet another wonderful match along a run of nothing but: so far this World Cup has been a joy to watch, and today's officiating by Mark Geiger was the best job yet. He should replace John Kerry as Secretary of State and immediately head to the Middle East.
So: 18 goals so far in this tournament, for an average of 3.6 goals per match. That's satisfaction.