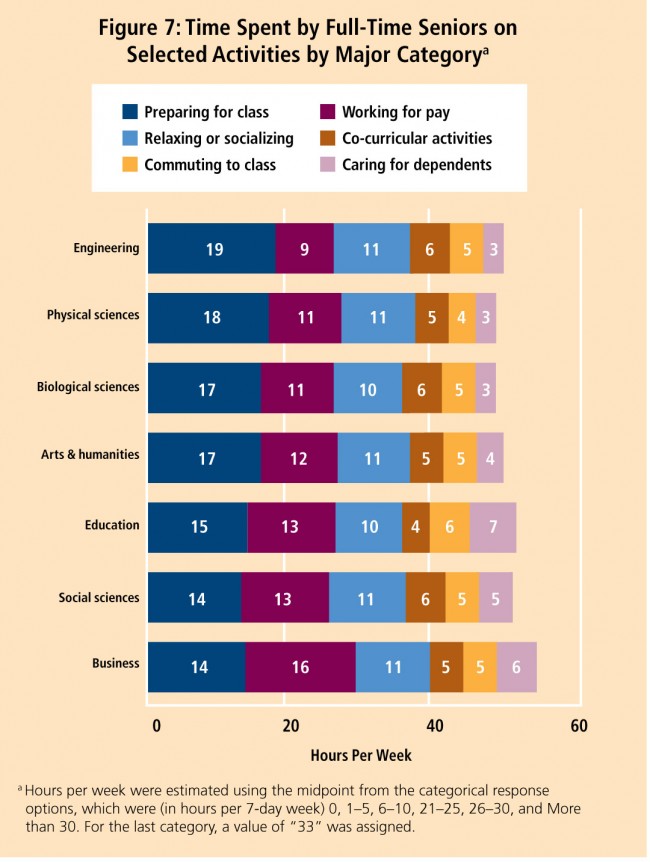 It's not just in schools that students are laying back. From the Washington Post: "Over the past half-century, the amount of time college students actually study — read, write and otherwise prepare for class — has dwindled from 24 hours a week to about 15, survey data show. […] declining study time is a discomfiting truth about the vaunted U.S. higher-education system. The trend is generating debate over how much students really learn, even as colleges raise tuition every year.
"Some critics say colleges and their students have grown lazy. Today's collegiate culture, they say, rewards students with high grades for minimal effort and distracts them with athletics, clubs and climbing walls on campuses that increasingly resemble resorts. Academic leaders counter that students are as busy as ever but that their attention is consumed in part by jobs they take to help make ends meet. […] Tradition suggests that college students should invest two hours in study for every hour of classes. The reality — that students miss that goal by half — emerged from the National Survey of Student Engagement, a research tool for colleges that examines the modern student in unprecedented detail."
Some findings from the survey: "While seniors spent their time in similar ways across a few activities (relaxing or socializing, co-curricular activities, and commuting), time spent preparing for class varied. For example, seniors in engineering averaged about 19 hours per week preparing for class, while their peers in the social sciences and business averaged five fewer hours per week. Different curriculum requirements may partly explain this gap. For example, engineering courses may require more time-consuming activities such as design projects and laboratory work.
"[…] Although some students devoted many hours to studying, they did not always attend class fully prepared. Among full-time seniors who spent more than 20 hours per week studying, 22% of engineers said they often or very often came to class without completing assignments, compared with 14% to 16% of seniors in the other major categories. These findings raise questions about areas where a mismatch may exist between the work asked of students and the work they believe necessary to succeed. They also suggest the need to investigate areas where the academic bar could be raised and where additional support may be needed."
Paying for college: "Overall, 22% of entering students expected paying for college to be "very difficult," while half as many (11%) expected paying for college to be "not at all difficult." First-year students who expected to have high difficulty paying for college were in many ways distinct from their peers (…). For example, compared to their peers, a higher percentage first-generation students (29%), those who expected to work more than 10 hours per week (29%), and students of color anticipated that paying for college would be very difficult."
The report, Fostering Student Engagement Campuswide—Annual Results 2011, details results from a 2011 survey of 416,000 first-year students and seniors attending 673 U.S. colleges and universities. The report's theme illustrates the value of connecting student engagement results to specific campus programs and units to encourage greater collaboration to improve the quality of the undergraduate experience. "The central message is that providing opportunities, activities and environments supportive of learning and student success is a concern that should permeate the campus" said Alexander McCormick, NSSE director and associate professor of education at Indiana University.
The full results are available here.
See Also: