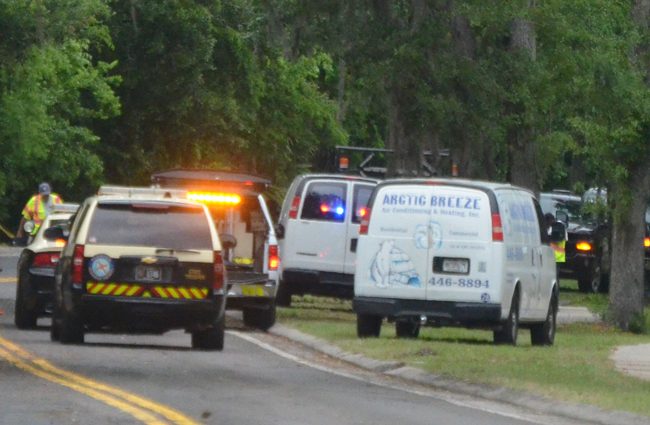 A flagman working for Halifax Paving on the Colbert Lane resurfacing project in Palm Coast was struck by a van this afternoon, and later died at the scene.
The flagman was struck by an Arctic Breeze van going north on Colbert, a few hundred yards south of the intersection with Wild Oak Boulevard, the street that leads to the Wild Oaks subdivision of Grand Haven. The collision took place at 3:35 p.m. just before a curve, a little north of the entrance to Waterfront Park. The van's driver remained at the scene.
The victim was not immediately killed. He was initially breathing shallow and bleeding from the nose, authorities reported. Fire Flight, the county's emergency helicopter, was readied for launch but then cancelled, after the man died.
The Palm Coast Fire Police closed Colbert Lane in both directions at Blare Drive to the north and Waterside Parkway to the south, and remained closed past 6 p.m. as the Florida Highway Patrol's traffic homicide investigator–who arrived at the scene just past 5 p.m.–was conducting the investigation. The medical examiner arrived at 5:20 p.m. to claim the body, which was to be transported to St. Augustine.
The resurfacing of Colbert Lane started in early March. The $1.86 million project was awarded to Halifax Paving in February. The 7 miles from Palm Coast Parkway to State Road 100 are to be completed by the end of July, along with a paved entrance to Graham Swamp Preserve.
The company typically uses temporary workers as flagmen. County officials last month said the company was to work around the clock, with concrete work being done during the day and milling and paving at night. The project includes the reworking of five miles of bike lanes along Colbert.
The Flagler County Sheriff's Office initially responded to the scene before turning it over to FHP, as did the Palm Coast Fire Department and Flagler County Fire Rescue.
The U.S. Department of Transportation reports that there were 96,626 worksite crashes in 2015, the last year for which numbers are available, a 42 percent increase since 2013. (Florida has Three-quarters of the crashes are limited to property damage, but 642 of the crashes resulted in at least one fatality, or roughly 2 percent of all road fatalities in the country. Of those who died, 85 percent were in vehicles.
The road reopened at 7:30 p.m.