A spectacular crash closed Palm Coast's Colbert Lane south of Blare Drive for almost two hours Thursday night as an Oldsmobile overturned and blocked most of the road after colliding with a BMW that ended up on the road's shoulder. Despite the violence of the crash, no one was injured.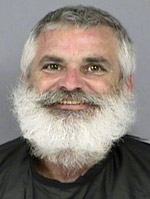 The wreck took place just after 9:30 p.m. a few dozen yards south of North Park Road (the road that leads to Waterfront Park).
Scott A. Spence, 48, of 43 Flamingo Drive in Palm Coast, was at the wheel The Oldsmobile. No one else was in the car. He was given a field sobriety test after the crash, and arrested in short order on a DUI charge. A young driver and young passengers were in the BMW. Both cars appeared totaled.
Palm Coast Fire Department personnel worked for about 25 minutes on the Oldsmobile to remove its fuel before the vehicle was towed by Saxon's.