Local government officials often complain of how reviled they can be these days. It's unfair, they say. I agree. Government as we know it has its aberrations. But it's far from the corrupt, arrogant, dishonest and out of touch enterprise its detractors make it out to be. Particularly when compared to the depravations of private business (remember the financial meltdown of 2008?), which have the advantage of being mostly hidden from public scrutiny.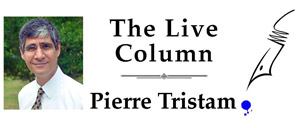 Except when things happen as they did just before Christmas at the Flagler County Commission, where County Administrator Craig Coffey, who was already making $146,000 a year (not counting perks and benefits) submitted a request for a $15,000 raise. For himself.
And the commission actually went ahead and granted him almost half of it, with a pledge to do more in a few months. This in the same year when the commission told its employees, who have gone without raises for most of the past six years, that it couldn't give them more than a 1 percent raise this year, unless you're a sheriff's deputy, in which case you got cheated of even that much. The 1 percent raise for most employees equates to the cost of a single months' utility and phone bill. Compared to that, Craig Coffey was asking for the equivalent of a down payment on a Disney Vacation Club suite. If that's not arrogant, out of touch, and a slap in the face of every employee in government, employees Coffey and his commission pretend to respect and shower with cheap praise and cheaper appreciation plaques, I don't know what it.
But the insult wasn't just Coffey's Christmas tithing to himself. It was the way he and his administration went about it, conveniently right after the election and months after the budget was passed, and the way commissioners played along. That's where the dishonesty and back-room greasing bubbled up. It's what gives county employees and taxpayers every reason to distrust these self-serving profiteers. It's what gives government a bad name.
Coffey and his excellent side-kick in Human Resources, Joe Mayer, wanted you and the commission to believe that it wasn't Coffey who was asking for the raise. Oh, no. It was his "staff." As if Coffey, who controls every item down to every comma that appears on the commission's agenda, had nothing to do with this proposal, except of course the six pages of single-spaced accomplishments he wrote for himself to submit at the same meeting.
Put aside the inappropriateness of Coffey's directors, whose salaries he controls, so blatantly brown-nosing for his. What was Coffey thinking, letting any employee lobby a contractual agreement that's the exclusive purview of the five commissioners? (Here's a hint: you pad my paycheck, I'll pad yours.) Amazingly, usually savvier people like Commissioner Barbara Revels went along with the fiction, actually pretending to believe that some 300 rank and file employees, firefighters who make $15 an hour, bus drivers who make far less and cops who make less than starting teachers, had all lined up like at a rally for the North Korean leader and chanted their love for Coffey. There's a word for lies like that. Maybe Coffey and friends wanted to mark its American centennial.
Then the Mayer-Coffey duo whipped out the sleaziest rationale of every raise request: it'll bring Coffey in line with other counties. That's a lie of course. It'll mirror him with outliers, not with what your average county executive makes, or should make (the inflation of government executive salaries is no less scandalous than that in the private sector, if by different magnitudes, but that's a Munch scream for another day). But let's say Coffey was seeking just a 5 percent raise, which is what he ended up with anyway (when combined with the 1 percent he just got a few weeks ago). Even that suggests that he is somehow more valuable than rank and file employees. That he's worth a fat raise and they're not, and it would be a terrible injustice to this impoverished $146,000-a-year man with his own car allowance and most expenses paid on various junkets, to deny him an extra 15 grand, and to do so the very week when the Census Bureau revealed that Flagler County's child poverty rate increased from 10 percent in 2007, the year Coffey was hired, to 14 percent today.
Commissioners even hinted that they had to give in to the veiled blackmail of compensating talent so as not to lose it. Really? Put it this way. Any government administrator could disappear tomorrow and the operation would still run itself, because government works on the back of its nameless rank-and-file grunts, not on the monograms of its paper-pushers. Take away the grunts for a single day, and the whole thing collapses. That alone tells you who's more important, though our cult-of-leadership theorems do an excellent job of making the head guy seem indispensable—until he suddenly bails for a better job for himself anyway, which he almost always does.
I'm not saying Coffey isn't a good administrator and a likable one. He obviously is, although his raise was pitched without so much as an airing of his last evaluation by the five commissioners, pro forma though those subjective grade school report cards are, let alone an evaluation of his monumental cash-for-clunker binge—the purchase of the old hospital for the sheriff's HQ when a perfectly roomy and free 5 acres that belong to the county sit unused opposite the Government Services Building, and the purchase of the decrepit Plantation Bay utility, bailing out its ex-owner and developer, Mori Hosseini, without exacting a single concession from him. And speaking of his penchant for time shares, Coffey now wants to plunk down vacation chalets in the middle of the Princess Place Preserve, as if leaving the pristine undeveloped is somehow offensive to the modern ecology of government tampering. Still, those are policy issues he merely brokered to a commission gullible, rapacious or wasteful enough to go along. So he's not to blame for doing very well what he does: making deals with other people's money.
But that's the least he should be. Commissioner Charlie Ericksen, that master of understatement, put it best when he said that if Coffey wasn't good, he shouldn't be sitting in the administrator's chair. (Ericksen and George Hanns, by the way, voted against the raise.) And it's not even a question of whether Coffey is worth an extra $15,000. It's a question of timing and context.
After years of denying employees what they deserve, to come out with such a Marie Antoinette deal for himself before giving other employees their due shows that there is something fundamentally wrong with Coffey and his adoring top staff. They don't get it. They're like aristocrats of old, sitting in the balcony section and spitting on the rabble below. And three county commissioners—Frank Meeker, Nate McLaughlin and Barbara Revels—not only spat right along, but cleared their throats to come back and spew some more in a few months.
Way to earn your employees' respect in the new year.

Pierre Tristam is FlaglerLive's editor. Reach him by email here. A version of this piece aired on WNZF