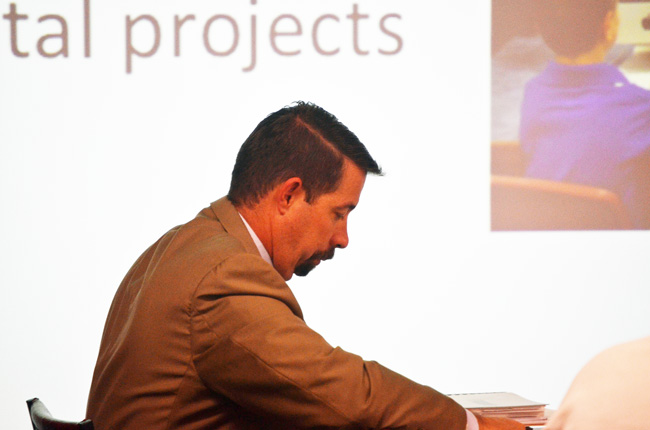 Craig Coffey walked out of the Flagler County Commission's meeting room just as commissioners took up the proposal that he get a 10 percent raise, a proposal he and some county commissioners alleged Coffey's "staff" proposed–meaning it was channeled through Human Resources Director Joe Mayer. No one asked rank-and-file employees what they thought of the administrator getting a 10 percent raise, and no commissioners asked.
Had Coffey stayed in the room, he'd have heard an hour-long debate between commissioners about the wisdom of such a steep increase when compared to the 1 percent county employees just received, commendations about his job performance, the need for more objective criteria by which raises are awarded across the organization, some angry public comments opposing the proposal, and one suggestion that Coffey earn his raise by meeting some performance incentives.
Along the way, it became clear that commissioners Charlie Ericksen and George Hanns were opposed to the raise, Frank Meeker and Nate McLaughlin—whose recent re-election was helped in no small part by Coffey facilitating their pet projects, whether in West Side infrastructure and public safety improvements or through putting Hammock issues at the top of the county's legislative priorities—were all for a raise, and Barbara Revels suggested cutting the proposal in half.
Her actual proposal was to give Coffey a 4 percent raise and revisit the issue at budget time next spring. But as Hanns pointed out, Coffey would actually be getting a 5 percent raise since he just benefited from the same 1 percent awarded all county employees. "So in effect it ends up to be a 5 percent increase," Hanns said. "Would anyone be interested in amending that to say a 3 percent, and that would end up to be a 4? It's only two months ago that everyone got 1." (Sheriff's deputies and other employees are still waiting for their 1 percent.)
No one was interested. Revels's motion passed, 3-2. As a result, Coffey will get a $5,855 raise, bringing his current salary of $146,383  (which had risen just under $1,500 two months ago) to $152,238, not counting his car allowance and benefits. The raise is effective immediately.
---
Commissioners were more unified in rejecting what would have been an automatic 3% annual raise.
---
None of the commissioners, with the possible exception of Meeker, were interested in the other proposal Coffey slipped into what would have been his amended contract: an automatic 3 percent annual salary increase, absent affirmative action by the commission not to go along with the automatic provision. "Historically, we totally forget about that, and when it's not brought up, it just goes right through," Hanns said. Revels had included a rejection of the 3 percent automatic raise proposal in her motion.
The rest of Coffey's raise has not been rejected, exactly: commissioners all but guaranteed that he would be getting a further raise next spring, pending what proposal he'll bring forward for the rest of the county's employees. In effect, by agreeing to that commitment, commissioners—perhaps unwittingly—have wedded Coffey's raise to county employees' raises, even though the administrator's salary and contract are the sole responsibility of commissioners. "Staff," whether administrative or rank and file, have no say regarding the administrator's contract, salary structure or timing of his raises: those are expressly the duties of the commission, which hires and fires only two employees: the administrator and the county attorney.)
Revels couched her support for a raise in a long preface. "We have been scratching and clawing to take great care of the citizens' tax dollar and do the most that we could do with it, back-pedal as fast as we could in the years that revenues were falling, and government cannot act as fast as companies can. So it was difficult to get volume and our dollar of operation to fall as fast as some might have liked," revels said. "And now that things have reversed themselves and they have started to come back, we are doing as careful a job as we can to not rush out and spend people's dollars. I'm very sensitive to Commissioner Hanns's comments regarding the salary increase for all of our employees. We all know that we would love to give them more. We all know that we are losing good people because communities around us are able to pay more. There's no doubt about it, we leak to St. Johns and we leak to Volusia, and maybe to the city of Palm Coast, but we can and will continue to lose staffing if we cannot become more in parity in our payroll. So hopefully this year's budget session will enable us to continue that work with our employees."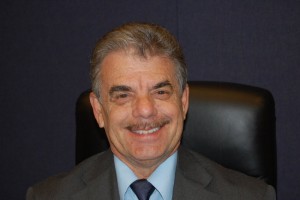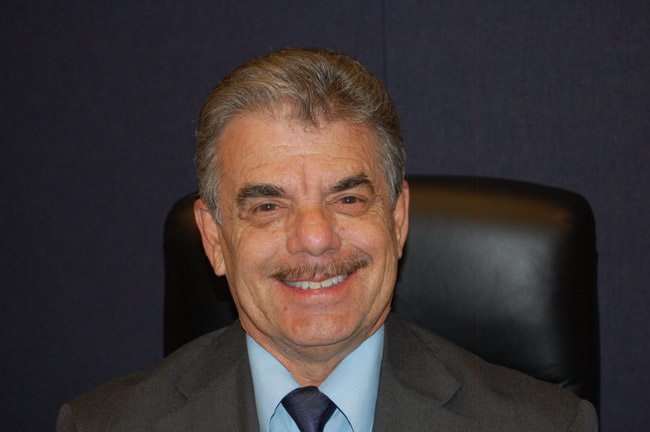 Of his seven years in Flagler—in which Coffey's cumulative base salary alone came to about $1 million—Revels said: "When you compare what that buys you for another administrator anywhere else in Florida and other areas, it's starting to show that you don't get a lot for that, and I think we've gotten a lot for that." At that point she proposed "somewhere between 3 and 5" percent, adjusting it at budget time based on what the commission will do for the rest of its employees.
McLaughlin and Meeker spoke in glowing terms about Coffey's tenure. "We certainly can't afford some of the salaries that are out there, but we want to look at our budget, we want to look at our funding and make sure that we get quality people and we have a quality person let's not shoot ourselves in the foot and say for, you know, a couple of dollars they can walk and we get somebody else cheap, cheap, because really you get what you pay for, with that said, being mindful of where we are economically, where the county is revenue-wise and financially and the great care that this board takes in the expenditure of funds." He, too, described a raise of between 3 and 5 percent as "palatable."
Ericksen took exception to a suggestion that his earlier concern about the raise would be interpreted as "taking the cheapest we could find," then spoke of needing more objective means of evaluating Coffey every year, as opposed to the generalities in the evaluation now. "I still support the fact that he's doing an excellent job for us," Ericksen said. "I wouldn't expect anything less though from that particular position. If it was something less, that person shouldn't be in that position."
Hanns, too, stressed that he'd never suggested that Coffey's work was anything less than commendable. "We're not in a position to do it and it just doesn't look good for me to say to the employees, hundreds of you are deserving, but we're going to give Mr. Coffey 10 percent, the rest of you get 1 percent. That's what I'm troubled over, and how do you justify that?"