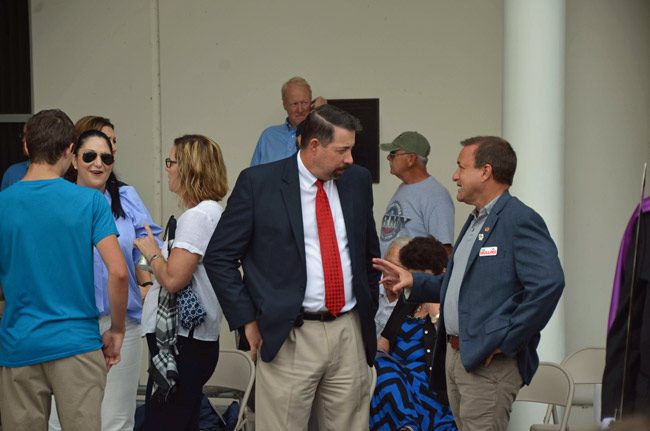 Last Updated: 11:33 a.m.
Soon after Flagler County Administrator Craig Coffey told his executive staff Tuesday afternoon that he was resigning, his deputy, Sally Sherman, tendered her resignation, as did Joe Mayer, director of human resources, effective Jan. 31.
Sherman's resignation was not a surprise: she is closely allied–and identified–with Coffey, who said he doubted she would stay on much longer once he'd leave anyway. But he said he was not expecting it to be so swift. He said she was resigning because she feared that without Coffey there, she would be more vulnerable to attacks from commissioners.
"Once one target is gone, new targets will emerge, and there's a lot of fear in the approach taking the organization by commissioners against staff," Coffey said by phone this morning.
Mayer has also long been close to Coffey (it was Mayer who led the campaign to give Coffey a big raise a few years ago), but he's been wanting to retire, and the timing of Coffey's resignation only triggered that desire again.
The resignation appeared to throw a wrench in Coffey's plan to work out an orderly exit for himself with county commissioners, a plan he was presenting and discussing with the commission at a special meeting scheduled for 5:30 this evening. At least that's how Coffey presented it to reporters and the commission this morning: The resignations may give commissioners who want to keep him on an opening to press their case and stave off Coffey's departure. By the same token, the effect of the resignations allow Coffey to imply a road-map against his departure. He made that explicit.
"These resignations and the continued attacks by Commissioner Mullins give me pause," Coffey wrote commissioners in a 9 a.m. email today, referring to Joe Mullins, his harshest critic, "as without these other key individuals to transition the County government many problems may arise. This presents a new dilemma for you as Commissioners and the professional responsibility I feel as your Administrator. More for consideration tonight as you contemplate these issues."
He continued: "Today the attacks by Commissioners Mullins continue on Facebook as he has encouraged everyone to show up in Tshirts tonight. That coupled with his recent radio show this weekend it appears he is in pursuit of a course of personal destruction. I believe this issue is weighing heavily in these personal decisions by these key individuals and others."
There is no doubt that Coffey is very much still in the game, or at least working hard to shape the issue his way. The email went out to commissioners just as he began speaking by phone with several local reporters, a conference arranged the previous evening so he could address all questions wholesale–and control the message as much as possible. In a wide-ranging, 45-minute conference, Coffey spoke as if perched on a having-it-both-ways wishbone: on one hand he spoke as if the resignation was all but formalized. On the other, he qualified his proposal as a plan, if not an opportunity, for the commission to protect the county's reputation, and of course his own.
"I don't think anything [sic.]–plans to resign, but I'd rather present it on a positive terms for the county, for my staff and for myself and my family," he said. "If there is a separation, I'd rather it occur in a positive manner for everybody involved." He added: "If the commissioners decide this is not the course they want, I'll have to rethink whether I'll step down. This is an amendment to the contract to allow me to resign, if that's the majority of the board. It's not my resignation, it's not a settlement agreement or anything like that."
While he repeatedly spoke of wanting a professional and civil transition, he also left no doubt that he was leaving because of "attacks" from two commissioners (Mullins and O'Brien) and disparagement he said was fomented by a "the negative minority that comes at you." He was unwilling to acknowledge broader dissatisfaction, or connect his departure to the controversy over the Sheriff's Operations Center.
"I'm not being forced to do this and I'm not sure it's a sick building, we still have more testing to do. I think the jury is still out," he said. "I'm under personal attack by a couple of commissioners so I'm putting forth a proposal for consideration by the entire board on how they would like the transition to occur or if they would even like that transition to occur. We have three other commissioners–I think the majority of the board do not want me to go anywhere, but they understand the dogma [sic.] and the type of personal attacks that they may experience in the future too."
Coffey confirmed that his intention was to present a contract amendment that would allow him to resign and keep his health benefits for 20 weeks, along with 20 weeks' severance pay. He had initially proposed to commissioners to have a two to six month transition window, remaining here for a guaranteed two months and leaving the next four dependent on his ability to find his next job. But he said Mullins and O'Brien are looking for an immediate exit.
Commissioner Dave Sullivan, however, has been willing to go with a longer transition, and Commissioners Charlie Ericksen and Greg Hansen have been opposed to firing Coffey. So Sullivan may yet again prove to be the swing and deciding vote on the matter. (Coffey appeared alongside Hansen at a town hall Tuesday evening, where Coffey said he felt "re-energized.")
The contract amendment drafted in the last two days and made public this morning reads like a resignation letter designed for a separation effective Friday: Coffey "may resign at any time by sending a letter indicating such resignation to the Chair of the Board of Commissioners prior to midnight on January 11th, 2019. Upon resignation, the COUNTY agrees to pay/provide the same exact severance and all other benefits provided under Section 2. E. (ii). Lump sum severance amounts due shall be paid to EMPLOYEE no later than January 18, 2019. EMPLOYEE agrees to make himself reasonably available to answer questions from COUNTY staff now or in the future for a minimum of 60 days following any resignation to assist with any transition." (See Coffey's fuller contract here.)
Though on the verge of being emotional at times, Coffey came across in today's conference with reporters still battling for his name and legacy but more hopeful than certain of this evening's outcome, and still as defensive as he often has been over the past 11 years when faced with criticism or the possibility of a showdown: in emails and in today's conference, he referred to the likelihood that his detractors were going to show up wearing t-shirts pressing for his firing. He said he respected free speech, but his recurring references to the opposition showed it was leaving its marks, referring at one point to social media's "mountain of malicious chatter."
But it was also clear that he was leaving wide open the possibility–the hope–that he could yet survive this evening's meeting: though he was critical of commissioners and others going to the media with controversial issues such as the Operations Center, he was doing no less today regarding his own survival. On the other hand, Coffey has always made himself available to local media no matter the issue or controversy, and today's conference could just as fairly be seen in the same light.
During the interview Coffey revealed that there'd been suggestions that Dick Kelton, the former and famously irascible Palm Coast City manager, has been discussed as a possible interim manager. Coffey said he would not recommend Kelton, but had no other suggestions from within his ranks, now that the names he might have suggested have written resignation letters. (An official familiar with Kelton's Range Rider program, the statewide coalition of former managers and administrators who pinch-hit for local governments in need, said Kelton is almost fully retired and would not offer his services in that capacity.)
When a reporter asked him how he could repair relationships with commissioners and the public even if the commission opted to keep him on, he said he would remain the "consummate professional" even if he could not win certain people back. He said his relationship with both commissioners who oppose him has been professional. "I will stand my ground when I need to, and I'm not afraid of challenging a commissioner, even though they're my supervisors, just as I ask my staff to challenge me when I'm not right," Coffey said. And in the same breath, he continued: "If you have a situation where it's a constant barrage of personal attacks, not always based on factual information, I think that's going to be destructive if that trend and that process continues forward, regardless of me or anyone else, because I could see it continuing to happen over issues and agendas regardless of Craig Coffey. But repairing it, I will do my best to always be the consummate professional." But, he said, "I will not take abuse, and I will stand up for myself and I will correct facts and lies wherever I see them, if that's the case, if that's the decision of the board."