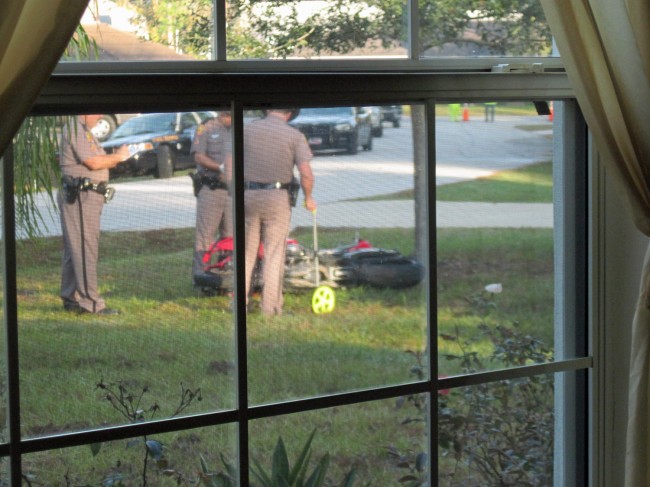 Cody Ray Barlow, a 20-year-old resident of Pebble Beach Drive in Palm Coast, was killed early this morning, barely three hours into the new year, as he missed a curve and drove his motorcycle into a mailbox on Pacific Drive, just 1.2 miles from his house. The wreck took place at 3:30 this morning (Jan. 1).
A resident on that street heard it but mistook it for people messing with the neighbor's mailbox, as had happened before. The resident was aghast at the scene in her front yard when she discovered Barlow's body there at 7:30.
"This is weird," Mary Haisley, who's lived at 59 Pacific Drive since 2006, said. "I heard somebody breaking into my garage door. Then I look outside. I went and made coffee, because I'm an early riser, and I looked outside and said oh, somebody hit Dorothy's mailbox again. So I didn't think much of it. I went out and even got the newspaper." It was very dark. She could not see Barlow's body, which was a few feet past a hedge of plants, in the middle of Haisley's yard. The motorcycle, as she would later discover in daylight, was further toward her neighbor's yard on this residential street of close-cropped houses.
When she'd gotten the paper, she'd noticed shards of debris that she thought could have been part of a vehicle, and wondered whether to call 911. But she figured it was New Year's, "they're going to think I'm nuts about somebody hitting a mailbox." So she didn't call.
"Then I woke up at 7:30 and say, well, I'm going to go see the damage," assuming until then that it was still just the mailbox. "Then I saw his body. I ran in the house, called 911. Oh my God, my reaction–I couldn't even–the dispatcher, I'm crying, screaming, it was devastating." She described Barlow as she saw him, with shattering injuries to his face and skull. "It was devastating," she said repeatedly.
A Florida Highway Patrol homicide investigator said he estimated the speed Barlow was traveling at 50 to 60 miles per hour.
"We don't know where he's coming from, where he was going," the investigator said. "He didn't have his helmet on. He was northbound on Pacific, and he was 290 feet south of Park View Drive, he just failed to negotiate the curve." Pacific is a short street that hooks off of Parkview Drive and to Parkway Drive at the northern end of Palm Coast's P Section. Pacific runs east-west, curving north-south at its eastern end, where the wreck took place.
Barlow struck a plastic mailbox at 57 Pacific. The mailbox was surrounded by decorative stones and a sizable planter, most of which were shattered and scattered over the two properties' front yards. One part of the mailbox ended up between 57 and 59, while the stem of the mailbox was nearer the swale of 59. The motorcycle, a 2007 Honda CBR 1000 that belonged to Barlow, was on its side nearer 61 Pacific.
//
//
Barlow's parents had last seen their son at 9:30 on New Year's eve. He was at his house with his girlfriend. His mother works the night shift, according to a Florida Highway Patrol investigator. When she came home in the morning, the garage door was open and the motorcycle was gone. Nothing further is known about what motivated Barlow to ride his bike in a neighborhood where investigators were told he had no friends. It's possible that he had an argument with his girlfriend, an investigator said. "Until we talk to the girlfriend, we won't know," the investigator said. She has not been located as yet: Barlow's parents did not have an accurate last name for her or know her whereabouts, and investigators are still searching.
Barlow was thought by some neighbors to have served in the military, because a military insignia was found on his motorcycle, but his parents told investigators that he had not been a serviceman.
Investigators said Barlow's death was likely immediate, because of the violence of the impact and the injuries to his head. They told Haisley that reporting the accident earlier was unlikely to have made a difference. "When he got ejected he hit his head on that mailbox plus hit that concrete culvert so I think it was pretty well instant," an investigator said.