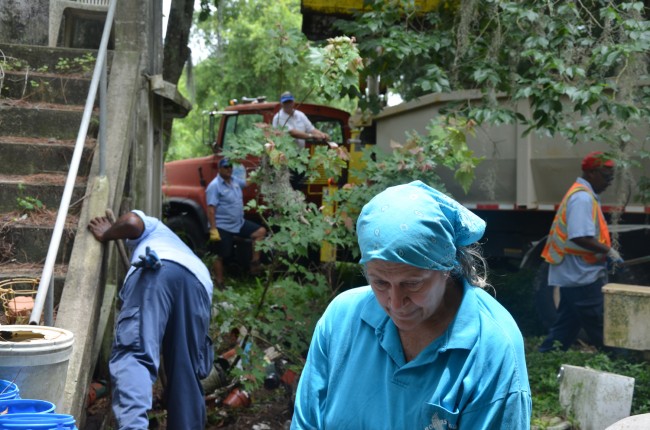 In Brief: It was a costly, day-long project involving personnel from four city departments, including police, on a house already facing a $50,000 lien, but officials defended forcibly cleaning up the property on Deen Road at taxpayers' expense, as the owner stood by, saying it was a matter of maintaining property values. The case shows the extent–and limits–of code enforcement's growing authority.
On a May morning three weeks ago, Lynor Camp started her day with an unpleasant surprise. A small battalion of city officials, cops and workmen had gathered on her property on Deen Road on Bunnell, and soon set to work cleaning it up. City officials say they asked Camp for permission. Camp says they didn't.
Either way, she was told that that's what would take place: Her front and back yards were a mess, with massive amounts of cans, debris and some trash, and the city, for the second time in a year, would clean it up. At the city's—that is, at taxpayers'—expense, even though Camp is technically billed for the work, and has been before: there's a $50,000 lien on her property because of past-due fines. She's not about to pay.
Camp's case, rare though it is, illustrates to what extent a city can exercise its authority on private property, without a property owner's consent. But it also illustrates the limits of that authority, even when the property owner does not change her ways, and does not pay fines imposed by the city. In essence, Camp has decided to live as she will, collecting aluminum cans and other such items and piling them up in her yard. The city has twice decided to take it upon itself to clean up the property and levy fines, but the end result is a costly standoff that doesn't change matters much: the city has expended energy, money and resources on the clean-ups, but Camp isn't changing her ways.




Neighbors have been of differing minds. Some have assumed, wrongly, that the city was doing Camp a favor by cleaning up her property. Some thought, also wrongly, that she was shown favoritism because she works for City Commissioner John Rogers, the wrecker. She doesn't: she is a dispatcher for a competitor of Roger's, confusingly called Roger's Towing. Some are supportive of Camp. (Her neighbor across the street, driving out during the clean-up, stopped to talk with her and ask if she was all right, commiserating about the day's business.)
And some are supportive of the city's initiative, welcoming it because of hygiene or matters of property values: one neighbor spoke of an excess of flies that have infested her place, possibly because of the mounds of aluminum cans piled up on Camp's property, and of the damage to property values that an unsightly property can cause in a neighborhood.
"It's not fair," says next-door neighbor Betty Rippey, whose own property, ironically, is the last winner of Bunnell's Beautification Committee award. Friends visit only to look across the yard and see the trash. "You couldn't do that in Palm Coast. I'm sure you couldn't do that in Flagler Beach." Actually, Palm Coast's code enforcement, while strict and rigorously enforced, does not go as far as Bunnell's: Palm Coast has the authority to "abate" what it defines as nuisances on vacant properties, but it does not have the authority to go onto an occupied property and clean it up for the owner. Bunnell gave itself that authority a little over a year ago through a specific ordinance, which was invoked the morning of the cleanup at 601 Deen Road.
"We were ordered to do nuisance abatement of the trash on this property, and we were out here executing those instructions," Mick Cuthbertson, Bunnell's community development director, said at the time. "We can do the clean-up and lien the property owner for the cost of the cleran-up." The original lien was "in excess of $50,000" Cuthbertson said. That was for issues dating back more than a year. At the time, Cuthbertson said, "we asked her if we could and she allowed us to come in and clean up the front." That was meant to encourage Camp to clean up the rest of the property herself. "Unfortunately, that did not take place."




Camp's is the third property to be forcibly cleaned up by the city since the nuisance ordinance went into effect.
"Is it likely that we'll get paid that lien? I have to say probably not, but we have a responsibility to taxpayers and a responsibility to homeowners in this neighborhood," Cuthbertson said. "It's a difficult assignment, but it's been ordered by our board," that is, the city's code enforcement board, "it's supported by our own city commission, and there is a value to it regardless of whether we get paid back on our lien."
The clean-up took up most of the day. Besides Cuthbertson, it involved police officers, men from the city's Public Works Department, and men from the Solid Waste Department, along with a large dump truck, a grapple truck, a bobcat and several smaller gator trucks. Police was on the property to ensure that the property owner was complying with the order.
The house itself—a two-level house built either in 1954 or in 1960, with a listed square footage of 2,500 acres on the Flagler County Property Appraiser's site—has never been entered by authorities: they may not, absent an order from the health department. State and county health departments were asked about the sanitary conditions of the house. But the departments said conditions do not cross the threshold that would allow entering the house.
Camp, who bought the house in 1976, doesn't dispute that she's a collector of cans. She's been doing it since 1985. But she doesn't consider her home a nuisance. If you imagine her to fit the stereotypical image of a retiring and angry hoarder, you'd be disappointed. She's smart, educated, well-spoken and wryly funny. But she doesn't much care for judgments.
"I'm not paying them to do in my yard what I do anyway. I'm not stupid. I've been working on the house," she said. She blames one neighbor for being after her. "I was told originally many years ago, put up a fence and what's behind the fence is your business. I put up a fence. Well then last year when she was on her high horse and they came and they said oh, well, we've got a complaint and we have to act on it. I said, can you see anything from the road? No. But that doesn't matter. So they took down the fence, cut down trees, got their little Bobcat and took all my cans." The fence was never replaced. "Now, this year, we're doing it again."




She's not concerned about the lien on her property. "I'll just live here, and when I die, you know." She throws up her hands. "But at that point will I really care? I mean, that sounds bizarre, but I'm not really attached to things." She's current with her taxes. She pays on a home-improvement loan, she says. But she won't be told what to do in what she describes as "a never-ending battle."
Camp says she's being made an example of. But she's not changing her ways. She had planned a "gift" to the city for its bicentennial, adding stucco to the house. Asked if she was going to continue that project, she said: "I don't know. I'm really to the point where I'm so disgusted right now, I really don't know."
Reader Interactions