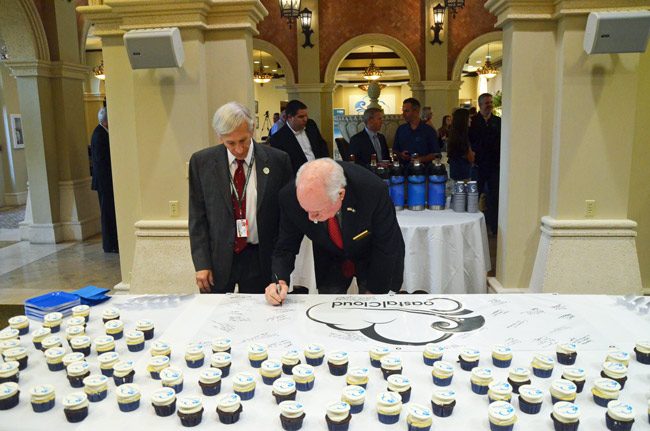 A company putting on a celebration of itself with public and business officials, trinkets and other PR trappings can be a challenge of self-promotion posing as news, the more so when the emcee is a mayor and a company employee: all sorts of lines are blurred, if not potentially trampled.
Coastal Cloud's celebration of its fifth anniversary in the Hammock last week was certainly all of those things, with Palm Coast Mayor Milissa Holland, one of Coastal Cloud's newest recruits, repeatedly and at times startlingly conflating the "we" of her company role with the "we" of her mayor's role ("If we're going to take this shop local mantra seriously, then we actually need to sit down with Tim and Sara Hale," Holland said at one point, referring to the company's directors, "and we need to actually partner with them").
But several elements made Coastal Cloud's celebration quite different and newsworthy by any definition of the term.
Three examples: First, for a company that started in the Hales' kitchen in the not-distant wake of the Great Recession, in a county that had topped the state's unemployment chart year after year, growing 40 percent a year five years running, with 140 employees paid on average twice the prevailing county wage today, is significant. The company did $20 million worth of business last year. It has 315 clients around the world and adds one every week, on average. To think that Coastal Cloud may be, as local banker (and client) Bruce Page put it, "in its infancy," an infancy based here, is arresting.
Second, the information technology consultancy to have as nearly-equal a ratio of men and women is almost unheard of in the industry. "One of the things we're super proud about here, I looked it up this morning," Sara Hale said, "we're 43 percent women." Most IT consultancies try to get to 35 percent and fail, she said. "Not only that, it's not just that they're great people, including women, working at our company, but the women in our company are in leadership roles," she and Holland being among the more visible examples. An achievement of the sort in a county like Flagler—not exactly prime fundraising ground for, say, the National Organization of Women—is an echo of its counterintuitive success in the wake of the recession: Coastal Cloud doesn't go with the grain but challenges it.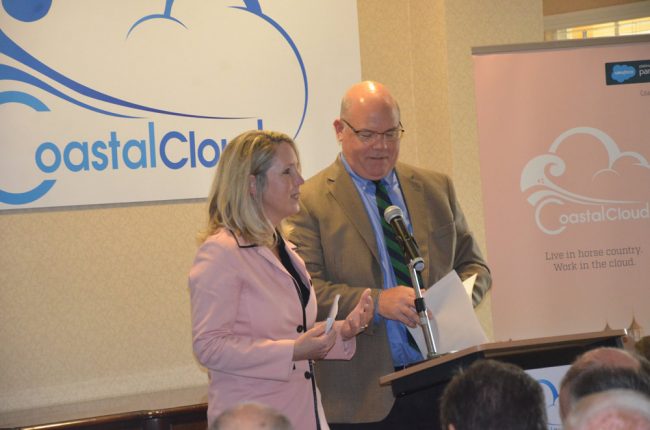 Third, the "giving back to the community," often a company's syrupy cliché taken care of with a pittance of a check to one organization or another amid a disproportionate amount of PR, appears to be more of a routine at Coastal Cloud. Take the company's most immediate program of lining up high school students with workplace experience through internships.
Working with CareerSource, the government-backed job training and consulting agency, with Flagler County schools and the Flagler Education Foundation, Coastal Cloud built a portal to enable businesses to connect with students seeking internships, whether to attend a classroom lecture or job-shadow for a day, go on a company tour, intern seasonally or even get a part-time or full-time job. Problem was that no one was using the portal. "We thought, why don't we create our own internship program to promote this broader internship program," Sara Hale said, illustrating the usual approach at her company in the face of the unexpected: be even more unexpected. She thought she'd get a couple of students each from Flagler Palm Coast High School and Matanzas High School. After interviewing a dozen students, she decided to hire them all. Paid internships, to boot. The dozen students were part of last Friday's celebration—and introduction to the broader community.
"Over the next three months, with all the business leaders here," Hale said, "we're going to be reaching out to you, every single one of you can help get our high school students work-based experiences." (The Hales themselves will have three children in high school next year.)
There's also Sara Hale's testimony to a legislative panel on what the state is doing right and less right with job creation, the company's frequent sponsorships of local civic initiatives, its investment in a sea turtle hospital at Whitney Lab in Marineland. And there's a bit of poetic justice to the company's headquarters in the Hammock—in the same building that used to be the Bobby Ginn Company's headquarters: Coastal Cloud wears its environmental stewardship on its sleeves. Ginn was known more for shredding it.
For all its inevitable trappings, taking all that into account—and without yet taking the company's unusual culture into account, or the plaudits it's accumulated in customer satisfaction and other measures of business and social responsibility—last Friday's celebration had more than the ring of a real deal: the celebration seemed, if anything, to understate the company's impact, and not just economically.
"That is why we love Coastal Cloud. So it's an honor working for them," Holland said as she began introducing the celebration's lineup of speakers.
---
"Treat people how you want to be treated. It blows my mind how many people don't do that these days."
---
"Tim and Sarah Hale could have really worked anywhere, and started a company anywhere in the world," she said. "But what they quickly realized in Hawaii was they wanted a slower pace of life. They have three amazing children, Olivia, Morgan and Allen, and they wanted to raise them here in Flagler County. So they called Flagler County home and quickly realized that there was a need and an opportunity here to start a company that would actually add value and provide a service all over the world. So we're grateful that they're here."
But what on earth does Coastal Cloud do?
Tim Hale put it in graspable terms: "We don't actually create the technology we use. As I often describe it to clients, we put together Legos." The Legos Coastal Cloud uses are made by Salesforce.com, cloud-based technology that helps companies shed their "legacy" systems (local computer servers, databases and other clunkers of pre-cloud days) and move to post-IT worlds where the technology is more of a seamless conduit than a challenge, or even a department.
Bruce Page, president of Palm Coast's Intracoastal Bank, described his experience as a client of Coastal Cloud—one of its smallest clients. He spoke of Customer Relationship Management, what's known as CRM in the industry (to the extent that such things can be known by lay people who don't deal with it on a regular basis). It frames the sort of work Coastal Cloud implements for its clients. Think of it as information awareness targeted to a company and its clients. The relationship between the two is rigorously analyzed and studied for improvements that can then maximize sales, loyalty, customer satisfaction, and so on. For a bank, it's a critical, profitable way of nurturing and increasing a client base.
But the CRM system can be applied to just about any sector where an organization has a relationship with clients—which is to say, it can be applied to most companies, organizations, government agencies, even to the tracking of bears (Coastal Cloud has such a project with the Florida Fish and Wildlife Conservation Commission). Page compared CRM's explosion to smartphones: "Can you imagine not to have a smartphone now?" he said. "Well, that's what CRM is to business. Only a small percentage of the businesses in this country have CRM, and 100 percent need it, just like 100 percent of citizens need these smartphones." Intracoastal is Exhibit A: it lent $350 million since partnering with Coastal Cloud.
Page's point? That the company that provides that seminal tool is local, and is still growing at a startling pace. "They're going to continue to have a major impact locally and also across the world," Page said before describing Coastal Cloud as the best local business success story on record: he did not exclude his own or his friends' businesses. (Page spoke with the verve of a preacher, a reflection of growing up in a minister's home.) "We can build other businesses like that," he said, stressing how Coastal Cloud imports capital to Flagler and stanches the county's notorious brain drain by focusing on high-paying job-creation that can benefit local graduates.
"What's neat is that the success model you guys have had can be duplicated," Rep. Paul Renner, the Palm Coast Republican, said. "We can have more companies like Coastal Cloud that represent the new economy here in Flagler County." Sen. Travis Hutson is an alumni of Coastal Cloud celebrations, having been present at what Holland called "the inception" five years ago (an inception midwifed at the time by Gov. Rick Scott, who didn't make it this time). "Since its opening to today, it's historic, you guys took a chance, you took a risk, you bet on Flagler County, and I think it's paid off a little bit for you here, I think it's paid off for all of us."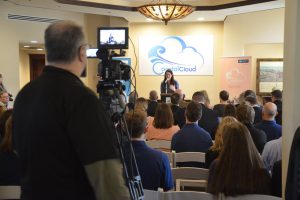 The Hales' success owes no small part to the work culture they were seeking. They'd worked together at Accenture for years, a huge consulting company. "That was frankly why she and I left," Tim said. "Very interesting work, very interesting clients, crappy lifestyle. We wanted to do something different, partly because we had three young kids at the time and partly because frankly it was a good business opportunity." Quality of life matters when life is short, he said: reducing friction became a priority. That and offering what he would repeatedly call "a differentiated quality of life."
Other companies, he continued, "all have this mix of offering people a differentiated quality of life versus working with our competitor where you're going to be in San Francisco or New York or D.C. or Chicago, and maybe that's fun for a couple of years out of school but becomes a grind shortly thereafter. Or other competitors are sitting in Mumbai and Bangalore and Manilla, Philippines. So we invented this thing in the middle, where it's a better quality of life at a better price point, and it's working. Forty percent annual growth rate over five years, which is crazy. Number 20-fastest growing company in Florida I think is what we were, number three best-place to work in Florida, which is crazy."
If many other similar companies are building their client base offshore, Coastal Cloud is pushing the model back onshore "from the microscopic Intracoastal Bank, where we have to build down to pennies," Tim Hale said, to a $7 million relationship with one client. The variety of clients can be challenging when applying the model to each different setting. But Hale was candid: "We learn it with our clients, and that's why it's a relationship. In the consulting business there is a little fake-it-till-you-make-it you've got to do, but you've got to make it," he said. "The key is frankly to be honest about what you do know, what you don't know, and make it happen until you close the gap. The number one reason we've grown, beside the quality of our team, is clients for life."
With over 1,000 projects and one new project every two to three days, 70 percent of new projects are with existing clients, a sign of loyalty that speaks to the company's affection—the term isn't inappropriate, hearing its clients speak of it—clients have for it. "It's very simple," Tim said. "Treat people how you want to be treated. It blows my mind how many people don't do that these days. Particularly in the tech world, it's like moving so fast, the rising tide is floating a lot of boats that shouldn't be floating, probably. We just frankly kind of slow it down, do the right thing. We get in trouble on projects sometimes, with some being high-maintenance and nickel-and-diming. We'll eat it sometimes if we need to." In the long term, it pays off, he said.
There was plenty of applause of course, the sheriff, the property appraiser, four or five county commissioners and several members of the county's economic development advisory board joined others, and the company handed out shades imprinted with its logo, perhaps another nod to the brightness all around. (As for Holland blurring the lines, Tim Hale addressed it directly: he said it may have been a bit much, but even though Holland is the company's director of business development for the public sector—she recruits clients—her work is well beyond Flagler, and neither Palm Coast nor Flagler County, where she was a commissioner, are in line for any projects with Coastal Cloud).
"One of the things that Tim and I wanted to do when we started Coastal Cloud was create a company that we would have wanted to work for," Sara Hale had said at one point. Numbers suggest they're speaking for an ever-growing number of people locally.