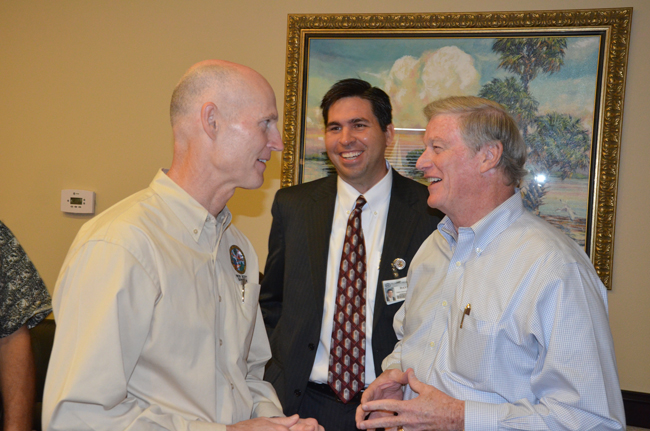 Florida Governor Rick Scott will join the Flagler County Commission Tuesday morning in the ribbon cutting ceremony of Coastal Cloud, a cutting-edge Information Technology consulting company to be headquartered in Flagler County.
Scott will be the keynote speaker at the event at the Discovery Center in Hammock Beach at 9 a.m. Today (Feb. 26) , where Coastal Cloud is leasing space to begin operations. It is the second stop in Flagler in a little over two years of Scott's governorship. For Coastal Cloud, a company that did not exist until December, it represents a huge publicity boost and at least the appearance of a governor's endorsement.
Coastal Cloud plans to create 100 high-tech jobs and build its 18,000 square foot headquarters in Flagler. The company helps small to medium-size businesses optimize their information technology requirements without necessarily creating an IT department of their own. the company takes advantage of the innovation and agility offered by the latest cloud-based technology solutions by applying superior, cost-effective services. (For background on Coastal Cloud and its relationship to Flagler County, go here.)
Coastal Cloud Co-Founders Tim and Sara Hale appeared before the county's Economic Development Council earlier this month in the culmination of a months-long relationship that helped them secure a location and labor leads. Coastal Cloud, a subsidiary of Graphene, a consultancy the Hales established a few years ago, has also qualified for tax subsidies from the state for every job the company will create. The Hales pledged to invest up to $3 million locally.
If the company provides a total of 98 jobs over a six year period it will receive a total of $586,800 in yearly increments from the under Florida's Qualified Target Industry (QTI) incentive, a performance-based incentive directly related to the number of new jobs the company creates. The Flagler County Commission agreed to provide an additional $50,000 over a seven year period if the job goals are realized. During that same time period the county estimates that wages and investments would add over $29 million to Flagler's economy.
"Many of our clients have found that off-shoring their technology services haven't been as successful as expected. Our model offers highly skilled, U.S.-based consultants who are experts in the latest cloud solutions and industry best practices," Hale said. "As an added bonus in Flagler County, employees can live at the beach and work in the cloud."
"We are very pleased to be able to welcome Coastal Cloud to the community," said Commissioner Barbara Revels, who chairs the Economic Opportunity Advisory Council. "Coastal Cloud is one of the target industries that we have worked very hard to attract to our County."