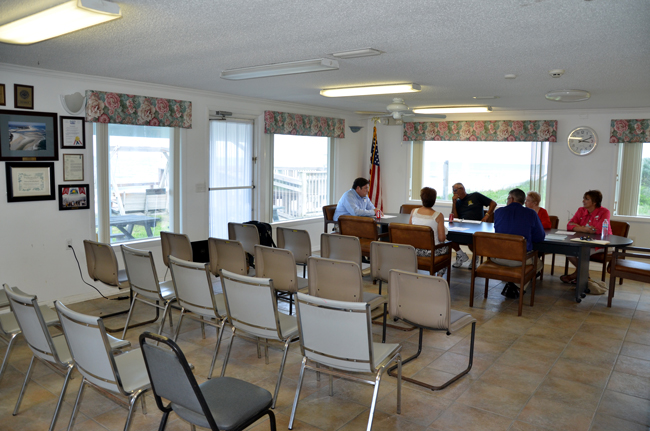 Flagler Beach Mayor Alice Baker summed it up near the beginning of the second meeting of the Flagler County Coalition of Cities Friday afternoon: "You know, there's a lot of if's in this whole situation. Nothing is clear, really, as to what who is going to do, when there's so many entities in this, until this one is trying to do that, that one is trying to do this. Everybody is confused as to what's happening."
Including what the purpose of the coalition may be from this point forward. The coalition was created at the instigation of Bunnell City Manager Armando Martinez when Enterprise Flagler, the late public-private economic-development partnership, briefly excluded Bunnell and Flagler Beach from its proposed reorganization. What amounted to a mis-step almost as minor as a typographical error triggered an angry reaction from Martinez and the creation of the coalition, which ostensibly joins Bunnell, Flagler Beach, Beverly Beach and Marineland.
By the time the coalition held its first meeting, in Bunnell, in mid-July, Enterprise Flagler had taken the two cities back into its fold and all disagreements on that score had been worked out. The coalition should have been disbanded. Several of its participants even wondered what they were doing at uits first meeting. The coalition chose to keep going, however, to ensure that the smaller cities' voices is not lost in whatever develops.
By the time the coalition held its second meeting on Friday afternoon, at the beach-front city hall of Beverly Beach, Enterprise Flagler had been killed, with Palm Coast and the county choosing to quit funding the agency, and the agency itself, on Thursday, voting to disband. That generated some of the more animated discussion around the table at the coalition, with some salty criticism for Enterprise Flagler from Baker, who spoke of the agency's lack of transparency, and a defense from Flagler Beach City Commissioner JaneMealy ("It was doing as well as it could with the money that it had") and Martinez.
Baker's confusion on the larger question of economic development's next step in the county, however, was echoing every voice around the table at the coalition meeting. Not that there were many voices: the 35-minute meeting drew just Martinez from Bunnell, Baker, Mealy, fellow-Commissioner Kim Carney and City Manager Bruce Campbell from Flagler Beach, and Beverly Beach Mayor Steve Emmett. No one showed up from the public. The coalition then turned to discussion the what-next question.
Several plans are floating around, but none has the backing either of all governments or even of a unanimity of representatives within county or city governments. "If you were a betting person," Flagler Beach City Manager Bruce Campbell said, referring to the demise of Enterprise Flagler, "what you could probably bet on is that now that it has been put to bed, there would be more plans to come out."
County Administrator Craig Coffey was supposed to appear before the coalition to present the Economic Development Council (EDC) plan he's been shopping around. He sent his deputy, Sally Sherman, instead. Sherman didn't present anything to the coalition board because there's no agreement on what plan to present from the board. There may be a little more clarity about that following Monday's meeting of the county commission. Economic development is on the agenda.
The question, again, was: why keep the coalition going?
"I think that once we have a viable economic development plan that's fair and that everybody is represented equally and fairly," Martinez said, "then that's when this board needs to consider maybe that there's no need for it anymore. The whole reason for the board is to make sure that we're not pushed off to the side or benched, as before."
Flagler Beach and Bunnell have already agreed to pay $5,000 and $3,000, respectively, to be part of the county's proposed Economic Development Council. Ironically, those two cities have more agreement between them, about the council, than the county commission does about it.
Coffey's proposed EDC, which would not be very different from Enterprise Flagler except in its near-complete subservience to government rules and transparency, would be modeled after the Tourist Development Council. It would have a representative of each local government on the board (minus the school board) and representatives from business. It would largely be funded by the county, with minor contributions from cities and business. Palm Coast has already said it will refuse to contribute money, though it wants a seat at the table. Palm Coast's argument: it already pays county taxes. It shouldn't have to pay twice.
"Does he have another plan?" Baker asked Sherman.
"No," Sherman said. "Our goal has always been to be inclusive and work with everyone." She was asked when the next county-wide meeting of governments will take place. Three such meetings have been cancelled so far, since spring, a reflection of the strife and inconclusive plans clashing about. The latest date is Dec. 13, in effect marking a full year from the start of those county-wide discussions and summits focused on what, at the time, was considered an emergency requiring immediate attention: Flagler County's high unemployment rate. The rate is still high. Plans of action remain elusive.