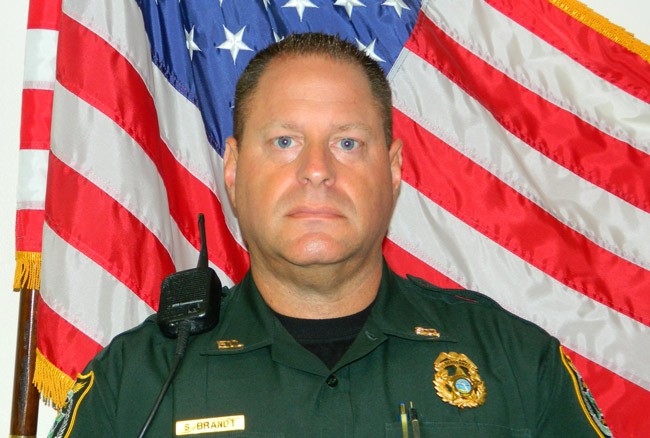 Steve Brandt, an 21-year veteran of the Flagler County Sheriff's Office promoted just two weeks ago to Commander, was named just days later Flagler County Officer of the Year by Crime Stoppers of Northeast Florida.
The organization cited Brandt's supervisory role in three recent and relatively high-profile incidents, all in October.
In early October, Brandt coordinated the search for 77-year-old Raymond Miller, the Palm Coast resident who'd taken his experimental plane for a flight and never returned. Miller crashed in the marshes of Pellicer Creek, though it took 24 hours to locate the plane. "Brandt's efforts were instrumental in not only managing and obtaining personnel, resources and outside agency cooperation," the Sheriff's Office noted in a release, "his determination actually led the discovery of the crash site."
Several agencies were involved in the search, including the Air Force. "Those combined efforts, specifically from the Air Force, allowed us to triangulate a possible location for the aircraft in a three square-mile area that borders St. Johns and Flagler County," then-Undersheriff Rick Staly said at the time.
On Oct. 5, Brandt responded to a report of an armed robbery at the Target pharmacy. Brandt was the shift supervisor at the time and oversaw what turned into a car chase to Integra Woods apartments and the arrest of 34-year-old Michael Shudy.
Later that month, after the sheriff's office got information from the St. Petersburg Police Department that a homicide suspect wanted from that jurisdiction was in the area of Palm Coast Parkway and Old Kings Road–it's not clear how the St. Petersburg Police Department knew the suspect's whereabout, but police agencies have been using cell phones to triangulate people's locations–Brandt once again responded and deployed units in the area. Brandt located the suspect vehicle in the parking lot of the bowling alleys off Old Kings Road. Darryl Warren was arrested (and taken to Florida Hospital Flagler).
Brandt is a "Below 100" instructor. The Below 100 initiative, now prevalent in many police agencies, was started in 2011 to reducing line-of-duty deaths of police officers to less than 100 per year. (Last year, 107 law enforcement and corrections officers died in the line of duty, six of them in Florida.) Brandt, the sheriff's news release states, "is passionate in his presentation to permanently eliminate preventable law enforcement line of duty deaths and injuries through innovative training and awareness." He is also a member of the Narcotics Overdose Prevention and Education (NOPE) Task Force and volunteers to present NOPE to middle school students.
He was honored among other winners in other counties at Crime Stoppers of Northeast Florida's 17th Annual Community Banquet on May 21 at the Daytona Beach Ocean Center. Officers from Putnam, St. Johns and Volusia counties. were also honored.
"Throughout his career, he has consistently demonstrated exemplary police work and leadership," Sheriff Jim Manfre said of Brandt. "I am extremely proud of Commander Steve Brandt and all of his accomplishments."