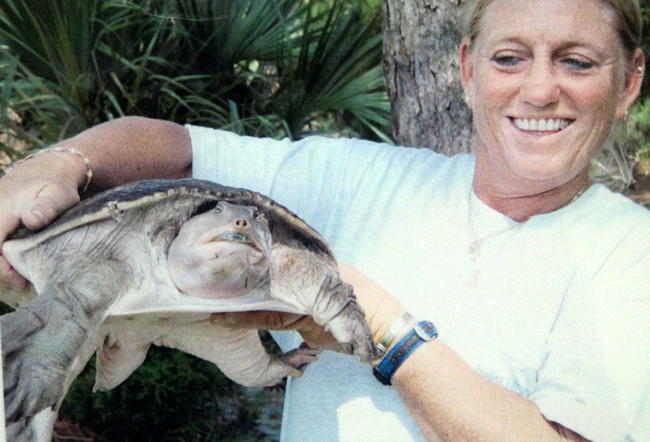 Flagler Beach resident Lori Ottlein has been involved in land turtle rescue, sea turtle protection and rehabilitation for almost 15 years. Last month Ottlein received a national conservation award for her work with the turtles, an honor she received through the Orlando chapter of the Daughters of the American Revolution.
Friday afternoon (April 8) a party was held in her honor at Ocean Publishing's offices in Flagler Beach. Many of Lori's friends and representatives of DAR came to show their appreciation for what she does for the turtles.
The "turtle lady," as people call her, has about 25 turtles currently shacking up at her house. She also takes injured or sick turtles into her home, caring for them until they are well enough to return to the wild.
"They really have personality, they're very different," Ottlein says of her wards. "The tortoises that I have, they'll wake up in the morning and touch each other's noses, like, good morning."
Ottlein strives to live by Gandhi's words: " Be the change that you want the world to see."
Charlotte Marten's report:
---
[media id=184 width=500 height=400]
See Also: