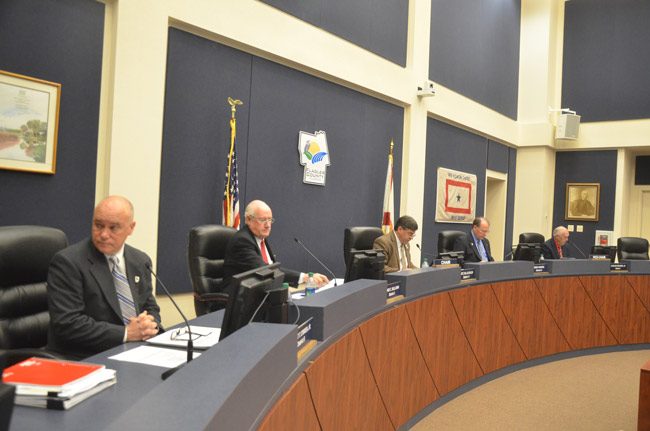 County Administrator Craig Coffey is proposing to the County Commission to increase the property tax rate next year to raise an additional $2.12 million to pay for a range of additional services, raises, new positions, including more cops and firefighters, and other needs he said have lagged in the aftermath of the Great Recession.
But commissioners aren't enthusiastic.
The tax would increase 25 cents per $1,000 in taxable value, and would end up well above the rolled-back rate–or the rate the county would have to adopt if it were to take in the same revenue next year as it did this year. The new tax rate, not including additional taxes for environmental preservation, would be $8.3667 per $1,000 in taxable value. The tax bill for a $200,000 house with a $50,000 homestead exemption would be $1,255.
By the county's calculation, the increase would equate to a $137 on a $200,000 house with a $50,000 homestead exemption, or $78 on a house at the county average of $154,271 in valuation (with a $50,000 exemption). In fact, the increase would be slightly more, as the county's calculation does not include the appreciation in property values from year to year, which increase what property owners must pay in taxes (up to a ceiling of 3 percent in appreciated value). The county overall has seen values appreciate by about 7.5 percent.
But a majority of county commissioners don't want that sort of increase, including Don O'Brien, Dave Sullivan and Greg Hansen. "I have a really bad feeling about the $2.1 million," Hansen, who is up for election in the Republican primary in August, said. "I think we've got to get that smaller, real small. I don't have the stomach to increase the millage rate .25." But Hansen, like his colleagues, proposed no alternative, sounding more like perennial anti-tax diehards who nevertheless demand that government maintains its services.
Only O'Brien said that aside from cost-of-living pay increases for employees, "everything else is on the table."
Coffey got frustrated, impressing on commissioners that philosophical opposition to a rate increase is one thing, but he needed specifics to work with. "We're in silly season, I get that, I'm not doing this lightly to you," Coffey then said, referring to the election season with startling candor that got something of a rebuke from Commissioner Nate McLaughlin.
"I'm not going to make any decision based on silly season," McLaughlin told him, saying criticism would be forthcoming either way.
"It's not silly to me," Sullivan said.
"I'm saying silly because it's election season. People will make hay no matter what you do," Coffey said. "It wasn't meaning we don't take this serious. This is definitely serious."
The proposed tax increase is the net result of a half-dozen budget workshops commissioners have held since May, reviewing budget requests from the sheriff, the clerk of court, the supervisor of elections, the tax collector and the property appraiser, all of whose budgets are ultimately approved by the commission, as well as county government's own demands. The sheriff alone had requested an increase of nearly $3 million, while the county was looking at an even bigger increase.
In all, next year's combined county government budgets added up to an expansion of nearly $7 million. Property values' appreciation are to bring in about $4.5 to $4.75 million in additional revenue, leaving county coffers short almost $2.7 million.
"Your budget that you have before you and all the departments that you reviewed accomplished a lot of your strategic goals," Coffey said. "Some of your strategic goals, there's a price to that for your additional resiliency, talk about hardening facilities, economic growth, retention of employees. Some stuff is mandated, but a lot of stuff is stuff that if you want to keep up with law enforcement, if you want to keep up with public safety, non public-safety stuff, keep up with growth, and quality of life–what we put together in a budget today will cost you a quarter more per thousand."
That's without additional contributions to social service agencies commissioners have been interested in helping more next year, though the modest increase they're proposing for that line item would not make a significant difference in the bottom line.
The alternative, Coffey insisted, is for commissioners to give him specific direction as to what to cut–soon. He heard no such specific direction at Monday's workshop even though it was the board's sixth such budget since May. Commissioners instead went into tangents about population increases, the housing industry, new demands for services, increasing demand for gas stations, and so on.
Then they decided to make their proposals behind closed doors, directly to Coffey, in emails or in conversations, between now and the commission's next workshop on July 2. "We're not giving him direction, we're giving him suggestions," Hansen said.
"And if you give me stuff I can at least advise you on whether we can really do that," Coffey said, embracing what would end up being critical back-and-forth discussions on the budget between him and commissioners, even though individually, outside of a public meeting.
"I encourage you individually to have that dialogue with Craig, let's have that dialogue, we all do anyway, let's just keep it up and come up with a solution here," Hansen said.
McLaughlin said any outcomes of those communications would be discussed at the next workshop.
Workshop discussions are intended to give those affected by budget decisions a chance to see or hear the commission's and administration's process, and to address it if need be as it unfolds. Generally few people do so, but at times–as was the case at a previous workshop, when a contingent of firefighters showed up to support that department's requested budget increase–seats fill up. By holding what amounts to key conversations or communications about cutting the budget outside of a workshop setting, the commission is now blunting that transparency and preventing those affected from participating until the re-worked proposal has taken shape, based on communications behind closed doors. It isn't illegal, as long as commissioners don't communicate between themselves and as long as the administration doesn't become a conduit of their individual communications. But the method is clearly a violation of sunshine–resulting not at Coffey's urging, to be sure, but from Commissioners' inability or unwillingness on Monday to take on those issues openly at that time.
Coffey must deliver a budget to the commission by July 16. "I need to get any final guidance, preferably today, but if not by the 2nd," Coffey said Monday. By August 3 or 4, the county must announce the maximum property tax it will levy next year. It can then adopt a lower tax at its September public hearings, but it may not adopt a tax rate higher than the one announced in August.
County government alone is facing a $3.1 million budget increase, driven by an increase in required contributions to the Florida Retirement System ($714,000), increases in the costs of the county's emergency communications system, on which all local governments rely ($436,000), new positions ($670,000), raises ($250,000), and so on.
Coffey asked the sheriff to eliminate $400,000 from his proposed increase to get it down to $2.5 million. He said the county increased the sheriff's budget last year by over $2 million, "and the school board is giving him more money and Palm Coast is giving him more money, so you've had about a $6 million increase in two years in that budget, so I think what I've requested is reasonable. We're trying to work through that right now." Coffey is also asking the Supervisor of Elections and the Clerk of Court to trim their budgets some. Those final numbers aren't in.
The closest to specifics commissioners got was the possibility of eliminating a five-person construction crew, which would save a considerable amount of money. They said they could possibly contract out the work, though Coffey said contracting would double costs, not reduce them. "The projects I'm showing you, it's cheaper to do it in-house," Coffey said.
The key on the additional crews, Commissioner Dave Sullivan said, is that once the work load drops out and the employees are not as necessary, it becomes much harder for the county to get rid of them. "We do have attrition, we do have employee turnover," Coffey said to ease commissioners' concerns.
What specific proposals commissioners appeared to agree on was a $50,000 increase in contributions to social service agencies.
Commissioners for the first time in years had a chance to hear directly from the outside non-profit agencies it helps fund. The county currently helps fund seven such agencies for a combined $425,500. Those include the Children's Home Society, the Boys and Girls Club at Rymfire Elementary, Stewart Marchman Behavioral Health, the Early learning Coalition, the Family Life Center, the Flagler Free Clinic, and $25,000 for the school board to defray costs associated with the Carver Center in Bunnell. Stewart Marchman accounts for $173,300 of the total.
"Most of these funding levels have been relatively flat for almost 10 years with the exception of the free clinic," Coffey said. "These are kind of a safety net things that only Flagler County provides, that none of the jurisdictions fund social services, only the county does that," by which Coffey meant that city governments, for example, don't contribute funding. "A lot of these are not mandated, but they're things that you want to do or if you don't do, you'll probably realize financial impacts in other places, whether that's judicial, law enforcement, court system etc."
Representatives from each agency provided brief overviews of the services they provide and how county contributions help their budget. The county's $55,000 for the Free Clinic, for example, "has really had a huge impact" on the clinic's expansion and its ability to enable some 2,500 medical and dental visits a year, Terri Belletto, the clinic's only full-time employee, said. The clinic has six part-timers and numerous volunteers, including physicians and nurses.
"What I'd like to suggest is we add five grand to this line," Commissioner Dave Sullivan said.
"We'll have to roll it all up in millage discussion and where we stand," Coffey said.
Joe Sullivan of the Boys and Girls Club described the after-school program, at Rymfire Elementary since 2011 but in Flagler since 1998. Three participants spoke of their experience, one of them describing the club as a safe place to go after school rather than going home and being alone. None of the presenters asked for more money, with one exception.
The customarily blunt Trish Giaccone, director of the Family Life Center, the shelter for victims of physical and sexual abuse, put it this way: "Thanks for the money but yes, I am asking for more." She said the agency's water and sewer bills are up 88 percent in the past five years, gas bills are up 450 percent, electricity up 20 percent. The center serves 300 individuals a year in its 2,800 square foot, 32-bed shelter. The county's $40,000 a year contribution hasn't changed since 2006, other than an additional $15,000 for sexual assault nursing services. But that money is restricted.