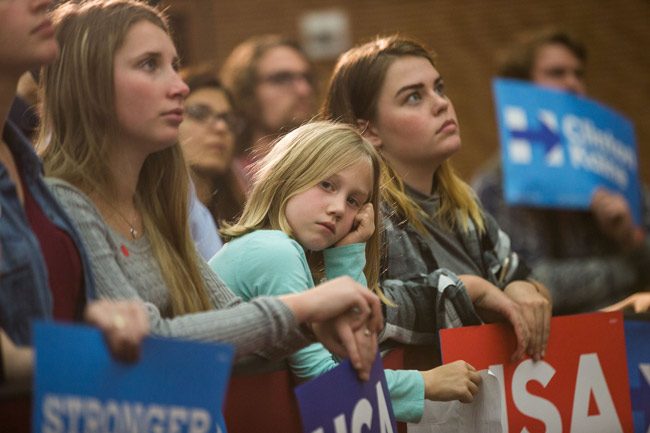 Four years ago at this time, Barack Obama was clinging to the slimmest possible lead over Mitt Romney in Florida according to polls, including the last Quinnipiac University poll before the election: a 48-47 percent advantage, well within the poll's margin of error. The caveat in Obama's favor was that Florida was being made irrelevant by Ohio, where he had a five-point advantage. He didn't need Florida to win. The Quinnipiac poll turned out to be almost dead on: he won Florida by 1 percent, Ohio by 3.
Quinnipiac today issued its last swing-state poll before next week's Election Day (the election itself has been ongoing since the middle of October, with mailed-in ballots and early voting starting 10 days ago in Flagler County and most parts of Florida.) Hillary Clinton is clinging to a one-point lead over Donald Trump in Florida, 46-45, with most decisions accounted for among voters, who give Libertarian Gary Johnson and the Green Party's Jill Stein 2 points each. That officially makes the race too close to call, being within the plus or minus 3 percent margin of error.
While Clinton has preserved a solid lead in Pennsylvania, where she's ahead 48-43, and a fair but not solid lead in North Carolina, where she's ahead 47-44, she is well behind in Ohio, 46-41, though Johnson gets 5 percent there, and Jill Stein 2 percent–numbers likely to fall by Nov. 8, with that shedding going to either of the two main party candidates.
But Clinton can cheer over sharply favorable results among early voters in all four swing states that Quinnipiac polled, including Florida.
In Florida, Quinnipiac found that she is ahead by a substantial 48-42 lead among voters who have already cast ballots. In a state where almost two-thirds of voters are expected to have voted by next Tuesday, that number should worry Trump, as it is proving that the Democrats' ground game in Florida is paying very large dividends.
The more surprising result is in Ohio. Early voters there are backing Clinton by a stunning 26-point lead, 58-32, even though Ohio's early voting had showed lagging numbers for Democratic ballots cast, compared with 2012. That suggests that a larger share of Republican votes than projected are going to Clinton.
Early voters are backing Clinton in North Carolina by a margin almost as stunning, 58 to 36, potentially making that state out of reach for Trump by Election Day. Pennsylvania has no early voting.
"After a two-year campaign which has produced the most unpopular presidential candidates in American history, the election comes down – as it historically does – to a handful of swing states," said Peter Brown, assistant director of the Quinnipiac University Poll. "No one has been elected president since 1960 without carrying two of the key swing states, Florida, Ohio and Pennsylvania. And, this year, North Carolina has been added to the mix. All four of these key states remain close entering the final days."
One other encouraging sign for Clinton–or dispiriting one for Trump: Quinnipiac conducted all its interviews with 600-odd likely voters in each state from Oct. 27 to Nov. 1. The controversy over a new batch of Clinton-related emails that FBI Director James Comey said would be looked at broke on Oct. 28, so three and a half to four days of polling took place after that revelation, suggesting that while Clinton has taken a hit, the hit has not been as damaging, or at least as critical, as the Trump campaign makes it out to be: she is weathering the revelations in polling, and proving immune in early voting.
And while in national polling Clinton has shown significant losses, those losses by today appeared to have slowed or stopped, with, for example, the ABC-Washington Post tracking poll showing her rebounding to a one-point lead after relinquishing what had been a 13-point lead to a one-point advantage for Trump earlier this week. Overall her 5 to 6-point national lead bled down to less than 2 in the Real Clear Politics Average, though she has maintained leads in most of the swing states critical to her victory.
Looking at Florida's numbers more closely, neither candidate is much liked, but Trump has a higher negative rating (57 percent) than Clinton (54). The gender gap is small as women likely voters back Clinton 49 – 43 percent, while men go 47 percent for Trump and 44 percent for Clinton. White voters back Trump 58 – 34 percent while non-white voters back Clinton 72 – 21 percent. Trump leads 88 – 7 percent among Republican voters and 46 – 40 percent among independent voters. Clinton takes Democrats 86 – 8 percent.
"Racial patterns are clearly evident in the Florida voting. Hillary Clinton is getting about a third of whites in Florida, to Trump's 58 percent. Non-whites, however, break strongly for her," Brown said.
The problem for Clinton though is that blacks are not voting in proportions as large as they did for Obama in 2008 and 2012, and it's too early to tell whether Trump's repeated disparaging of immigrants will help Hispanics make up the difference in votes for Clinton.