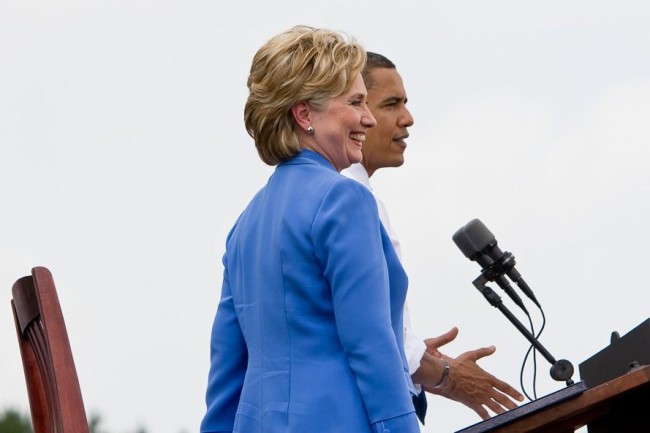 The 2016 election is 1,239 days away. But the first innumerable and returns, as irrelevant to the final result as they will be alluring in the run-up to it, are in: Jeb Bush would beat Joe Biden in Florida, by a close margin. Marco Rubio would beat Biden by an even closer margin. But Hillary Clinton would beat both Rubio or Bush quite easily: 50 to 43 percent against Bush, 53 to 41 percent against Rubio.
The numbers, from the latest Quinnipiac University poll, may have little bearing on the actual election in 2016. None of these potential candidates have announced for 2016. But the numbers point to surprising and stark vulnerabilities for the Republican Party's two leading lights, in their home state. That may affect the potential candidates' strategy and positioning in months ahead as they decide whether, and how, to run.
Clinton's strength is especially telling among Independents, women and Hispanics, without whom no candidate can hope to win Florida. Clinton carries 58 percent of Hispanics even against Rubio, who is of Cuban descent and taken to be the Republican Party's Great Latino Hope, for a party that will not win elections in the future without reducing the large advantage Democrats enjoy among Hispanic voters. (Hispanics make up 16 percent of the electorate and are the nation's fastest-growing minority. They backed Barack Obama against Mitt Romney by a 71 to 27 percent margin in 2012.)
"As perhaps the best-known Hispanic-American in national politics Sen. Marco Rubio has a tightrope to walk between keeping the folks back home happy and serving as a high-profile symbol for the GOP nationally," Quinnipiac's Peter Brown said.
The poll also found that Floridians are unhappy with Rubio over his position on immigration and guns. Rubio has been difficult to pin down on the compromise that would grant undocumented immigrants currently living in the United States a path to citizenship. Forty-one percent of respondents gave him a disapproving vote for that, compared to 33 percent approving. He also voted against universal background checks for gun buyers, which would have included background checks for firearms bought at gun shows or online. He drew a 49-10 percent disapproval from Floridians on that score.
Floridians overall back universal background checks by 73 percent (that includes support from 63 percent of households with guns), and strongly back a path to citizenship for undocumented immigrants, with 58 percent in favor—including 54 percent of white voters, 66 percent of black voters and 69 percent of Hispanic voters.
Against Bush, whose wife is Hispanic, Clinton carries 87 percent of the Hispanic vote and 48 percent of Independents (to Bush's 42 percent). Trend-wise, Clinton actually gained a point against Rubio in Florida since March, but lost a point against Bush. The Benghazi hearings designed in part to dim Clinton's appeal—she was secretary of state when terrorists attacked and killed four Americans, including the ambassador, in their Benghazi compound in 2012)—appear to have missed their mark in Florida.
But Vice President Joe Biden is clearly a weak candidate for Democrats in Florida. Biden has said he would run only if Obama's second term record is strong enough to power his candidacy. So far, that's not the case.
In other findings, Florida voters support the state's "stand your ground" law 57 – 36 percent, virtually unchanged in 12 months of Quinnipiac polling. Voters also support 49 – 40 percent increasing the number of people enrolled in Medicaid, as part of the federal health care overhaul, but that's too late: while Gov. Rick Scott changed course and became a supporter of such an overhaul, the Florida House and Senate rebuffed him. The Florida Legislature's approval rating is at 32 percent, with 49 percent disapproving.
In terms of job approval, Obama gets a split 47 – 48 rating, reflecting his national standing, compared to a 50 – 45 percent approval rating in March. Rubio has a 51-35 percent job-approval, up from 48-33 in March. Sen. Bill nelson, the only Florida Democrat in a national seat, has a 51-29 approval rating.
On Monday, Quinnipiac released results of a poll focused on Gov. Rick Scott. The polls were conducted between June 11 and 19, surveying 1,176 registered voters, with a margin of error of plus or minus 2.9 percentage points.