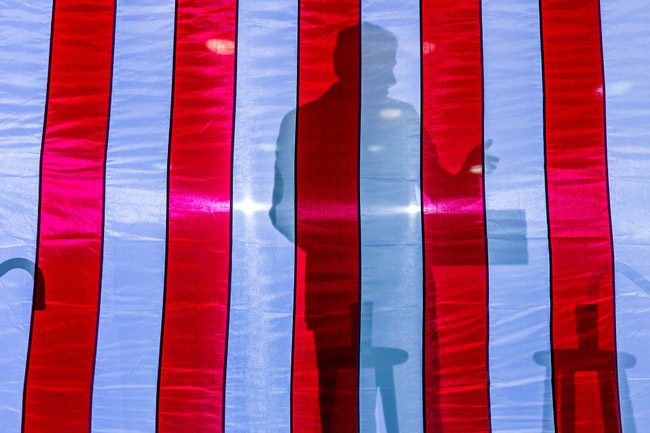 As both major presidential campaigns blanket Florida in the final weeks before the Nov. 8 election, Democrat Hillary Clinton's lead over Republican Donald Trump in the state is down to three points, according to a poll released Wednesday by Florida Atlantic University.
The poll also showed Republican U.S. Sen. Marco Rubio up by four percentage points in his race with Democratic challenger Patrick Murphy, with 12 percent of voters undecided.
Clinton leads Trump by a margin of 46 percent to 43 percent in the poll, which was conducted from Friday to Sunday. That is down from a six-point lead in an FAU poll released Oct. 13. Trump was up by 2 percentage points in an August poll.
Kevin Wagner, an associate professor of political science, said the contest will come down to which candidate — both with high unfavorable ratings — can motivate supporters to vote. Libertarian Party candidate Gary Johnson and Green Party nominee Jill Stein were each under 3 percent, and 6 percent of voters were undecided.
"Secretary Clinton is building a substantial lead among the early voters in our sample," Wagner said in a prepared statement. "That could create a difficult lead to overcome for Mr. Trump on Election Day."
Early voting started Monday in much of the state. After the first two days, 256,593 Democrats had gone to the polls, compared to 225,962 Republicans, according to the state Division of Elections. Another 89,273 independents and 13,530 third-party voters also cast early voting ballots.
Meanwhile, Republicans had the edge among Floridians who have cast vote-by-mail ballots, up 606,144 to 569,783 over registered Democrats.
The numbers from the state elections office only provide registration information about the voters — not how they actually voted.
Mirroring other surveys, Trump has a 17-point advantage among white voters and a 24-point lead in northern Florida. Clinton, who has a commanding 68 percent to 26 percent lead in South Florida, is up nine points among women, 49 points with African Americans and Hispanics and 16 points with independents.
The poll of 500 likely voters by the Boca Raton university's Business and Economics Polling Initiative has a margin of error of 4.3 percentage points.
It was released amid a flurry of activity by the campaigns in Florida. Democratic vice-presidential nominee Tim Kaine is slated to appear Friday in Sarasota and Tallahassee, his second campaign trip to the state in less than a week. Also on Friday, President Barack Obama is expected to campaign for Clinton in Orlando.
Meanwhile, Trump wrapped up a three-day swing through Florida on Tuesday with stops in Sanford and Tallahassee. Clinton appeared Tuesday in Coconut Creek and was scheduled to campaign Wednesday in Lake Worth and Tampa.
The poll also came as Rubio and Murphy, a congressman from Jupiter, prepared for a televised debate Wednesday night in their high-stakes race for U.S. Senate.
Rubio leads Murphy by a margin of 46 percent to 42 percent, according to the poll.