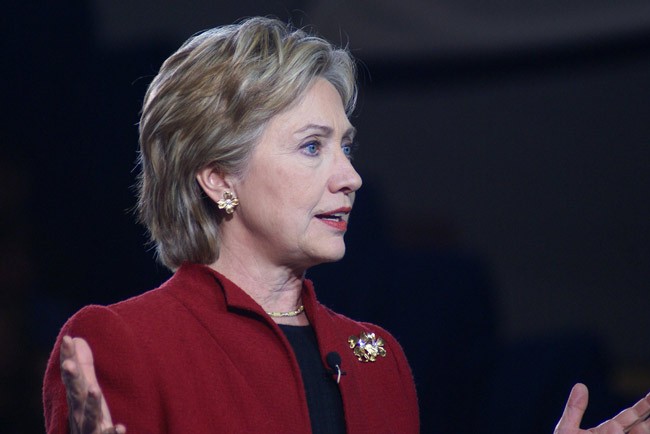 For all the elaborate theater of Marco Rubio's and Jeb Bush's announcements for the 2016 presidential race in their home state, Hillary Clinton, the New Yorker, ex-Arkansan and Democrat, still leads the two Republican hopefuls: Rubio by three points, and Bush by four.
Ironically for Bush, he is within one point of Clinton in Ohio, and four points behind in Pennsylvania, suggesting that his home state advantage is not playing in his favor so far. Rubio is now ahead of Clinton by a point in Pennsylvania, and three points behind her in Ohio. That's just beyond the margin of error in the Ohio segment of the latest swing-state poll by Quinnipiac University, reputed to be among the most reliable pollsters in presidential elections.
But Clinton has another problem that has no name attached to it other than her own: her trustworthiness and honesty. In all three swing states, more than half the voters say Clinton is neither trustworthy nor honest (51 percent in Florida, 53 percent in Ohio, 54 percent in Pennsylvania). That's a reflection of her perceived role in the Benghazi affair, though a Republican congressional panel cleared her of wrongdoing, and more notably in her decision to conduct all her email business from her personal account when she was secretary of state, before deleting all those documents. Rubio's record of financial mismanagement and Bush's own use of a private email server for public business have not hurt either of them as much so far.
"It's a long way until Election Day, but in the critical swing states of Florida, Ohio and Pennsylvania, U.S. Sen. Marco Rubio of Florida has a tiny edge over the GOP field," said Peter Brown, assistant director of the Quinnipiac Poll. "Most of the eight GOP hopefuls are within striking distance of Secretary Hillary Clinton in at least one of the three states. In Ohio, Gov. Kasich leads." The poll was taken before Donald Trump's announcement Tuesday that he would also be running for the presidency as a Republican. "But perhaps more troubling for her than the continuing slide is how she is perceived by voters who continue to say she is not honest and trustworthy."
Being honest and trustworthy is the most important quality in deciding their vote, 39 percent of Florida voters say, while 28 percent most want strong leadership qualities and 32 percent most want a candidate who cares about their needs and problems. Voters say 50 to 34 percent that Rubio is honest and trustworthy (with 34 percent saying he's not); 52 to 33 percent that he has strong leadership qualities and 53 to 37 percent that he cares about their needs and problems. Bush scores 52-36 percent on being honest, 62-29 percent on strong leadership and 48-43 percent for caring for voters' needs and problems.
Clinton has higher favorability ratings than either Bush or Rubio (47 percent in Florida, to Bush's 42 and Rubio's 38), with the gender gap working strongly in her favor: she has a double-digit lead among women when matched against Rubio or Bush.
In Ohio, "Gov. John Kasich's 47 – 40 percent lead over Secretary Clinton is the largest of any GOP candidate in any of the three states," Brown said. "With Ohio being such a critically important state – no Republican has ever won the White House without carrying it – that gives Gov. Kasich a key talking point about why he should be the nominee." But Kasich polls well only in Ohio. In Florida, Clinton would beat him 48 to 35 (more easily than she'd beat Ted Cruz), and she'd beat him by six points in Pennsylvania. In Real Clear Politics' latest aggregate of polls for the Iowa Caucus, a Midwestern state that should play more favorably to a Midwestern candidate, for example, Kasich is in next-to-last place, just ahead of Louisiana's Bobby Jindal, with only 2 percent, in a field led by Scott Walker of Wisconsin, with 18.3, followed by Rubio with 9.8.
The poll was conducted from June 4 to 15, surveying by landlines and cell phones, in live interviews, 1,147 Florida voters, with a margin of error of plus or minus 3 percentage points. Some 1,191 Ohio voters were interviewed (2.8 percent margin), and 970 voters in Pennsylvania were interviewed (3.2 percent).