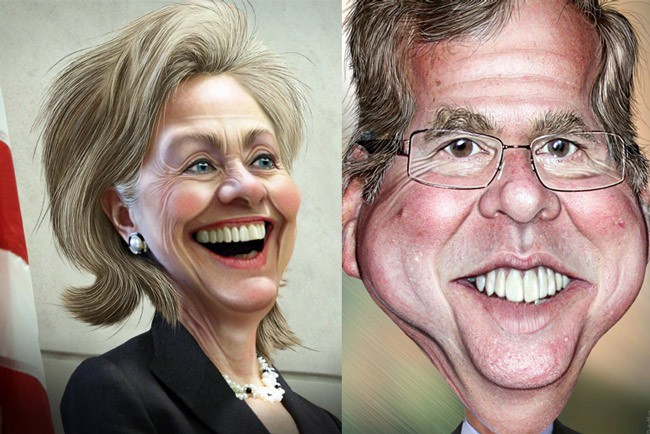 In light years, the 2016 election is still a little less than half way between the Alpha Centauri star system and Earth. But polls and prognostications, twin tortures of American elections, began last year even before Jeb Bush and Hillary Clinton had declared for the presidency. A Quinnipiac University poll in January 2014 had Clinton trouncing either Bush or Marco Rubio in their home ground of Florida.
Bush and Clinton have not yet made their run formal. But Quinnipiac today released the first of what will be a long series of swing-state polls ahead of the 2016 election. For Bush, it's not as bad as last January: he is no longer losing Florida. But he's not winning it, either. Clinton and Bush are in a statistical tie, with Clinton ahead 44-43. That's an improvement over last year, when she beat Bush 49-43 percent. Clinton still beats Rubio 49-39 in a theoretical match-up in Florida.
A slightly brighter spot for Bush: he would win Florida's Independent vote, 40-36, and would win men voters 45-37. Clinton has a decided advantage among women voters, 50-41, which may prove difficult to overcome when combined with minority and younger voters, as Bush is far less likely to make inroads among either groups.
But Clinton beats Bush by a wide margin in Ohio, 47-36, and by an even bigger margin in Pennsylvania, 50-35, where New Jersey Gov. Chris Christie fares better than Bush against Clinton, but still gets below 40 percent. Clinton's numbers are even bigger if her opponents were to be either Mike Huckabee, the evangelical conservative, or Rand Paul, the libertarian.
Clinton also beats Bush, Rubio and Bush in favorability in Florida, Ohio and Pennsylvania: she garners 53, 51 and 55 percent favorability in the respective states, well ahead of Bush, who gets 46 percent in Florida, 26 percent in Ohio and 30 percent in Pennsylvania. Christie's likability is fading: it's 28 percent in Florida (well below even Rick Scott's likability), 25 percent in Ohio and 36 percent in Pennsylvania, which shares a long border with New Jersey. Christie's approval rating in New Jersey proper is at 48 percent, a three-year low.
Florida, Ohio and Pennsylvania are critical swing states in any modern presidential election. A candidate can win the election without winning all three, but since 1960, when John Kennedy won despite losing Florida and Ohio to Richard Nixon, no candidate has won the presidency by losing more than one of the three. (In 1960, Florida had just 10 electoral votes. It now has 29.)
The poll also looked at a Clinton contest against Ohio Gov. John Kasich.
"There is a reason why Hillary Clinton has followed a slower, less aggressive schedule when it comes to ramping up her expected presidential campaign than have virtually all of her potential White House opponents," Peter Brown, assistant director of the Quinnipiac University Poll, said. "She holds double-digit leads over all her potential GOP opponents in the three biggest swing states, except for two Native Sons, former Florida Gov. Jeb Bush and Ohio Gov. John Kasich. And she is under little pressure from within her own party to hit the campaign trail."
"Although history suggests that once she becomes a full-fledge candidate and part of the nastiness that comes with politics these days those numbers may drop some. She begins the campaign in very strong shape with voters and not just Democrats. In the three big swing states she is getting 86 to 93 percent of Democrats, 36 to 54 percent of independent voters and even up to 15 percent of Republicans. Because Mrs. Clinton would be the first woman major party presidential nominee, she probably gets an extra boost among women, who tend Democratic."
Women are the key to the Democrat's dominance over Republican contenders. She leads among women by margins of 9 to 31 percentage points. Men are more evenly divided. Clinton's biggest deficits with men are 8 percentage points against Bush in Florida and 9 points against Kasich in Ohio.