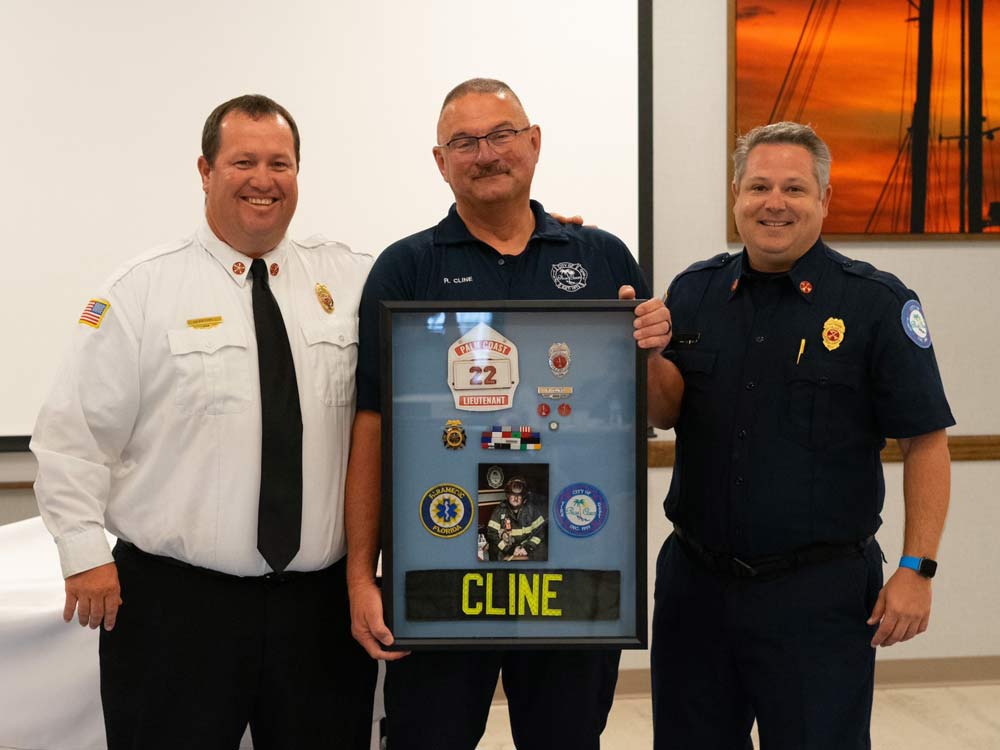 The Palm Coast Fire Department bids a fond farewell to Richard "Rich" Cline as he embarks on a well-deserved retirement after a proud career spanning 25 years, dedicated to serving the City of Palm Coast.
Born and raised in Jacksonville, Florida, Rich enlisted in the United States Coast Guard, where he served as a Petty Officer Third Class. He enrolled in Florida State College in Jacksonville to earn his Firefighting and EMT Certifications. Prior to joining the Palm Coast Fire Department, Rich was an EMT with Flagler County Ambulance Service, where he worked during the 1998 wildfires.
Rich began his first shift as a career firefighter on February 7, 1999. He was among the department's first paramedics when the fire department launched its Advanced Life Support program in 2002. In 2001, he graduated from Daytona State College with his EMS Certification. He was promoted to Lieutenant in October 2008.
Among Rich's numerous professional accomplishments, his contributions have been instrumental in creating the department's Honor Guard, CPR program, and the Hall of Terror. Rich is the founding member of the department's annual haunted house alongside retired Fire Chief Jerry Forte. It was their vision that created the Hall of Terror, the city's free haunted house now in its twenty-second year. Through Rich's vision, he has earned the title of "Boo-Master."
Beyond his remarkable achievements as a seasoned firefighter, Rich cherishes his role as a devoted husband to Cindy and a loving father to Heather, and he has been blessed with the "papa" title to Addy, a role he cherishes dearly.
Reflecting on Rich's career, Fire Chief Kyle Berryhill remarked, "Congratulations to Rich, and his wife Cindy and daughter Heather, on completing a career in public service. In addition to his esteemed service to Palm Coast, Rich has served in the US Coast Guard and as a paramedic with EVAC and at the Daytona International Speedway. His contributions throughout a lifetime of service are honorable and appreciated. Well done, my friend. PCFD is proud of you."
The Palm Coast Fire Department expresses its deepest gratitude to Lieutenant Richard Cline for his selfless service, unwavering commitment, and profound impact on the community. He completed his final shift on September 8, 2023, and celebrated his remarkable legacy, with everyone wishing him a fulfilling and well-deserved retirement.