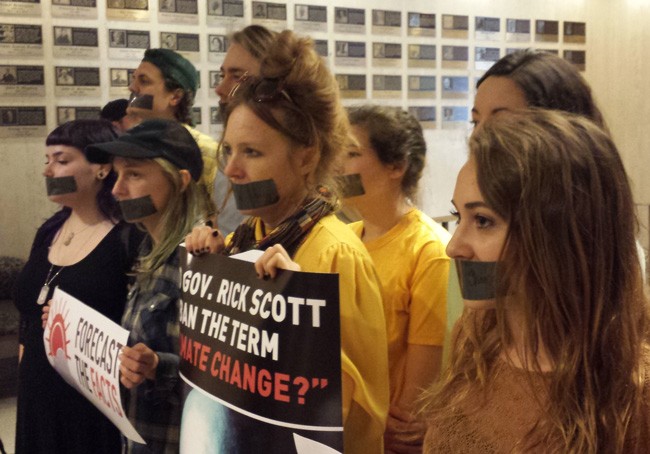 An environmental group wants Florida's inspector general to check out reports of an unwritten policy prohibiting state agencies from using the terms "climate change" and "global warming."
About a dozen members of the group Forecast the Facts, many appearing with their mouths covered by duct tape emblazoned with the words "climate change," dropped off about 43,000 electronically signed petitions Friday with the receptionists at Gov. Rick Scott's Capitol office.
The petitions ask the state's inspector general to launch an investigation into whether Scott directed the Department of Environmental Protection and other state agencies to avoid certain weather-related phrases in public documents and other communications.
Scott has repeatedly denied the charge.
A spokesman for Scott's office, while denying the allegation on Friday, said the governor is concerned with solutions to environmental issues.
On March 8, the Florida Center for Investigative Reporting reported that former DEP officials claimed they had been told to avoid phrases such as "global warming" and "climate change."
---
Scott evaded a question about global warming by saying he is "not a scientist.".
---
Forecast the Facts, which focuses on people who deny climate change, also has submitted a public-records request asking for correspondence between Scott and the DEP that references "climate change" and "global warming."
"This is our initial attempt," said Ralph Wilson, a Florida State University graduate student and spokesman for Forecast the Facts. "If it turns out there exists no correspondence, then obviously we can naturally move on to look for other executive-branch correspondence between the office and the agency."
The governor's office recently told the Orlando Sentinel that Scott, who has taken flak for using a private email account for state business, has stopped using all email for official purposes. The governor's office did not say when Scott stopped.
Scott, when pressed last year on the issue of climate change, said he is "not a scientist."
When asked about climate change during a gubernatorial debate in October, Scott said the state is addressing rising sea levels.
"We have spent $350 million to deal with sea level rise down in the Keys. … We spent hundreds of millions dollars to deal with coral reefs. We did an historic settlement with the federal government over the Everglades. We've done —- we put historic money into our springs," Scott said during the Oct. 27 debate in Jacksonville.
Scott expressed skepticism of manmade climate change during his 2010 campaign but sat down at his Cabinet office with five climate scientists from Florida during his 2014 re-election bid.
The scientists urged Scott to develop policies to offset the impact to Florida of the changing climate. Scott asked the scientists about their backgrounds and later thanked them for their time at the end of a 30-minute presentation.
The reports about word play dealing with "global warming" and "climate change" have caught the attention of at least some lawmakers.
Senators from both parties on the Transportation, Tourism and Economic Development Appropriations Subcommittee couldn't contain their laugher Thursday as Sen. Jeff Clemens, D-Lake Worth, failed to get Division of Emergency Management Director Bryan Koon to utter the "climate change" phrase.
Subcommittee Chairman Jack Latvala, R-Clearwater, asked Clemens what words he had used.
"I used 'climate change,' " Clemens responded. "But I'm suggesting that maybe as a state we use the term 'atmospheric re-employment.' That might be something that the governor could get behind."
A short time later, Koon noted that the state must have "language discussing that issue" as part of a five-year multi-hazards mitigation plan the federal government requires by 2018. Clemens quickly inquired, "What issue is that?"
"The issue you mentioned earlier," Koon, smiling, replied.
–Jim Turner, News Service of Florida