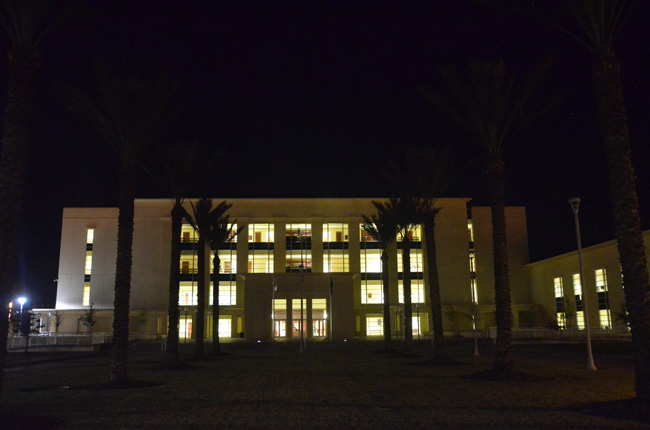 After a year of legal wrangling, same-sex couples should be able to get married anywhere in the state Tuesday, making Florida one of three-dozen states where gay marriage is possible.
Reversing previous advice, lawyers for the Florida Court Clerks & Comptrollers said Friday that a clarification issued by U.S. District Judge Robert Hinkle means that county clerks should issue marriage licenses to same-sex couples or run the risk of being sued.
"He provided the direction that they wanted and provided the judicial authority for them to issue same-gender marriage licenses," Greenberg Traurig lawyer Fred Baggett, the clerks association's general counsel, told The News Service of Florida. "We are advising them it's in their best interest to accept the authority that Judge Hinkle has given them and to begin issuing licenses."
Baggett also said he was unaware of any of the state's 67 clerks who would decline to issue licenses. Kenneth Kent, executive director of the association, issued a statement that said Hinkle's order Thursday had provided the "guidance" clerks wanted on the issue.
"Given this development, we are strongly encouraging all clerks to follow this clarification order and to begin issuing marriage licenses to same-gender couples on January 6, 2015," Kent said.
The reversal from the association's lawyers should remove the last roadblock to gay marriage starting in Florida, though the state continues to appeal Hinkle's August ruling that the ban is unconstitutional. A stay on that ruling expires at the end of the day Monday, allowing marriages to start Tuesday.
Gay rights supporters said they expect each of the clerks to comply.
"The judge's message was very clear. You will be liable if you fail to comply. I think they'll take that very seriously and I'm sure voters will be paying attention to whether they have a clerk that is willing to squander resources to delay what is inevitable," said Nadine Smith, chief executive officer of Equality Florida.
Smith said Equality Florida, a prominent gay rights organization involved in the lawsuits challenging the same-sex marriage ban, is "prepared to take the clerks to court who refuse to fulfill their oath and duty."
Hinkle in August struck down the gay-marriage ban, which was approved by voters in 2008, but a legal debate swirled as the expiration of the stay neared. In two legal memos, Greenberg Traurig lawyers advised the clerks that Hinkle's ruling applied only to Stephen Schlairet and Ozzie Russ, two Washington County gay men who are plaintiffs in the lawsuit challenging the prohibition, and warned that clerks could risk prosecution if they issued marriage licenses to other gay couples.
But in his four-page order issued in response to a request for clarification sought by Washington County Clerk of Court Lora Bell, Hinkle on Thursday cautioned that clerks could be on the hook if they do not issue the licenses.
"Reasonable people can debate whether the ruling in this case was correct and who it binds. There should be no debate, however, on the question whether a clerk of court may follow the ruling, even for marriage-license applicants who are not parties to this case. And a clerk who chooses not to follow the ruling should take note: the governing statutes and rules of procedure allow individuals to intervene as plaintiffs in pending actions, allow certification of plaintiff and defendant classes, allow issuance of successive preliminary injunctions, and allow successful plaintiffs to recover costs and attorney's fees," he wrote.
In his statement Friday, Kent said clerks needed the clarification from Hinkle, as they "felt it their duty to move forward based on judicial authority, rather than on conflicting individual legal opinions which provided no protection as to the clerks' performance of the duty the law requires."
Attorney General Pam Bondi, who has defended Florida's gay-marriage ban and tried unsuccessfully to get the U.S. Supreme Court to extend Hinkle's stay, interpreted Hinkle's ruling differently. In a statement Thursday, Bondi said the order does not require clerks to provide licenses to same-sex couples but permits them to do so. Bondi also said she would not block clerks from issuing licenses, another milestone in the fight about the gay-marriage ban.
Hinkle's August ruling also means that Florida, beginning Tuesday, must recognize marriages of gay couples who were wed in other states.
But even as gay couples throughout Florida prepare to be wed or celebrate their out-of-state nuptials, the state's appeal of Hinkle's ruling striking down the law is still pending before the 11th U.S. Circuit Court of Appeals. Four other appellate courts have overturned gay marriage bans while one has upheld a prohibition.
And while clerks are being advised to issue licenses, some have declared they will no longer perform weddings as they seek to avoid marrying same-sex couples. Clerks in Duval, Baker, Clay, Okaloosa and Santa Rosa counties have said they will discontinue wedding ceremonies.
Smith compared those decisions to officials who fought to keep segregation in place.
"It's despicable. One day they will be ashamed for having adopted the hateful strategies of segregationists," said Smith, whose Vermont marriage to her wife will become legal in Florida on Tuesday. "This is their way of being spiteful while complying with the law. It will backfire. And it shows the mean pettiness, the ignorant spite at the core of this discriminatory ban."
–Dara Kam, News Service of Florida