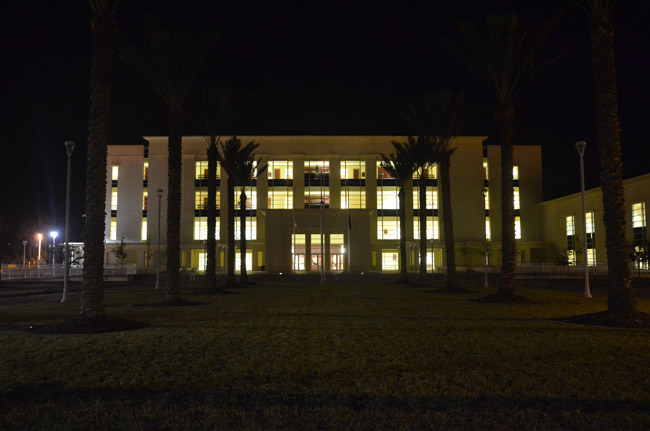 John Pacenti was mad: "For more than a decade here in Florida there's been a war in Florida, and you know what that means in a democracy? That means there's a war on us, because the government is here to help us, the regular citizens. To provide this infrastructure, schools for our kids, community centers, a safety net for our seniors and services. It's what we pay taxes for. Well, lawmakers in Tallahassee don't see it that way," Pacenti, a court reporter for South Florida's Daily Business Review, says in a video.
"And lately," Pacenti goes on, "these lawmakers have sung their fangs into the judiciary. The U.S. Constitution guarantees due process. And you know who does a lot of that grunt work? The clerks of court. So what did the brain trust in the Capitol do? Cut clerks of court's budgets statewide by 7 percent. That's $31 million. It's disgusting enough that lawmakers have gutted the education system in Florida, forcing the layoffs of much-needed teachers, but now they're actually messing with one of the basic tenets of freedom: justice. This is the fourth straight year that clerks of courts have been hit."
The $31 million cut statewide means a $90,000 cut in the court system in Flagler County, the equivalent of at least two jobs, possibly three by July 1.
Gail Wadsworth, Flagler County's clerk of court, is a lot calmer than Pacenti, but just as angered by the cuts, which over the past five years will have reduced her state-funded court staff from 32 to 19, plus a half-timer.  "It's a little more than a third over a five-year time period, with a caseload that's not declining."
The overall caseload is, in fact, declining (by 20 percent between 2008 and 2011), but unevenly across categories. Traffic cases have declined steeply. Criminal cases in circuit court have more than doubled. Juvenile and dependency cases in civil court have increased, while county civil and family law case have decreased somewhat. And foreclosure cases are again rising—not because there are more homes going into foreclosure, but because banks are getting their act together and refilling previously botched cases.
This year's cut is not as substantial as the one in 2009, when clerks statewide lost 18 percent of their state-supported budget, and Wadsworth lost an even larger proportion of her budget in Flagler, where her state-supported staff went from 32 to 23 overnight.
Earlier this month Wadsworth circulated letters to legislators and members of the local Rotary in an attempt to influence Gov. Rick Scott into line-item vetoing the cuts. It was a long shot. "I don't know that this can be done," she wrote. "I do know it cannot be sustained."
In an interview in her office, she put it in day-to-day terms as the cuts would affect residents: "Lines will be longer. People want to walk in the door and pay for their traffic ticket right now. They're not going to want to be third or fourth deep in line. They want to come up to the second floor and communicate with a clerk and be able to fill out their injunction paperwork right now, not sit in a waiting room and wait."
What's wrong with a little waiting?
"Nothing is wrong with a little waiting. I stand in line in grocery stores too," Wadsworth said. "Nothing really is wrong with a little waiting except when people are afraid, in an injunction case, waiting just creates more pins and needles for them. When people are on their lunch hour and they're trying to pay a ticket, standing in line is horribly frustrating for them. When people are upstairs on the second floor and they want to see a motion they know has been filed in a case that their name is in, having to wait for someone to go pull the file, make a copy and bring it out to them is frustrating, because we work for them."
There's also the matter of criminal cases having precedence over the rest
The Flagler County Commission supports more than half of the clerk-s budget—26 jobs out of 48 at the moment. But the county is not likely to pick up the state's slack. "It's not their responsibility," Wadsworth said. "So what clerks will have to do is meet the time demands first for criminal and violence, so other processes may slow down," she said. "So instead of your attorney bringing a case on Monday and it's entered and summonses are issued by late Wednesday, it could be Friday, depending on the volume of cases received, and it could be the next Friday." The pile-up could have a cumulative effect, creating longer delays down the line, especially if, as current indications suggest, the economy picks up and court activity begins to resemble pre-recession days (absent the boom created by the housing bubble).
"If somebody is going to be laid off on July 1, they'll know well in advance. It's unfair to do it any other way," Wadsworth said.
Pacenti concluded his self-described rant this way: ""I hate to break it to you types who want to limit government, but cutting court services is not in the people's interest. It's one of the basic services of government for goodness' sake. So when you're standing in line twiddling your thumbs just trying to file something at the clerk of court's office, think of your incumbent lawmakers and how they stole two hours of your life. And think what you can do to pay them back come election day."