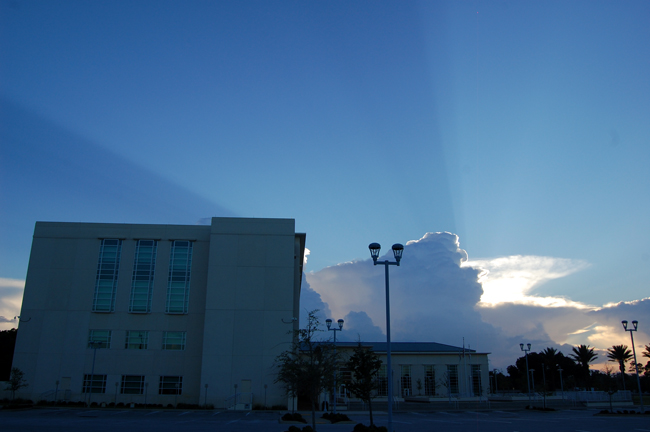 When a generally voiceless segment of the community asked for its gym and community center to stay open next year for the same $120,000 the county had paid this year, the county cut the budget to $90,000 and cautioned that absent alternatives, that funding will gradually decline over the next few years. That's the Carver Gym story so far this summer, one of the county's most contentious budget issues.
When a clerk of court goes before the commission and asks for money that's not in the budget, even though the county told all government agencies not to increase their budgets or staffs next year, she gets her way. It so happens that the extra money she got—the money not in the budget—is $120,000.
Welcome to Flagler County politics, the old fashioned way.
Physically, Gail Wadsworth, the Flagler County Clerk of Court, isn't an imposing person. Politically, she looms, or aspires to loom, slightly larger than the colossal county courthouse built in part to her specifications in 2007. The 136,426-square-foot building is across a ditch from the equally ostentatious county administration building built at the same time, part of a government complex that cost taxpayers $65 million, back when revenue was rolling in and growth looked eternal. Then the housing bubble burst and local governments started cutting budgets and staff, and raising taxes. It makes for an unhappy mix at budget time.
The latest encounter between Wadsworth and the County Commission, during a budget workshop earlier today, was one such time. Wadsworth wanted more money than what the county was budgeting, so she could hire more staff and buy more equipment. Commissioners were resistant. The commission, which approves all county budgets—including those of the constitutional officers such as the sheriff and the clerk of court, but not the school board—asked all agencies to maintain "level budgets" next year—no dollar increases, no staff increases.
That's been holding true for the tax collector, the sheriff, the property appraiser and the county itself (in 2007, the county had 346 positions. It has 287 this year. Its proposed budget calls for the same number next year).
It looked like it was going to hold true for the clerk of court, whose original budget submission called for 28 positions next year, same as the current year. (That's down 10 positions from 2007). But in the end, Wadsworth got half what she wanted, at a cost of about $120,000.The county doesn't have the money in its budget. It'll have to come out of reserves, or from cuts yet to be determined.
When budget workshops began last month, however, the clerk had an amendment for the commission. Wadsworth was calling for three additional positions, and extra capital funding for computers, printers and the like. Equipment ages, she explained. And the extra positions are necessary to take care of accounting paperwork generated by the county, not by the clerk's court duties.
The clerk is responsible for paying the county's bills, and therefore accounting for them to the penny. For a few years, county and clerk staffs have been at odds over the handling of that paperwork, with one side's procedures out of sync with the other's. Commissioners want those procedures smoothed out. The two administrative staffs have been talking about doing just that, but it's still not done. Wadsworth needs extra help dealing with the work. Commissioner Alan Peterson—the same commissioner who proposed reducing Carver Gym's budget—was adamantly against enabling that.
"If we fund this request, it's going to be life as usual, and we're going to be passing paper back and forth between the two buildings for a long period of time," Peterson told Wadsworth and fellow commissioners during a pivotal moment in the discussion. "So I say don't fund this request and force corrective action."
"Commissioner," Wadsworth said, pausing a long time, "I really hope you don't choose to do it that way." She described her needs as resulting in large part from accounting requirements to keep the county's accounts in order. "And it isn't just the catching that we have to do. We need another accountant to work with Helena Alvez our internal auditor who prepares your financial statements. We need that one larger dollar person, and we need staff in finance, so when our auditors come through they won't say 'this is all you have doing all this work?', which they have done. We need the supporting people to support the functions we do for you. Whether or not you think it all comes from your side, it is very important to my office that what we present to the public, in your name, called your financial statements, are squeaky clean."
"Are you saying you cut too deeply last year?" Peterson asked.
"Yes, I am," Wadsworth replied.
After a little more discussion, Peterson gave in. He proposed granting Wadsworth her extra accountant, for $90,000 to $95,000 (that's including the salaried position's benefits package), and $25,000 in technological improvements, even though he'd just said that "one of the burrs that get under my saddle at times is computer replacement that is quote obsolete because it's technically obsolete but not functionally obsolete."
And Wadsworth got this from Abbott: "There comes a point when enough is enough. We need to decide something. There's five of us here that are going to decide whether you need them or not. I would rather err on the point of having too many people. And then we'll catch it up later on." The "we" was slightly presumptive, since Abbott was speaking a day after he was defeated at the polls.
Wadsworth exhaled. "I don't want to give an inch," she told Peterson, "but I would be ecstatic" for the extra funding, she said, then turned her compromise into a condition: "In hopes that next year when I make a budget request you'll let me come up that much more again."
Other constitutional officers will remember their Wadsworth playbooks next time they go before the commission with budget amendments.
Peterson noted that Wadsworth's staffing is still lower than what it was two years ago. Nevertheless, Commissioners Barbara Revels and Milissa Holland weren't thrilled by what had just happened. "But Allen," Revels said, "all levels of government have shrunk."
"I disagree with the increases as we've discussed, that we were looking for all the constitutionals to come in with level funding," Revels, who's also the county's delegated commissioner to find a solution for Carver Gym, said. "Every one of our departments have just sliced and cut and come forward as best they could. Everybody is working to exhaustion within county government as well. We had another constitutional officer who came in and wanted to put in the budget for unemployment because she's got people that are stressed and are maybe going to quit. Maybe. I understand being overworked. I'm a person in my own business, I have overworked myself six days a week for 30 years, so I know what it means to work your tail off." She added, "We've said we were going to ask for level funding and that's what we've moved forward with."
Wadsworth claimed no one had told her.
Holland reiterated what she's said before: the county's high unemployment rate means the hurt is spreading, and arguing against making government budgets bigger. But by then the issue was settled. Wadsworth had her majority—and her budget increase.