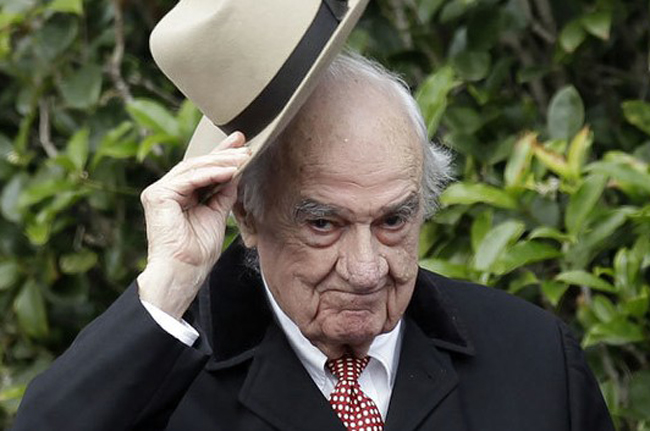 Former Gov. Claude Kirk, a larger-than-life political outsider who made history when he was elected governor of Florida as a Republican in 1966, pushed for a new state constitution and helped begin a GOP rise in the state, has died.
Kirk, who was 85, died Wednesday at home in West Palm Beach, a statement from his family said.
Kirk, a one-term governor ousted by the election of Democrat Reubin Askew in 1970, was also credited with ushering in a new ethic of conservation and environmental stewardship after a century in which Florida was looked at as a swamp to be filled in.
The former Democrat (he led a "Democrats for Nixon" effort in 1960 before changing parties) fought as governor with a Democratic Legislature, pushed unsuccessfully to renew the death penalty, and was widely credited with opening up Florida state government to fresh faces after years of domination by "pork chopper" legislators from the Panhandle and their political followers.
But he may have been best known for his flamboyant personality, out-spoken nature, and quirky sense of humor. His nickname during his tenure was "Claudius Maximus." Kirk got married while he was governor, after having shown up at his inauguration with his future wife, Erika Mattfeld. Asked by reporters the lady accompanying him was, Kirk wouldn't say, identifying her only as "Madame X."
Later in life, long after he left the governor's office, Kirk, by then a mischievous elder statesman, said he wanted state rules changed so he could be buried at the Capitol. (They weren't.) "Being buried up there would be a good idea, so I can keep an eye on them," Kirk said a few years ago in a newspaper interview.
During his campaign in 1966, Kirk visited prisoners at the state prison, and shook their hands. Then, Kirk casually let them know that if he were elected, he would be signing death warrants for some of them, though it wasn't until after he left office that executions were resumed after a national moratorium.
Born in San Bernardino, Calif., in 1926, Kirk was an enlisted man who became an officer in the Marine Corps during World War II, and later, after getting a law degree, returned to the service to fight in the Korean War as an infantry leader.
After that, Kirk started in business with $408 in his pocket, selling building supplies and insurance in Jacksonville, founding the company that would eventually become American Heritage Life Insurance.
After working for Nixon, Kirk sought office himself, switching his party affiliation to the GOP and running unsuccessfully for U.S. Senate against Spessard Holland in 1964.
In 1966, Democratic incumbent Gov. Haydon Burns lost in the Democratic primary to Miami Mayor Robert King High, opening the door to Kirk with some voters suspicious of the liberal Miami candidate at the height of the Civil Rights movement.
Kirk was the first Republican elected governor of Florida since 1872 during reconstruction, and he was, along with Arkansas Gov. Winthrop Rockefeller, also elected in 1966, one of the first two Republican governors to be elected to run a former Confederate state in the 20th Century.
According to the book The Transformation of Southern Politics, by Jack Bass and Walter De Vries, the same flamboyance that made Kirk successful in politics was also part of what kept him from getting re-elected. There were reports of lavish parties at the Governor's Mansion during his tenure and he reportedly hired a Madison Ave. public relations firm with state money to boost his profile for possible future higher office, as he was mentioned as a possible running mate for Nixon in 1968.
His tenure was also marked by a massive teacher's strike – and Kirk responded by going to California's Disneyland.
"He was brash, rude, domineering, inventive, determined and marvelously good-humored," said Nathaniel Reed, who worked for Kirk.
Kirk had a populist streak – he courted white voters by opposing school bussing and made a big show of vetoing a legislative pay raise, after some lawmakers said he had earlier supported it much more quietly.
Another major milestone during his term was the overhaul of the state Constitution, which was modernized with Kirk's support in 1968.
Environmentalists – of which Reed, who served in the Nixon administration, is one – remembered Kirk fondly for ushering in a new era of conservation, and particularly attention to the Everglades and killing a proposed cross-state barge canal.
"He never wavered in his determination to change Florida's long legacy of what Philip Wiley described as Florida, 'the polluted paradise,'" Reed said in a statement Wednesday after Kirk's death. "Kirk could be very stubborn, but he could be convinced to change his mind. For instance, he once supported the cross-state barge canal and the Big Cypress jetport and the development of what is now Biscayne National Park. But when presented with the facts of environmental damage each project would create, he turned and became an ardent and effective opponent of all boondoggles.
"He successfully urged passage of Florida's first green bond issue which brought many popular state parks into our system, he supported the acquisition of the Big Cypress, he fought for more water to be delivered to Everglades National Park," Reed said. "His successors, governors Askew and (Bob) Graham, inherited a new Florida successfully built on conservation foundations of the Kirk era."
Kirk also may have begun the rise of the Republican Party in Florida after a century of dormancy. While Nixon won the state three times, the party was largely irrelevant here until Kirk's time. The never-humble Kirk took credit for the success of later GOP politicians in a 2002 interview with The Palm Beach Post. "They are all the children of my loins," Kirk said.
"He will be remembered as Florida's first Republican governor since Reconstruction and a strong, outspoken and capable leader for our state during an era of immense change in our country," said Gov. Rick Scott in a statement. "Along with all Floridians, we send our condolences to his wife Erika and their entire family. Our prayers are with them during this challenging time."
Scott will order flags to fly at half-staff on the day of Kirk's funeral.
"He was a noble veteran of two wars and a champion of the Republican Party," said current Republican Party of Florida Chairman Lenny Curry. "Although Florida has lost another great Republican leader today, the memory and legacy of his service will not be forgotten."
In addition to wife Erika, Kirk is survived by his children: Sarah, Katherine, William, Frank, Adriana, Claudia and Erik. He leaves behind 14 grandchildren and 5 great-grandchildren.
–David Royce, News Service of Florida