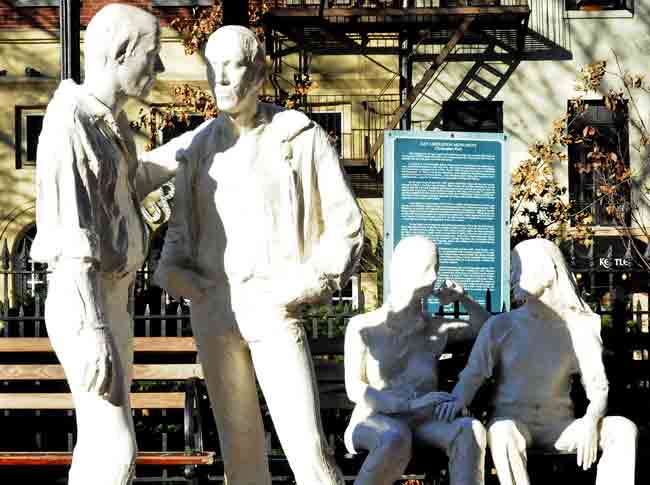 A measure that would allow for civil unions, granting legal relationship rights to people who aren't married, stalled Tuesday in a Senate committee in the face of a likely defeat if it had gone to a vote.
Before a vote could kill it, the bill (SB 196) was pulled from consideration by its sponsor, Sen. Eleanor Sobel, D-Hollywood, when remarks by members of the panel made it clear the measure wasn't going to survive the day in the Senate Children and Families Committee, of which Sobel is chairwoman.
"I can count," Sobel said before moving to temporarily postpone a vote on the bill in her committee.
She indicated earlier in the day during a Democratic Caucus meeting that she may not be able to get the measure through the committee.
"We could be right, but we may not have the votes," Sobel said. "But we're on the side of right, we're on the side of fairness."
Still, it was a victory of sorts for both sides. Sobel has pushed the civil union bill for several years and never managed to get a hearing. But this year, Senate President Don Gaetz had it referred to Sobel's committee – virtually guaranteeing it would be heard at least once.
"I'm opposed to Sen. Sobel's bill, but I don't think we should ever fear the debate,"
Gaetz, R-Niceville, told the News Service in an interview later Tuesday.
"As chair of the committee she had the prerogative to agenda the bill and give it a hearing and a full debate, public testimony, questions. That's what happened today," Gaetz said. "I would imagine Sen. Sobel will make a decision for herself whether she believes she has the support to move the bill forward or not."
And opponents of the bill also claimed victory.
"Just hours ago, defeated SB 196, the stealth gay marriage bill," tweeted John Stemberger, president of the Florida Family Policy Council, after the measure was postponed.
Even if the proposal were to get a vote in the committee and pass, it still would face an enormously uphill battle. It would need the approval of five more committees over the next two months, just to pass the Senate. Passage in the overwhelmingly Republican House would seem unlikely as well.
A line of Florida residents came to the Children and Families Committee on Tuesday to urge panelists to give some of the rights that married people have to those who either don't want to marry or can't marry legally because they're gay. A number of them talked about the trouble they have with child custody issues, or problems they would face trying to be with a partner in the hospital who was nearing death.
"We are treated as legal strangers at the moment that the people we love need us the most, when tragedy strikes," said Nadine Smith, an activist with Equality Florida, a gay rights group.
Many of those who opposed the bill said there are other legal ways to address the problems – Stemberger said good estate planning and other legal arrangements could address the issues raised by gay people who testified, including one woman who said same-sex couples were made to feel "less than human."
"Our primary concern with this bill is that it does blur the distinction between marriage and all other types of social relationships," said Michael Sheedy, speaking for the Florida Conference of Catholic Bishops.
Sen. Nancy Detert, a moderate Republican from Venice who said she supports a domestic partnership registry effort in Sarasota County, said she couldn't support the bill because it was too broad and likely had constitutional problems.
"It's just like a walking lawsuit as far as I'm concerned," said Detert. "Sad to say, I can't support this bill today because it's just too broad."
–Margie Menzel and David Royse, News Service of Florida