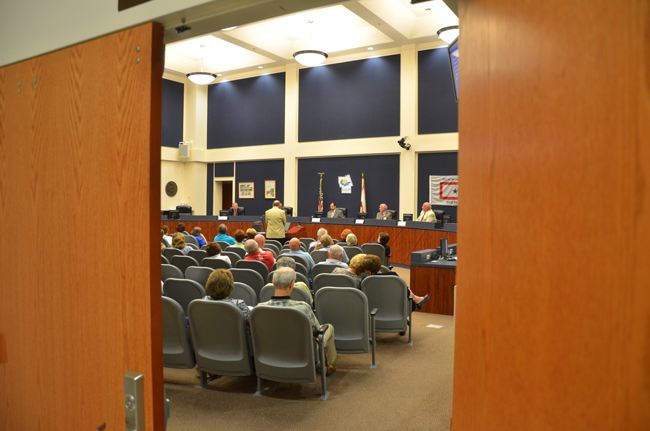 Early voting for Palm Coast mayor began Monday with well over 100 votes at the public library in Palm Coast (the only location for early voting). Maybe that's why the audience of 50 at the Flagler Palm Coast Civic Association's candidate forum Monday evening was less than a third that of a forum a week earlier at the Hilton Garden Inn, though the Civic Association's questions were more sharply focused and its audience, unlike the one last week, was invited to ask its own.
The candidates were somewhat sharper, too, their messages now honed and on auto-pilot, if almost equally humorless than they'd been last week, though humor wasn't the point: knowledge of the issues and the ability to answer questions with relative objectivity and some command of the facts—disagreements aside—was. In that sense, every candidate proved again what has been a distinguish feature of Palm Coast municipal elections for years, relative to other local governments: candidates tend to be older, but also more educated, more experienced, and significantly more conservative.
There were also fewer candidates at Monday's forum. Mayoral candidate Joe Cunnane and council candidate Dennis Cross were out of town, reducing the field to five men: Mayor Jon Nets, the incumbent, with challenger Charlie Ericksen to his right; Jason DeLorenzo, who had no challenger with Cross's absence; and incumbent Holsey Moorman, with challenger Bill McGuire to his right. Cunnane's absence took away the only comic relief these encounters have provided, but his absence also helped keep the distractions to a minimum, helping both remaining mayoral candidates make their points more clearly.
The five sat, like an all-male commission, along the dais in the chambers of the Government Services Building, and took questions on economic development (three variations on that one), commercial vehicles in residential areas, desalination, and whether they favor changing Palm Coast's elections to even-numbered years. They're split on that one: Netts and Ericksen say no because it would diminish the attention given the city's elections in off years. The others are all for it because it would save money. If Moorman is re-elected, he would also get a fifth year on the council (so would Netts), in order to get the new schedule in sync with council members' terms.
Much of the interest focused—or should have focused—on Netts and Ericksen, being first up on the voting verdict in what is essentially a two-man race for mayor, Cunnane being the perennial candidate for any city office who, in more than a decade so far, has not polled better than 8 percent, his obvious intelligence having never matched his skill as a campaigner. It would be a surprise if he polled more than 8 percent come Sept. 13, the day of the primary, just as it would be a surprise if the primary doesn't decide the race then and there, with one of the two candidates polling better than 50 percent. Absent that showing, the two remaining candidates will face each other in the Nov. 8 general election. That's also when the two other council races will be decided.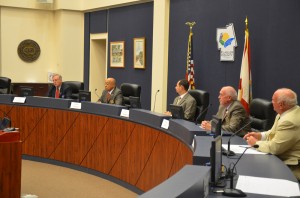 Netts has never lost an election in his seven races (three in Palm Coast, four in New Jersey). Neither has Ericksen, for that matter, though this is Ericksen's first run.
Ericksen appeared more purposefully aggressive at the beginning: he alone dropped pretenses of talking about his family and his background in his opening statement, choosing to go on the attack with a list of projects he said the city started only to put on hold in the last several years—Old Kings Road's four-laning, desalination (which he opposes), the new city hall (which he opposes), Bulldog Drive's expansion in Town Center. His point was that the city spent millions developing those projects only to hang them up, though his numbers, at least as far as Old Kings Road and city hall are concerned, were exaggerated. Old Kings Road south was four-laned. No money is being wasted putting the rest of it on hold. Ericksen mentioned "three to four hundred thousand dollars for city hall planning and design. This was without voter approval and behind the scenes, and at present it's on hold." Clearly, he was referring to this year's city hall planning, not that of 2005, when voters defeated the initiative in a referendum.
Netts didn't address the claim during the forum, but did so the next day during a city council meeting. "That's not my understanding," he said, at first correctly citing Ericksen's figures on city hall. He asked the city manager directly: "Could you tell me what we've spent as a city?"
"I don't know about the old stories, way back, but the current, since we've been in this building," City Manager Jim Landon said, "when city council asked us to evaluate our options and the fact that we're spending a quarter million dollars in rent, and is that the most efficient way to spend the tax dollars, or what are some of the other feasible options for city hall, we have spent virtually nothing. Maybe, I think there were some advertising, about $1,000 or something."
"So $500,000 that this council has spent, that is either erroneous or a misstatement," Netts said, himself, by then, exaggerating Ericksen's figure by $100,000.
"It's amazing how those rumors or misinformation gets out there," Landon continued—particularly when council members amplify the misinformation they're aiming to correct. "Staff time? Yes," Landon said, without specifying a number, "but that's about it."
Candidates at the forum got the obligatory city hall question, and each answered with relative support and opposition: yes to an eventual city hall, no to doing it now, and no to doing it without voter approval. They also got a series of questions or variations of questions on economic development.
Here's how Netts handled one: "What makes this place attractive is the unique environment that Flagler County has. When you try to recruit business, we're focusing on the wrong person. We're focusing on George when we should be focusing on Shirley. Typically, the wife says, I want to live here or there because it's got good schools, it's got amenities, it's got the environment I like. George says, typically, yes, dear. George is not quite ready to retire. George can bring bh8is small business here or create a new small business here. You heard the old song, accentuate the positive, eliminate the negative. We've got plenty of things to brag about here in Flagler County. We have beaches, we have golf courses, we have boating, we have all sorts of amenities. That's our base that we need to talk about. Mr. McGuire is absolutely right. With the millions of square feet of Class Ax industrial space in Jacksonville, we don't need to be competing with that kind of business because we're not going to get it. We need to focus on attributes that make Flagler County special, use that to attract people here."
And here's Ericksen's answer to the same question: "I would agree that tourism right now is our number 1 attraction, but one item that I want to bring up here is one of our somewhat not mentioned all the time assets: the hospital. That particular hospital is the incubator, in my opinion, for further growth opportunities in this area, to include any type of business that is associated with it, whether it be research, whether it be employment activities, medical appliances, technology, we already have a neighborhood over there, we have assisted living centers, we have a memory care center, I think that that particular area could be the impetus to get Palm Coast up, up and away, along with Flagler County. That to me is the biggest opportunity we have on attracting businesses to our area."
Florida Hospital Flagler currently is the second-leading private employer in Palm Coast, with 900 employees, to Palm, Coast Data's 1,000 or 1,000—assuming the company's numbers, as relayed by the city about a year ago, were accurate: Palm Coast Data is shedding employees, and the majority of its employees are much more lower-paid than the hospital. Sometime in the next year, the hospital will likely overtake Palm Coast Data as the leading employer, not counting the associated businesses Ericksen was referring to.
On another budget matter, candidates were asked to cite what budget priorities they had for the cities. Ericksen gave a concrete example of money-saving potential: reduce water-reader reading by half by going to every other month readings. But that gave Netts an opening for one of his themes: experience. By serving many years, he said, "you learn to understand the unintended consequences." If customers are having a hard enough time now paying their monthly utility bill, imagine the difficulties they'd have paying twice as much, he said.
One of the questions from the audience was about the city manager: how do you rate his performance? Ericksen gave Landon a backhanded compliment: "Mr. Landon meets the particular standards that the council has set for him. IO think that if in fact we have such an experience individual, we should expect more from that particular individual than a person with less experience. At the present time I would rate Mr. Landon as meets standards, because he is doing exactly what the city council wants him to do."
Netts, who's taken some criticism for leading behind Landon, began by crediting Ericksen's answer: "Mr. Ericksen is right on target," he said. "The city manager is a professional credential who is hired to do two things: offer his experience and his advice to city council, and then to administer the city departments to achieve the goals that the city have set for him. Some of those goals may not be readily achievable in the short term. That's one of the reasons that I always talk about vision. City council develops a vision for the city, city manager's job is to move us in that direction. When times are tough, when the economy is tough, obviously we're more limited. But I rate him very highly. He does what we expect of him."
As he has with most questions posed to him publicly, McGuire answered more directly: "Here's the thing. If Jim Landon didn't make more money than the county administrator and more money than the governor would make if he took a salary," McGuire said of Landon's $183,000 pay, not including benefits and deferred income, "I don't think anybody would care other than the city council what kind of job he did, but again and again Mr. Landon's salary becomes a focal point of discussions. If Mr. Landon is doing what the mayor and the council are wanting him to do, and he's satisfying the requirements that they set out for him, than they should rate him highly."
The forum produced no debating moments: at no point did a candidate directly challenge another, question an answer or even look at his opponent, except in deference, while one was answering, or to offer a courtesy. Ericksen's opening salvos by the end of the forum had modulated to statements of purpose and ideas—until his closing statement, when he dropped a surprise that Palm Coast is looking for "a hands-on administrator mayor who can better understand budgets and operations"—a direct attack on Netts—and the proposition that "the city council needs to take control and better represent the residents and the businesses"—a rephrasing of an Ericksen criticism that the council is too deferential to the city manager.
Netts didn't take the bait. "I bring to city council integrity, I bring vision, I bring experience, and I bring proven leadership," he said, citing four priorities—jobs, low taxes, the environment and infrastructure—he and the council would be working on in the coming years.
The two mayoral candidates summed up their differences necessarily without spelling them out. Netts isn't looking for change, as Ericksen is, but preservation–"accentuating what we've already got," in his words. Ericksen isn't thrilled with what Palm Coast has got, particularly its state-leading unemployment.
The 130-minute forum had been long when it ended, but never boring. "Hopefully we weren't too wonkish with what we did," McGuire said at the end, a reference to the very wonkish, shorter, but also duller larger forum a week earlier.