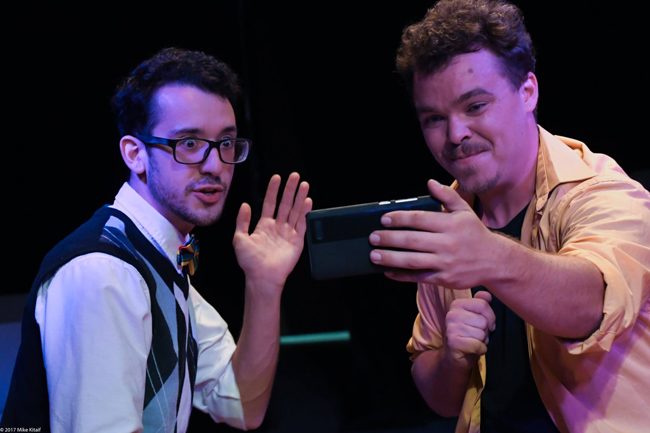 No, City Repertory Theater didn't forget to insert the title of their latest production in the troupe's press releases and promo materials. The musical, which concludes with performances tonight through Sunday at City Rep's venue in Palm Coast, is indeed titled "[title of show]" – brackets and all.
Yes, that title is a "meta" (that is, self-referential) maneuver by the musical's creators, Jeff Bowen (music and lyrics) and Hunter Bell (book). Indeed, their entire play is "meta."
When Bowen and Bell decided on a lark to create a work to submit to the then-newly-formed New York Musical Festival in 2004 – with the entry deadline only three weeks away – they were stymied over what to write about. And then the duo got meta and a bit Pirandello (see the Nobel Prize winner's play "Six Characters in Search of an Author") when Bowen suggested they "write about what to write about."
The result is "[title of show]," a musical about creating a musical that takes its name – brackets and all – from the entry form that Bowen and Bell used to submit their finished work to that festival. The play won a Special Citation at the 2006 Obie Awards.
" '[title of show]' is a wonderfully raunchy, young perspective on the world in which four young people are trying to get a musical ready for a professional contest," said City Rep director John Sbordone. "It's a lark. It's just fun and rather complex.
"I have a lot of young actor-singers who said 'Get "[title of show]"!' I said, 'No one's going to come see it — they don't know what it is.' But what it is, is just a fun, marvelous musical romp that has a lot of New York humor."
New York Times theater critic Charles Isherwood, in his July 21, 2006, review, wrote: "Fanciful meta-theatrics aside, '[title of show]' is at heart a postmodern homage to the grand tradition of backstage musicals like 'Babes in Arms,' 'Kiss Me, Kate' and 'A Chorus Line.' Its miniature size is a telling reflection of how the old-school Broadway musical has become something of a niche product."
Isherwood reviewed the musical again when it debuted on Broadway in July 2008, writing: "Consider '[title of show]' the class clown of Broadway. Certainly it will never be part of the popular crowd, like those snooty smash hits 'Wicked' or 'The Lion King.' It's not the straight-A, critic's-pet type like 'Spring Awakening,' either. But like all class clowns, it wins you over by making fun of the big shots and bursting with its own distinctive personality."
As City Repertory fare goes it's not part of its most demanding shows though the wit doesn't lack for cerebral allusions to all sorts of cultural references for those more inclined to hear between the lines.

"[title of show]" will be staged at 7:30 p.m. October 20-21 and 2 p.m. Oct. 22 at CRT's home at 160 Cypress Point Parkway in City Market Place, Suite B207, Palm Coast. Tickets are $25 adults, $15 students. For more information or tickets, call the CRT box office at 386-585-9415 or go online at crtpalmcoast.com.