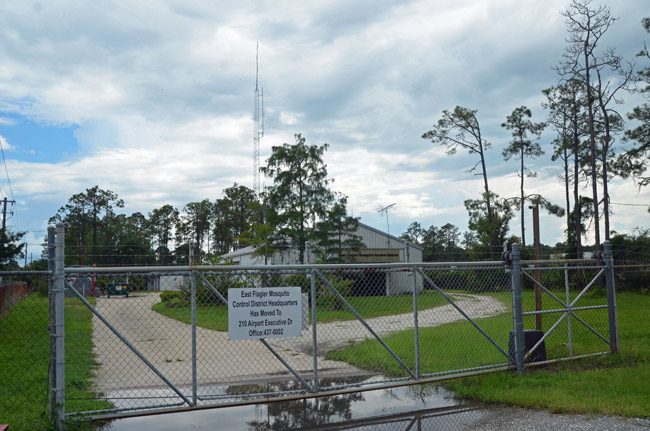 The Palm Coast City Council on Tuesday heard for the first time about a proposal to buy an East Flagler Mosquito Control property on Utility Drive that the administration says it's been talking about for nearly year. The council appears willing to buy the property, now priced at $317,000—or $24,000 more than just two months ago—but not without some caveats.
The transaction would normally be routine and logical. The old Mosquito Control property sits on a little over 2 acres between two city properties: its 35-acre wastewater plant, and a 3.6-acre fueling facility. The city can use the additional space to provide offices to its utility workers.
"We get the guys out of the laboratory where they can actually eat lunch and not get refrigerators mixed up in there," Utility Director Richard Adams said.
But what would normally be a more or less routine transaction has been complicated by the district's financial troubles. In Late July, district officials faced up to a $1.1 million deficit caused, in their analysis, by an accounting error. The money was spent, but not mis-spent, they claim, when more money was carried forward from one year to then next than actually existed. As a result, the district's reserves, very substantial last year, have been nearly wiped out, and the district had to fire its corps of part-time workers and conduct other cost-cutting measures. Its long-time director, Joe Cash, resigned. Flagler County's legislative delegation called for a state audit, an extraordinary intervention in an independent government agency with its own elected board and taxing authority.
"This isn't trying to bail them out, it has nothing to do with their financial situation," City Manager Jim Landon told the council Tuesday in one of several attempts to downplay any connection between the district's financial difficulties and the city's acquisition. That may be the case from the way Landon is presenting it, but from the mosquito control district's perspective, the sale has everything to do with a bail-out: the sale has figured in the elected board's discussions and the administration's planning as a keystone to returning to fiscal soundness, as its cash value represents nearly a third of the money lost.
The district is also preparing to sell another property at the Flagler County Executive Airport for about $100,000.
The district mostly vacated both the Utility Drive offices and grounds and its former airport property after it built a new headquarters at the southern end of the airport, for more than $2 million. It celebrated the opening of that space earlier this year, with some fanfare, apparently oblivious to the crisis that broke only a few months later. But at the time, the district had no intention of selling the Utility Drive property, according to Mark Positano, the second in command then, and now the director of the operation. The property was used for storage and for some of its laboratory testing, with chickens and fish used in the testing.
Landon, characteristically keeping silent facts that don't fit the narrative he wants to present, made no mention of those aspects of the property's history. Nor did he mention that as recently as August, the sale proposal was slated for a council meeting discussion based on a 2014 appraisal (his statement to the council that "we had it appraised a year ago" was false), and a sale price of $293,000. But the Mosquito Control board objected to a three-year-old appraisal being used to sell its property and asked for a new appraisal.
A new appraisal was conducted at the end of August, raising the value of the property to $317,000.
An audit has yet to be conducted.
"I'm concerned about what happened to these dollars," Palm Coast Mayor Milissa Holland said. "I think there's something really wrong there, and obviously it's being audited and being tasked by our legislative delegation to do it. But these are all tax dollars. This isn't like buying it from a private entity that may be going through financial trouble that we have nothing to do with, but this is under the umbrella of public dollars and it just seems messy right now."
Landon continued to downplay the district's financial issues.
"Current history really is not relevant to this whole transaction," he said. "It's relevant to the taxpayers, it's relevant to the community, but–"
The mayor interrupted him: "Well, it's a conversation we need to state for the record, and for the record publically." But Holland and other council members did not object to the acquisition of the property.