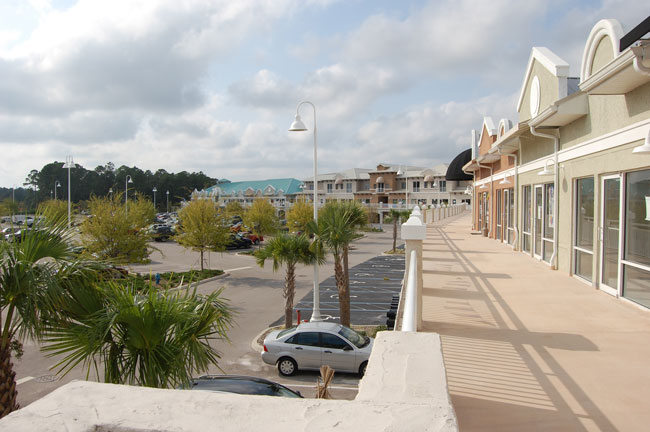 John C. Bills, owner and manager of City Marketplace, has apologized to tenants for the shocks of sudden and unexpected increases in costs that led several long-time tenants to either leave or consider leaving the strip mall where the city of Palm Coast has its offices. But tenants may still find themselves having to pay far greater Common Area Maintenance, or CAM, fees, while Bills—with no evidence to back up the claim—blamed some tenants and media for being "extremely vocal and misrepresent the facts in an effort to gains some advantage for themselves."
To justify the cost increases, Bills also distributed a budget for 2014 that puts the maintenance and management of City Marketplace at $841,340, half of it devoted to reserves. The figure includes $15,000 in management fees, $8,000 in legal fees—one local attorney, Jay Livingston, is representing several City Marketplace tenants against Bills–$48,000 in "bad debts" and just under $200,000 in total grounds and building maintenance. Those costs are added up and split between tenants as part of their CAM fees. (See the full outline below.)
Palm Coast government is the largest tenant at City Marketplace, occupying more than 20,000 square feet. But it does not pay CAM fees. For several weeks it wrangled through a threatened cost increase of 56 percent until Bills backed down and reduced the one-year rent increase to the city to 10 percent. The Palm Coast City Council approved that one-year extension last week, enabling it to stay put at City Marketplace (after the city threatened to leave) until it can move in to its new city hall at Town Center late next year. But the Flagler County Sheriff's Office, along with other tenants, are still battling over cost increases they consider unfair.
Sheriff Jim Manfre said the "change of tone" from Bills may point to an opening for a resolution of the conflict. Meanwhile, however, the sheriff is refusing to pay CAM fees Bills has imposed on the agency, for its Palm Coast Precinct offices at City Marketplace, retroactive to January. The sheriff's $420-a-month CAM fee was to increase to $1,313 a month, on top of a $5,356 bill for additional CAM charges going back to January. That's on top of the sheriff's monthly rent of $1,575 for the 2,600 square feet of space the precinct occupies.
"My attorney is advising that we're not liable for the back CAM charges," Manfre said, "and going forward we're going to negotiate something reasonable." Of Bills's memo to tenants, Manfre said it was "a tone change. It's their response to the bad publicity."
Bills defended the costs in a June 25 memo to tenants but suggested that the costs as initially presented to tenants may change in some cases.
"We apologize for not providing much in the way of explanation when we sent you the CAM notices," Bills wrote. "Although this process is fairly routine in our industry, we should have considered the difference with this property. Since the notices went out, we realized a few of you have different leases and are not responsible for all the costs we included, and others may need to be billed differently. We will be reaching out to those as soon as we confirm amounts due. In the future, CAM notices will be sent at the end of the previous year or the beginning of the upcoming year so everyone is able to plan accordingly. We recognize that this is not only a big surprise, but also a large amount of unbudgeted money to deal with."
Despite the tone change, however, Bills went on to caution tenants that they should have been aware of CAM fees when they "first signed leases with the bank or even prior." City Marketplace, a 167,000 square-foot, four-building property, was developed by Lake Mary developer Developer Bhagwan Asnani and completed just as the housing bubble burst. It went into receivership, was acquired by Eagle FL III SPE, a Winston Salem-based company, in 2012, after the development went into receivership, then by Bills's Palm Beach Gardens-based company last November, for $2.9 million. Tenants believe Bills intends merely to hold on to the property for a while then sell it again at a profit.
"There should have been monthly maintenance expenses (CAM) from day one that would have kept the property from falling into the condition that it is in today," Bills went on in his memo. "
We are left to correct all of the outstanding issues and want to do so efficiently, while providing the product you deserve. Since we are going to try to do all this work this year, we plan on the CAM going down next year."
In other words, the CAM increase this year is meant to compensate for lacking CAM fees in the past, though tenants, like the sheriff, are opposed to being made to pay for past mismanagement, since Bills's company took over the development knowing the conditions it was in. Bills tells tenants that "if we have overestimated these repairs, you will get a credit on next year's CAM," which, again, places tenants in a position to underwrite the company's planned improvements whether or not the costs justify it, at least for a time (though Bills say payment plans are available.)
In the more confrontational concluding paragraphs of the memo, Bills claims that "several facts" have "not been presented accurately, and that the company has worked "very hard" to accommodate tenants' needs, though why tenants would also need to retain an attorney to represent them is left unaddressed. Messages were left at Bills's office for comment on previous occasions, but not returned. Bills in the memo explains that the company "elected not to respond" to what he called "untruths in the paper," but did not cite such "untruths."
"We would like to close," he wrote, "by saying that we want each of you to be successful in your business at City Marketplace and will do our part to make that happen."