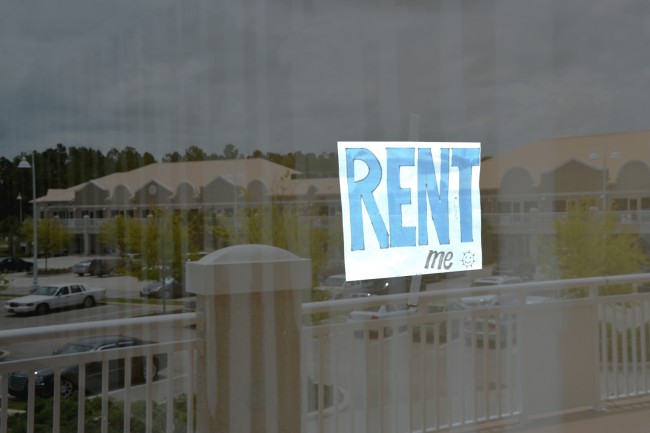 Developer Bhagwan Asnani's hold on City Market Place, the 167,000 square-foot, four-building commercial development on Cypress Point Parkway that's been home to Palm Coast's city government since November 2008, is coming to a close. A Flagler County Circuit Court judge on June 1 granted a foreclosure order on the entire property.
A public sale of the property is set for August, at which time it will go to the highest bidder.
The changes won't affect tenants: the property may be changing hands, but it's not going anywhere. And Palm Coast's plans to build a $10 million city hall of its own are no longer a priority, with public opposition weighing heavily against the project and compelling the city to stick with its current arrangements, at least for now.
Asnani defaulted on a $9.4 million loan from Branch Bank and Trust Company (BB&T) in January 2009. He has since battled foreclosure, arguing that he had built two of the four buildings with his own money and attempting to exclude them from the foreclosure order. In court papers, Asnani claimed BB&T improperly took the two buildings as collateral after the bank extended him an additional $3 million loan to finish the two other buildings.
Orlando-based Asset Preservation group was appointed receiver, and on July 5 distributed letters to every tenant in the complex, saying it would manage the property and take all rental payments due beginning July 5. Thomas Alday, the receiver, visited tenants this week, saying nothing would change for the moment, and even inviting some tenants to make proposals to re-negotiate their rent and suggesting that there was an interested buyer.
Asnani charged rent with wide disparities for the same square footage, depending on the tenant, in attempts to help tenants establish themselves or grow. He was well-liked by tenants and known to be flexible to their needs, but his management was also erratic, and his focus on City Market Place wavered as he battled foreclosure, letting the property decay.
At one point, tenants were filling the ground floor of the two-level development rapidly. According to papers filed in circuit court, the development had revenues of $2,419 in the third quarter of 2008, just after it opened (with Dominic's Deli as its inaugural tenant). The city's move to the development in November 2008, filling 11 percent of its space and paying $20,000 a month, helped push revenue to $40,000 in the final quarter of that year, and accounted for most of the $80,000 in the following quarter. But tenants kept coming, and by the middle of last year, with the majority of storefronts still empty, Asnani was pulling in $174,000 in revenue.
The development became an arts hub, with the Hollingsworth Gallery (originally with just one storefront, now with four) anchoring something of a cultural community, with Mia Bella Academy of Dance, Fred Astaire Dance Studios and the Flagler County Art League following suit–and soon, a live theater. But tenants have also been quitting, including Fred Astaire, which closed there two months ago.
Revenue has also flattened out since the second quarter of 2010, hovering between $174,000 and $178,000. Asnani did not return several calls this week.
Three tenants interviewed Friday were not concerned with the change-over, carrying on business as usual and hoping for steadier days and higher-quality tenants in the future.
"I was building this out when it was still a dirt parking lot," Pete Tavolachi, owner of Dominic's Deli, one of the more recognizable destinations at City Market Place, said. "I want to be here for a while. We like Palm Coast. It just has a lot of hiccups. If you have hiccups all day long, you're eventually going to get sick of it." He had no overt complaints about Asnani. "I wish him the best, but my little world here is the deli. This is my life. This is what I live and breathe."
J.J. Graham, owner of Hollingsworth Gallery on the second floor, wishes that whoever takes over in the end recognizes the potential of the place as a cultural destination. "The first thing they should do is change the damn name," Graham said. "It's the most generic name. Marketplace gives the wrong idea, because it's not just a marketplace. There's all kinds of culture around here."
The development was originally known as City Walk until Universal Studios filed a federal lawsuit in May 2010, charging trademark infringement over the name. The case was settled that November, after the name had been changed to City Market Place.