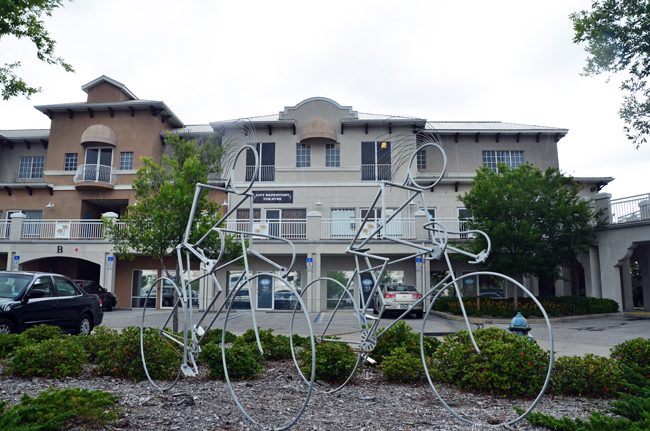 City Market Place has always been more unsettled, economically and structurally, than its name implies. It was poorly designed, poorly built and ill-timed. The real estate market was collapsing around it just as it began leasing or selling spaces at desperate rates in 2007. Even its name was unsettled: Bagwan Asani, its original developer, called it City Walk until a threatened lawsuit by Universal Corp. forced the name change in 2010. By then the four oblong, misshapen block buildings that strain to give City Marker Place a sense of unity—and turn their back on two city arteries—were in foreclosure despite what amounted to a generous bailout from Palm Coast government. The city moved its offices there in 2008, occupying almost a third of one of the buildings, at $20,000 a month.
The unsettled nature of City Market Place proved, intentionally or not, to be its salvation, at least for a while. Asani, a generous landlord willing to deal with his tenants, made all sorts of one-on-one arrangements to fill spaces creatively. In came JJ Graham's Hollingsworth Gallery, Brie Valenti's Mia Bella Dance Academy and the Flagler County Art League, transforming two corners of City Market Place into the closest thing Palm Coast has had to an arts hub while city offices and several restaurants, starting with Domic's Deli, gave the mall some stability. Graham, in turn, began to expand, moving into one storefront after another, broadening the gallery into an art school, studio spaces for numerous artists, and even a performing arts center. Three years ago Graham invited John Sbordone to open the City Repertory Theatre there.
Hollingsworth Gallery and City Repertory Theatre literally and figuratively transformed their spaces. Hollingsworth, with its broad, daring stable of artists and its mad, monthly schedule of shows (soon replicated by the Art League), is the most important art gallery between St. Augustine and Daytona Beach. At its best, it's been a small art movement of its own, its artists more interested in innovation than imitation. City Repertory Theatre, with its copious mix of avant-garde, socially conscious and abjectly Broadway productions, replicated on stage what Hollingsworth was doing on canvases. It is the most important stage between St. Augustine and Daytona Beach, offering—with rare letdowns—a quality of acting and a seriousness of purpose unrivaled even by the Flagler Auditorium's glitzier traveling shows. Between them, the gallery and the theater (which seats only 50) proved that bigness isn't quality art. A creative force is.
Now all of that may be coming to an end. At least at City Market Place, whose new owners—Palm Beach Gardens-based John C. Bills Corp., an entity created in 2013—appear intent on jacking up rents drastically and driving out tenants rather than ensuring some continuity with its anchors, whether it's the city or Hollingsworth. (Jerry Masiello, a leasing manager who brokers City Market Place deals, did not respond to a series of questions emailed him.)
A Christian bookstore has already closed. Graham and Valenti both say they may not be there for long, as the new owners have asked for significant rent hikes they're not willing to pay. Hollingsworth's ent is currently $2,000 a month, not including utilities. The original demand from the new owners was to increase that by $1,000, an increase Graham is not willing to take on: the gallery's entire profit for a year is less than $10,000.
Valenti speaks in similar terms. She and Graham are both looking elsewhere, and Graham just got a rousing endorsement by the Flagler County School Board for a proposal he submitted to the district: Graham would take over the district's Community Education Center on A1A in the Hammock. More about that later. (The Art League is not yet having to look elsewhere: it is in the earlier stage of a five-year lease.)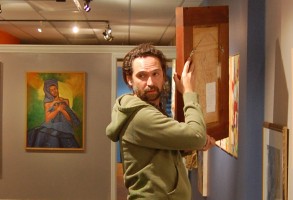 "I feel like I have been an anchor there for a long time," Graham said of his tenure at City Market Place as he referred to the jacked rent proposal. "I didn't see it coming."
Even Palm Coast is considering leaving City Market Place a year sooner than it must.
Palm Coast's case is instructive. The city originally agreed to a $20,000-a-month deal with Asani. When a bank took over after foreclosure, the city in 2012 negotiated an even better deal, lowering rent to $17,000 a month the first year, to $19,000 a month the second year, and $20,000 a month the final year (meaning the current year), or $240,000 a year. Palm Coast is building itself a new city hall in Town Center. But the move-in date is not until the fall of 2015. That means Palm Coast needs a one-year lease extension for its digs at City Market Place.
The city has been negotiating with the new owners. It's not been going well. The owners' first demand: raising the monthly rent 33 percent, to more than $26,000 a month, or $320,000 for the year. The city balked at that number. The owners have come down with a counter-offer, but reportedly not enough. The city is now considering vacating City Market Place and moving into a temporary location before its final move into its own city hall in 2015. The administration will be presenting those plans to the city council at a workshop in two weeks. It has to: absent a deal it can live with at City Market Place, the administration needs options, so the city is not left without a roof for a year. Threatening to leave for that year could be a negotiating tactics, as council members may be reluctant to foot the bill for two moves in one year.
Nevertheless, city officials familiar with the negotiations have been stunned by the new owners' strategy, which could leave more gaping holes at City Market Place than necessary, once tenants bail. If the new owners are willing to play hardball to that extent with their best tenant, it appears unlikely that they'd go easier on smaller tenants—like Graham. (The same interests own Roma Court, also a commercial development that's been crying for tenants since its completion in the middle of the housing bust.)
And should Graham leave, there would be no place for City Repertory Theatre, because Graham, who has been lending his space rent-free to the theater, is no longer willing to carry the troupe beyond City Market Place. "John's got to stand on his own two feet," Graham said of Sbordone. "He's selling out shows, he's outgrowing me. It's time that he's got enough support that he can be on his own two legs."
Sbordone says the theater, which just ended its third season, is in a wait-and-see mode, with no prospects of another home yet. True, Sbordone says, many shows have sold out, but at 50 seats per show, the overhead costs, including royalties, devour most of the revenue, leaving very little for actors or investments in a larger venue—or for the sort of rent that would enable CRT to stay at City Market Place.
Last week the school board heard Graham's proposal to take over the district's A1A facility. While the district's facilities director was recommending tearing down some of those facilities, Superintendent Jacob Oliva recommended a different course. He enthusiastically endorsed Graham's plan, saying that the district already has a partnership with Hollingsworth, whose artists visit schools and work with students, a partnership he wants to see grow. Graham's taking over some of the space on A1A—the district would still hold community education classes there once or twice a week—would generate revenue, since Graham would have to pay rent, while keeping the facility going.
To Graham, the A1A facility would provide much vaster space than at City Market Place, presumably for much lower rent, and in a long-term arrangement that would give him stability. He currently has 11 artists in studios at Hollingsworth, with six artists on a waiting list. The artists each pay rent. By moving to A1A, he would be able to provide more room for artists, and generate more revenue. He's also envisioning outdoor concerts, a coffee shop and festivals in the new space.
"Although it would be more expensive to operate the A1A center," Graham concluded in his proposal, "I think we could profit from the increased visibility. Currently, people only know about us if they are connected to the arts community, receive our emails, follow us on Facebook, or read about our exhibitions in the local papers. While our openings are hugely attended, the traffic generally dies down afterwards. With all the traffic on A1A, this could change dramatically, especially if we creatively made the building and signage more attractive."
Creativity is the key: it worked at City Market Place. Graham is convinced it will work on A1A, if the school board follows through with Oliva's recommendation. At least two board members—Colleen Conklin and Sue Dickinson—are clearly behind the proposal. Andy Dance and Trevor Tucker want more details.
"I personally love the idea of Hollingsworth working with us at the AIA Center," Conklin said. "Currently we have limited programs being offered there. The operations of the facility has become a burden to the budget. This may be a win win for both the community and the school district. My only concern would be if growth returns and we are in need of the facility for some purpose."
That growth may be a matter of time. City Market Place's new owners are betting that they can begin to ride that wave soon, by drawing big-name tenants to the four buildings there. If that's the case, they may have little reason to hold on to Hollingsworth and its comet tail of associated operations, activities and foot traffic. But Hollingsworth's transformation of that corner of City Market Place was a sure thing. Replacing it with viable tenants is speculation.
Graham on Thursday said his mind wasn't entirely made up. He was holding out hope that some arrangement could be reached with City Market Place, in which case he would retain some space there. But, he noted, "I don't need to wait until the rug gets pulled from under me to make a decision."